Samsung Galaxy Buds FE Review: Budget Friendly Quality
Samsung's earbuds consistently exhibit an unapologetic Android-centric focus, and this trend continues with their latest release, the affordably priced Galaxy Buds FE. While it is possible to pair these earbuds with an iPhone, the lack of an iOS version for Samsung's Wearable app poses a significant limitation. This absence means users are unable to access the full array of settings and features that the Galaxy Buds FE has to offer.
Historically, this circumstance hasn't been a cause for concern, as there are numerous exceptional wireless earbuds compatible with Apple devices. Many of these alternatives provide comparable or superior performance when compared to Samsung's models in the same price range.
However, having immersed myself in the 1100 SEK ($100) Galaxy Buds FE for over a week, I now find myself harboring a touch of envy towards Android users. Allow me to elaborate on why this newfound sentiment has taken root.
Whether you choose the Galaxy Buds FE in graphite or white, the compact charging case consistently boasts a sleek glossy white finish. Its smoothly contoured exterior not only feels satisfying in your hand but also occupies minimal space in your pocket or purse.
While it may seem like a minor detail, the lid, hinge, and magnet closure of the case are all of exceptional quality. In fact, the build quality rivals, and perhaps even surpasses, that of Apple's counterparts. Samsung has cleverly maintained uniform measurements for the cases of its various Galaxy wireless earbuds. This means that if you already have case covers for the Galaxy Buds 2, Galaxy Buds 2 Pro, or Galaxy Buds Live, they will seamlessly fit the case of the Galaxy Buds FE.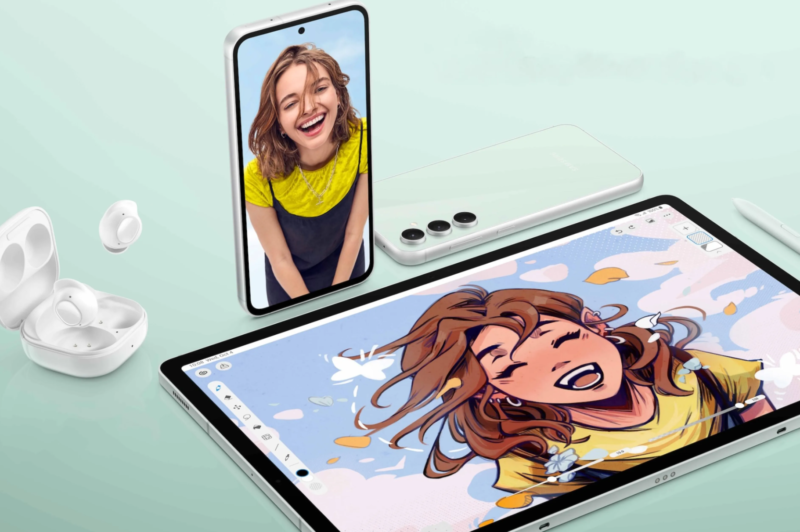 Although the case lacks wireless charging functionality, Samsung compensates by including a generously long 1 meter USB-C to USB-C charging cable. This versatile cable allows you to charge the case conveniently from a wall adapter, laptop, or even a phone.
The touch controls on the Galaxy Buds FE function seamlessly — they are easy to accurately activate, and responsive tones confirm the recognition of your taps. However, it's worth noting that, for some reason, Samsung has opted to deactivate most of the touch gestures by default. Out of the box, only the single tap and touch-and-hold options are operational. To unlock additional gestures and customize their functions, you'll need to use the Samsung Galaxy Wearable app.
Each earbud can support up to four gestures (single, double, triple tap, and touch-and-hold), with the touch-and-hold gesture being the only one that can be modified. Given that the first three gestures are dedicated to playback functions (play/pause, track skip forward, backward), you'll need to prioritize what is most essential for the fourth gesture. Options for customization include ANC mode, volume adjustment, Spotify Tap, or voice control.
Concerning the audio experience and pure sound quality, finding more impressive options in the price range is quite easy however. While the Galaxy Buds FE deliver abundant bass and well-controlled treble, they falter in the midrange, lacking the vibrancy and dynamism one might desire. The tuning process, seemingly geared towards perfect separation, unfortunately results in a somewhat flat and lifeless overall sound. Despite this drawback, call quality remains commendable, and the conference function proves practical in the current landscape of virtual meetings.
If you're in the market for highly affordable wireless earbuds that cover all the bases, particularly if you're fully committed to the Android ecosystem and use a Samsung Galaxy phone, the Galaxy Buds FE are an outstanding choice. Delivering a comfortable and secure fit, impressive sound quality, highly efficient noise cancellation, and a wealth of features accessible through the Samsung Wearable app, they provide everything you require, even if they might not fulfill every preference.