Apple AirPods Max Early Review: Is this how luxury sounds?
I'm an incurable Apple fanatic. The number of products I have bought from Apple extends well over twenty and the cost of those products reaches the sky. With that said, even I was surprised and sceptical at the same time, when Apple via press release, announced its new AirPods Max headphones for US$ 549 which in Sweden translates to (and don't faint now) US$ 800 because of taxes. It's simply a hell of a lot of money for something that Sony is already doing amazingly well for US$ 300.
Anyway, now that I have had the headphones for some time, I will try to give such an objective review as possible.
Background
Rumors of Apple's over-ear headphones have been around for a long time. There were many indications that we would see them during Apple's September event this year and when that did not happen, we instead hoped for the October event, but no announcement of the headphones took place then either. So I and all the other Apple lovers prepared for another year in silence from Apple.
But then, like a bolt from the blue, Apple leaker L0vetodream tweeted that Apple would come up with a "Christmas surprise" which supposedly would also be good for winter. And the rumors spread again, and my hopes of seeing the headphones within a reasonable time increased again.
So, on December 8th, Apple announced that they would release their new over ear headphones AirPods Max (not Studio as the early rumors stated). Something that was a bit unexpected was that there were not as many smart features as had been rumored, such as that the headphones would know what L and R were and that you would not have to put them on correctly, or that the headband could be replaced, or that they would include the new U1 chip for Ultra Wideband. However, they got magnetic ear cushions, which I will return to later.
Design and features
Apple being Apple, has gone its own way here. The AirPods Max come with a minimalist design that's typical of the tech giant, with sleek lines and a stainless steel build. They come in a range of stylish colors, including space gray (my prefered choice), silver, sky blue, green, and pink. Even though they look (and feel) premium AF, I'm a bit sceptical about so much steel, since they are so large, especially in the lighter colors, they really pop out. But maybe I just need to get a bit more used to it.
There's no way around it, AirPods Max feel incredibly much more premium than its competition. I have not previously thought that neither Sony nor Bose felt cheap, but comparing them to these, they feel like something you could pick up at a kids store.
AirPods Max are heavy, very heavy even (weighing 385 grams compared to Sony's XM4 at 255g), and in Sweden they also get very cold to the touch when you use them in 0-1 degrees celsius as it has been the last few days here in northern Sweden. In sub-zero temperatures, it can probably even be a small problem. I hardly dare to think about how they feel in minus 20-25 degrees, as it can be here during the coldest winter days.
The headband is made from a knitted mesh fabric, which Apple says is "designed to distribute weight and reduce on-head pressure". I actually like the look of the mesh headband, and I can't deny that the they did feel very comfortable to wear, although the weight is sometimes reminded when I turn my head too fast.
On the right cup, we find the two physical buttons that are available on the headphones. They are located at the foot of the arch and therefore they are easy to find and you know immediately what you are doing and what to control. One is a button that controls the noise cancellation where you switch between noise cancellation and transparency mode. The other button is in fact a digital crown which is a large variant of the one we find on the Apple Watch. With this you mainly control the volume, but if you press this you pause / start the music and if you press twice you jump to the next song or tripple press you jump back in your playlist. Hold it down to activate Siri.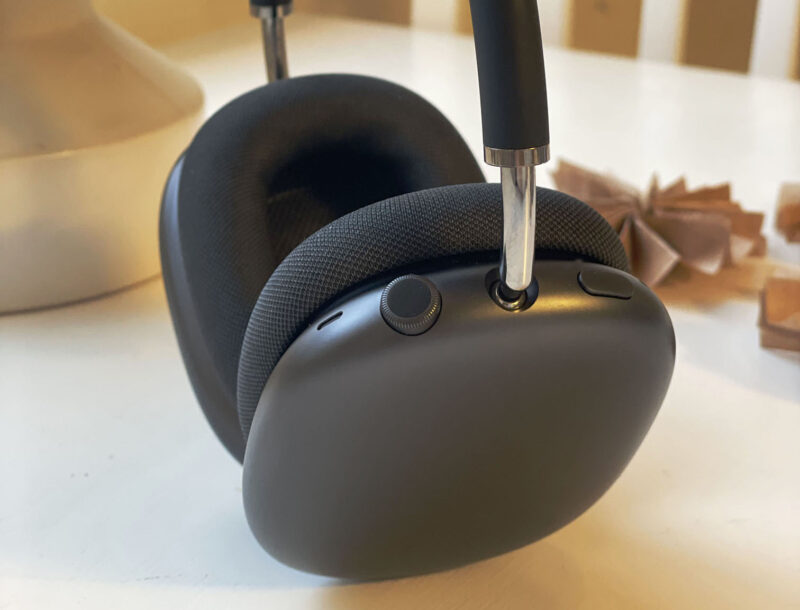 Exchangeable ear cushions
The mesh ear cushions are also something I can't really decide if I love or not. On the one hand, they are very comfortable against the head and you can wear the headphones for hours without it getting hot around the ear, but it also means that they do not stick to your head and because the headphones are heavy, this is actually a disadvantage in some situations.
The ear cushions are attached with magnets and are super easy to remove. This is of course a bit gimmicky but also very useful. It makes it much easier to wipe them clean, and of course it means that you can replace them for new ones and thus make the headphones last much longer. Considering that the software in these is fantastic and really the best that can be obtained right now, it means that you will be able to have these cans for years and years (which I can imagine you would want with this price tag).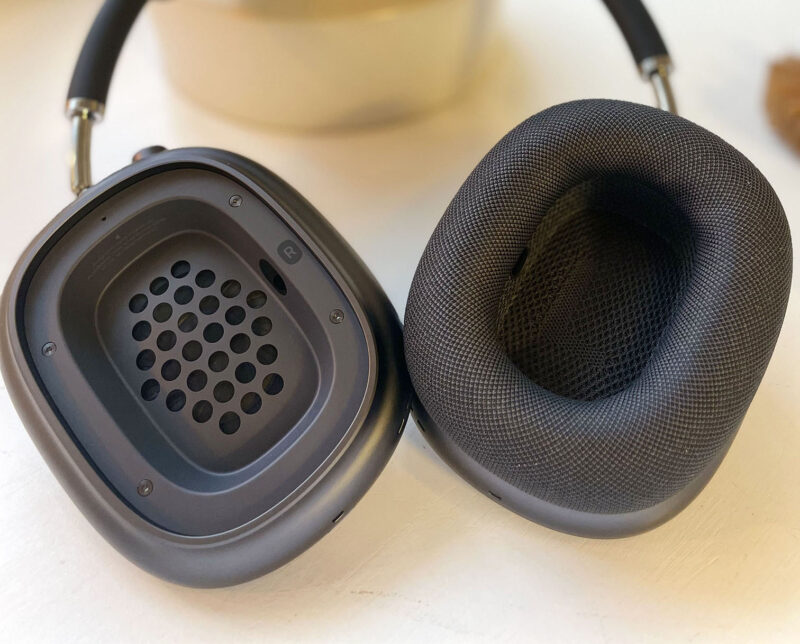 A pair of new cushions can be bought from Apple for US$ 69 (850 SEK). And yes, it is as expensive as a pair of simpler cans on sale, but they extend the life of a pair of headphones that are outrageously expensive already.
Software
One of the many reasons why original AirPods have become so extremely popular is how they work (with Apple products) and that they actually do it so well. If you have iOS 14.3 installed on your iPhone or iPad (which you have if you have automatic updates on), you pick up the headphones out of the box and you are connected and ready to listen to music. This is something that no other headphones even come close to.
Since macOS 11 and iOS 14, you can move between your Apple devices and the device you are currently using understands that you want the headphones to be used for that particular device and switches automatically. The movement between devices is truly seamless and never misses. Among the other manufacturers, only Bose allows you to have the headphones connected to several devices at the same time and the movement between these is somewhat smooth. Sony has just learned how to connect to more than one device (with the XM4's), but it is far from seamless.
You can connect your AirPods Max to Android devices (if you now, against all odds, buy these as an Android user). The whole thing with Apple's super smooth seamless technology will of course disappear.
Audio quality
While I'll definitely need to spend a little more time with the Apple AirPods Max to make a true valuation of the audio quality, I'm already very impressed by what I've heard so far, and I'm pretty sure I should choose these over Sony or Bose in terms of audio quality.
My favourite reference song when testing new cans is Seven Nation Army with The White Stripes and the bass is warm and powerful, but tightly controlled enough so as not to bleed into the other frequencies even at maxed out volume. Hi-Res Audio files is limited to Apple's own Apple Digital Masters tracks, which are only available via Apple Music (which is a super Apple thing to do, and kind of sucks at this price point to be honest).
Like the AirPods and AirPods Pro, the AirPods Max come with the Apple H1 chip in each earcup, which features no less than 10 audio cores to allow for Adaptive EQ, active noise cancellation, Transparency mode, and spatial audio.
Speaking of spatial audio. It's a feature that takes 5.1, 7.1 and Dolby Atmos signals and applies directional audio filters, adjusting the frequencies that each ear hears so that sounds can be placed virtually anywhere in 3D space. Sounds will appear to be coming from in front of you, from the sides, the rear and even above. The idea is to recreate the audio experience of a cinema. It works great and will definitely enhance any movie experience you have on your iPhone or iPad. Come on Apple, release a Macbook and Apple TV update as well!
The microphone in the AirPods Max sounds, in my opinion, better than both my over ear Sony XM4 and my in ear AirPods Pro. They actually sound better than my Jabra Evolve2 also, where the whole purpose is to sound good in just phone calls and digital meetings.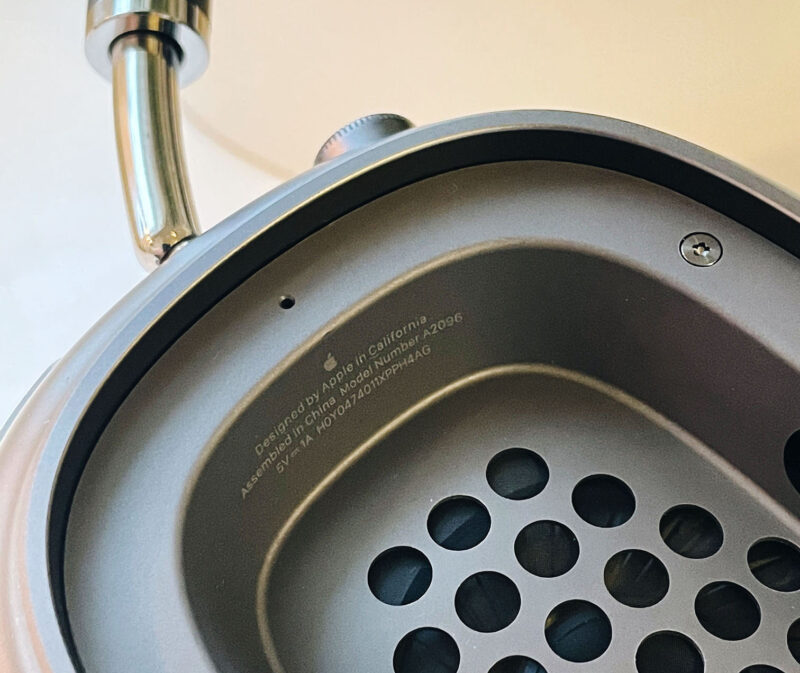 Noise cancellation and transparency mode
Sony has long held the noise-cancelling throne, but Apple is clearly trying to conquer it and they are definatley in the same league, which is impressive considering that Sony has been doing this for many years. For obvious reasons, i haven't flown with these headphones yet, so the biggest test has not been carried out, but on a daily basis, the noise cancellation is more than well enough. However, I must admit that I do not understand all the youtube tech influencers who are completely mindblown by the ANC in these. Have they really never tested a pair of Sony headphones?
However, the transparency mode in the AirPads Max is simply fantastic – probably world leading. The advantage of having over-ear headphones is that you shut out the outside world, but it is also a disadvantage because you don't always want to take them off because someone asks something or because you simply want to be a little involved in a discussion.
The transparency is well balanced between sounds from the headphones and sounds from the environment. It almost feels as if you've turned on music on a speaker in the room. In other words, just the way you'd want the transparency to feel.
Advantages of the transparency mode are that the "underwater feeling" you can get with overear headphones is absent. The pressure becomes physically lower and this means that you can wear them for a very long time without feeling uncomfortable. Transparency is also very good when you talk on the phone because you can hear yourself and you don't walk around screaming.
The "case"
All memes and jokes aside. I can really only sum up what Marques Brownlee does in his review. I hate this case and everyting about it. It serves no purpose (except to put your headphones in ultra standy mode) and don't even protect the headphones from other than maybe a few scratches, also I can't hang my AirPods Max on my stand with the case on. You are the absolute champions of smooth solutions Apple, so why in the world couldn't you make something better in this regard?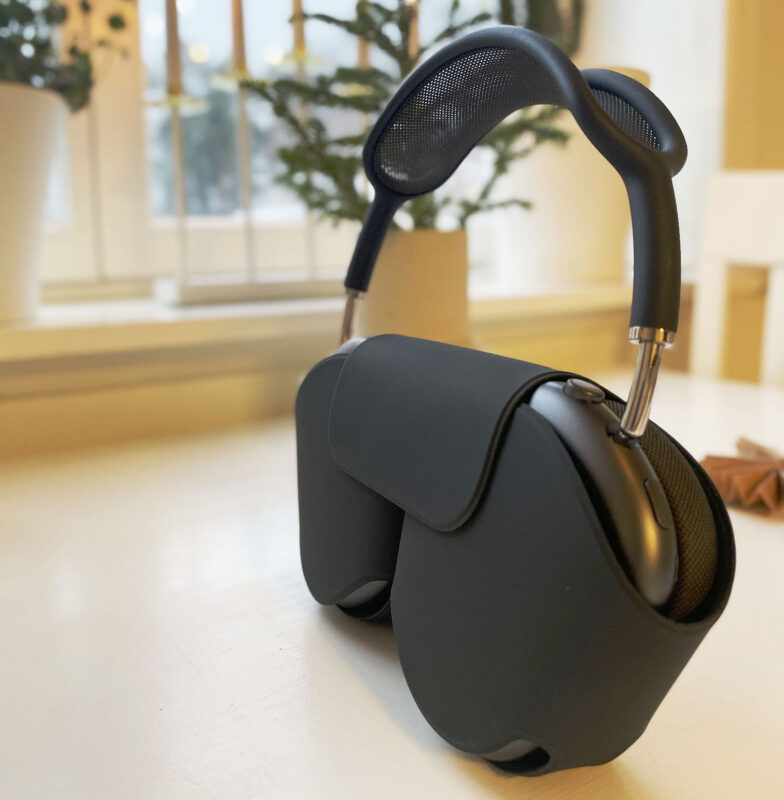 Worth the price?
Every time Apple releases a new expensive product, there is a discussion about the price (no one will forget that Apple sells wheels for Mac Pro for 8,500 SEK (US $ 700). But Apple is of course not stupid, they are rather extremely good at pricing their products. They often price some of their products outrageously high because the target group will still pay and those who can not afford it, will buy another Apple product instead.
AirPods Max has better (more premium) material choices than its competitors and if you are a frequent user of Apple's ecosystem of products, there is NO real alternative when it comes to software and seamless smooth transitions between devices. Also they sound a little better than the closest competitors. Those who can only afford regular AirPods should buy regular AirPods. AirPods Max is a luxury product and buyers of luxury products naturally have more money to spend on luxury.
For my Swedish readers, I must also remind you that these headphones cost 549 dollars in the US, which in pure currency conversion would be 4 500 SEK. Then the state wants just over 2 000 SEK in tax, which gives these headphones the almost ridiculously high price of 6 700 SEK.
Verdict
I'm going to make it very easy for you here. If you have the money needed to buy AirPods Max, there are no headphones at any price which is a better choice for anyone inside Apple's ecosystem.
If you think they are too expensive, then they probably are and you have to look around for one of the cheaper but good (and very good) alternatives.
PROS
Stylish Apple design
Great build quality
Great audio quality
Great noise cancellation
World leading transparency mode
World leading software
CONS
Very expensive
Heavy when being used for a long time
_______________________________________________________________
I bought the Apple AirPods Max and I did not get paid to write this. The thoughts on these headphones are my own.
You can grab the Apple AirPods Max at Apple.com (but expect atleast 12-14 weeks handling).