Jabra Elite 10 Review: A Worthy Flagship
Jabra promises that the Elite 10 offers "crystal-clear call quality, exceptional all-day comfort, and is optimized to deliver an immersive Dolby Atmos experience through Dolby Head Tracking." Head tracking, if you will, refers to the audio landscape shifting as you move your head, just like with Apples "Spatial Audio". Dolby Head Tracking works with both Atmos content and upconverted stereo signals, but it truly shines with Atmos. This provides a more precise 360-degree audio image, reducing the randomness of what happens when you turn your head. But what about passform, and sound quality?
Design
According to Jabra, the fit of the Elite 10 is the result of Jabra's analysis of over 60,000 ear scans aimed at finding the optimal shape for the oval EarGels ear tips. Jabra claim that they "fit perfectly for every ear shape" and they do fit exceptionally well in my ears, however I had to size up (to L) from the ones that came in the box (M), but once I made that adjustment, they fit like a glove. Plus, they are incredibly comfortable!
Features
Jabra itself emphasizes that this headset features a new class of active noise cancellation (ANC) that surpasses anything they've done before, and I wholeheartedly agree. Whether it's a bus ride or a bustling street, a significant portion of background noise vanishes when I activate the noise cancellation, compared to when it's off. Even wind noise, which can often pose a challenge with noise cancellation enabled, is handled exceptionally well by this headset.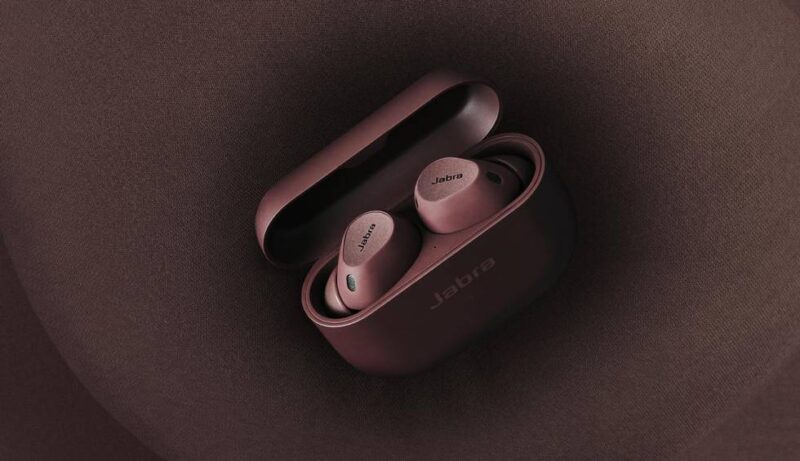 In scenarios where I need to be aware of my surroundings, like when I'm at the checkout counter, I can activate the transparency mode, which does an excellent job of allowing external sounds to filter in. Toggling between noise cancellation and transparency is as easy as pressing the physical button on each earbud. Jabra opts for a more traditional approach here, with each earpiece featuring a tactile button that offers just the right amount of resistance. This design ensures that I rarely accidentally activate or deactivate anything while adjusting the earbuds or removing them from the case. Those looking for a more personalized experience can also customize the button functions through the Jabra app.
Sound quality
The Elite 10 supports AAC and SBC codecs, meaning there's no fancy LDAC or aptX Lossless here, both of which provide Bluetooth audio quality equivalent to CD quality. However, the sound quality is impressive. I particularly appreciate the delicate rendering of overtones. Cymbals sound airy and detailed without becoming harsh, and female vocals stand out distinctly in the music. If the ear tips are too small, the bass can lack depth, so it's crucial to ensure a proper seal. Even with a perfect seal, the bass is tuned to be on the lighter side, almost bordering on thin. This approach allows for more intricate musical details to shine through, but bass enthusiasts should be aware that they might find their groove elsewhere. Thankfully, there's an EQ in the app that you can use to tailor the sound to your liking.
Contenders & price
Competition in this price range is fierce (2 990 SEK in Sweden), with contenders like the Sony WF-1000XM5, Technics EAH-AZ80, and Bowers & Wilkins Pi7 S2 offering some formidable options. Jabra may have the upper hand when it comes to call quality, possibly only rivaled by Sony.
Bowers & Wilkins delivers a much more substantial and richer bass response compared to Jabra, although it can sometimes verge on being overpowering. Unfortunately, the Bowers & Wilkins app lacks an EQ to adjust this. On the other hand, both Sony's and Technics' apps allow for fine-tuning of sound, and Technics' earbuds are perhaps the ones in the lineup that sound the best straight out of the box.
Verdict
The Jabra Elite 10 is a pair of earbuds that excel in audio quality. If you prioritize great sound beyond just bass, you'll appreciate the airy, delicate trebles, the clear vocals, and the relatively spacious soundstage that these earbuds offer.
While Dolby Atmos is more of a fancy feature than a necessity, it's a nice addition, especially for movie enthusiasts. The bass may be a tad reserved, but it's also detailed and distinct. The fit is outstanding, and the call quality is excellent. In summary, these are truly impressive earbuds.