Roccat Kone Pro Air Review: Cut the cable!
Those of you who have read my review of Kone Pro know that I really like it. Therefore, it may not come as a surprise that I also like its wireless twin. But what is it that makes the wireless mouse stand out among all the rest? Let's find out in my quick look of the Roccat Kone Pro Air.
If you want to read a deeper review I recommend my review of the Kone Pro as much is the same between these two twin mice, however here I will go through the essentials with the wireless version.
Design
Design wise, the Kone Pro Air mirrors the Kone Pro straight of, and the only difference is the lack of a cable. It's available in two colour variants: Ash Black or Arctic White. I got the white version and think it looks the great with superb lines and that same satisfying RGB lighting as the Kone Pro. It feels light and comfortable in my rather large hands.
Again, as with its twin the Kone Pro (and almost every Roccat accessory to be honest), the RGB lighting is one of the things that helps the Kone Pro Air stand out from the crowd. You have the same honeycomb design lighting (that really draws attention) under the left and right buttons. There's also a gap that runs around the edge and front of those buttons that lets more light out. I really like this design because where the lighting is usually hidden by the palm of your hand, this mouse gives your fingers a colourful glow while you game.
Connectivity and battery
Another thing that lets the Kone Pro Air stick out, is it's connectivity options, as you can go three ways with it. 2.4GHz with the included dongle, regular Bluetooth connection, or even wired with the included PhantomFlex USB-C charging cable (however, this makes it a regular Kone Pro and I don't know why anyone would want that instead of buying a cheaper Kone Pro).
Pairing during the first time is quick and painless, and you can easily jump in even without any software – although it's recommended that you install the software (Roccat Swarm) as there's no other way to access any of the DPI or polling settings. As with the Kone Pro this is also one of the few big flaws, aways give us a physical DPI button!
In the 2.4GHz wireless mode, Roccat promise up to 100 hours of battery life. That will of course depend on how aggressive you are while gaming (😏) and the amount of RGB you decide to use. Kone Pro Air also has "rapid charging" which gives you five hours of juice after just 10 minutes of charging.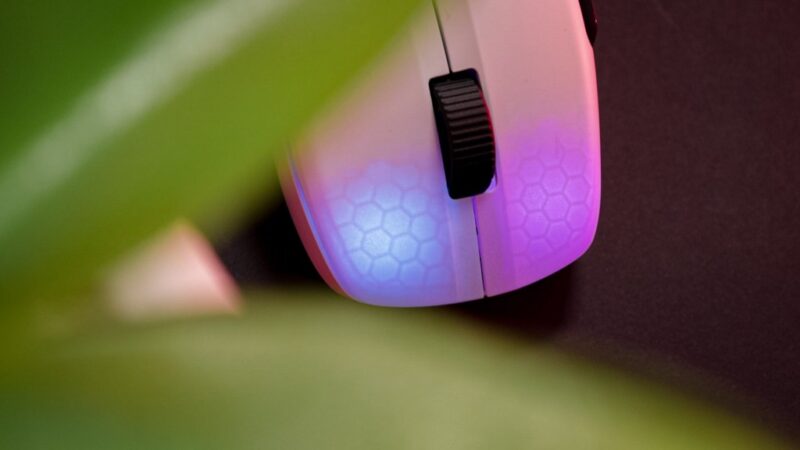 Verdict
The Roccat Kone Pro Air is german engineering at its finest. It's an even better version of the Kone Pro as it has the same great features but with the addition of having wireless and Bluetooth connectivity options. In fact, after using the Kone Pro as my main mouse for a couple of weeks, I went out and got the Kone Pro Air just to get rid of the cable but keeping the features.
This mouse is comfortable in my large hands, conveniently designed with 2.4Ghz wireless, and great to game with as well. The only few negative things to say about it would be the lack of a physical DPI button, forcing user into software to change settings. If you can live with that, I can highly recommend it to anyone looking for something great both for gaming and work.
PROS
Light
Comfortable design for larger hands
Market leading RGB lighting
CONS
---
Specifications
ROCCAT Kone Pro Air
Size:
125.6 x 72 x 40 mm
Size (inches):
4.94 x 2.83 x 1.57 in.
Ambidextrous:
No
Weight:
73 g
Number of Buttons:
5 (including wheel click)
Main Switches:
ROCCAT Optical
Wheel Encoder:
Mechanical
Sensor:
PixArt PAW3370
Resolution:
50–19,000 CPI
Polling Rate:
125/250/500/1000 Hz
Cable:
1.80 m, braided
Software:
Yes
Price:
$129.99
Warranty:
2 years
---
The Kone Pro Air was sent to me for free for review, but I did not get paid to write this. The thoughts on this product are my own. You can grab the product from one of these swedish sites or from Roccat.com.