Jabra Evolve2 85 Review: Best in cla… office?
Jabra's new headset in the Evolve series, the Jabra Evolve2 85, ticks off pretty much everything on my personal wish-list. But how well does it work?
Poor design, questionable sound quality (for other than calls) and a long and ugly microphone arm. That's three features that are true for many office class headsets. Jabra Evolve2 85 does not belong to that crowd however. Here, the manufacturer has picked one of its premium headphones from the Elite series and spiced it up with a bunch of office functions.
Back in April, I reviewed the Jabra Elite 85h in and gave it my high recommendations, so in other words I had high hopes for Evolve2 85. I liked most things about the Elite 85 and although the ANC was satisfactory in the Elite 85, it never delivered at the same level as class-leading options from Sony and Bose. This time around, Jabra has squeezed in ten microphones in the new headset, two more than in the Elite 85h, and claims that the noise reduction is the company's best ever. But let's get down to my thoughts.
Buttons and overall functionality
The Jabra has five buttons on the right side (volume, playback, answer calls, muting, next and previous). On the left side, you have the power switch and ANC button. It is excellent to have so many buttons available. These buttons make it very easy to control your music or meetings. It has a 3.5 mm audio jack port connection available and comes with a 3.5 mm cable. Besides the audio jack cable, and a inflight connector, the device comes with a charging cable (and charging stand, if you picked that option). The 3.5 mm audio jack makes it a great travel companion, and it can also be useful when you want to connect without interference.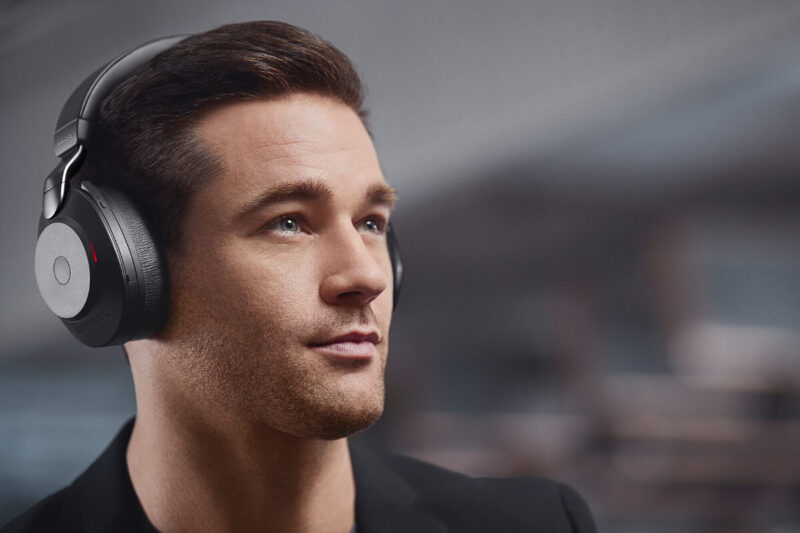 Sound quality and ANC
The active noise cancellation on the Jabra is fantastic, yet of course, with a price label this high, you expect it to be good. They really have improved it and when I put the Jabra on my ears I completely shut off from the world. That is how it first felt. All of a sudden, I did not hear my running kids anymore. I even asked my partner to talk to me to see if I could listen to her, but nothing.
Talking about noise cancellation. The Evolve2 85 has a button to switch between audio modes: ACN on / ACN off / hear through. Hear through lets sound from your surroundings pass through so it feels like you do not have a headset on. This i great when walking near busy roads or when you are out running in the evening and it works really good.
The sound quality (when listening) is really great. In fact, it is so good that it is easy to forget that this headset is primarily meant to be used as an office headset for meetings and calls. However, a few people complained over the sound quality of my voice, when having calls.
Comfort
The Jabra Evolve2 85 are very comfortable to wear. Even though I am a huge fan of over-ear headsets (I personally own both Bose Q35 and Sony X1000M3) I sometimes get a headache if I wear some of them for +1 hour. This does not seem to be an issue with the Evolve2 85 however. The headset fits perfectly with glasses (or in my case sun glasses) as well. No noise/sound is coming in, which has been a issue with my Sony headset.
Battery
The battery life is stated to be 37 hours (I never got out of juice during my test time). Charging the battery fully takes about 2.5 hours and in 15 minutes of charging you get a whooping eight hours of use.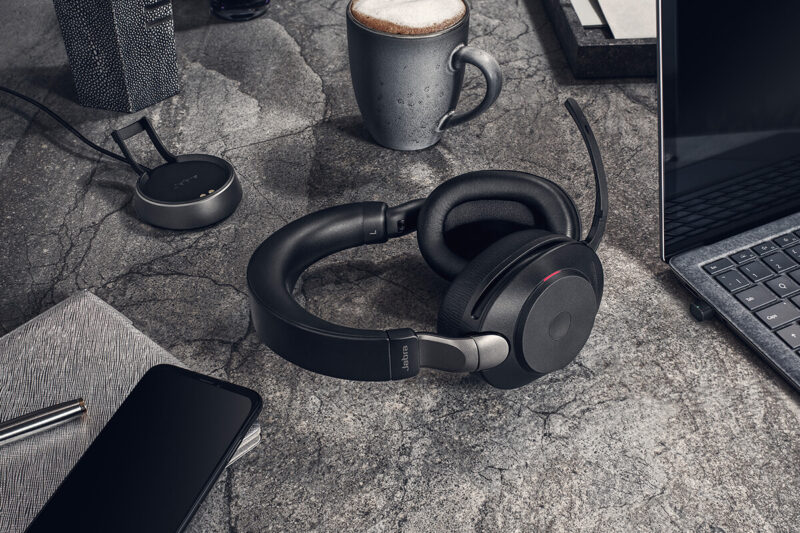 Verdict
This device is not only your best professional meeting companion but also a great accessory to listen to and enjoy. Do you need to buy it? Well, that is up to you, of course. Would I recommend it? Yes, it is a great device. I genuinely love it. The only downside is the microphone quality.
PROS
30+ hour battery life with noise canceling on
ANC is supreme
Best looking "office headset" around
CONS
A bit pricey
Unfortunately not the best mic quality