In the eyes of many, Razer is the company they associate with hardcore gaming. I can definitely understand why, since Razer has niched itself by offering heavily RGB-equipped gaming gear with cool names and appealing designs. But Razer is also something of the PC world's Apple, and if you want to buy their accessories, you will have to dig deep into your wallet. Are their prices justified by quality? Let's find out in this review of the Razer BlackWidow V3 Keyboard.
As long as I can remember hearing of 'gaming keyboards', one name remains at the top of my mind – Razer BlackWidow, The iconic keyboard has been around for over a decade now, and firmly established Razer as a premium and quality computer accessories maker.
The BlackWidow V3 is, as the name suggests, the third version of the iconic keyboard, and definitely has all the resemblance of the previous BlackWidow mechanical keyboard series. The new version does come with a handful of improvements though such as improved key switches, Doubleshot ABS keycaps, multi-function roller wheel with a unique media control key, as well as improved aluminium chassis.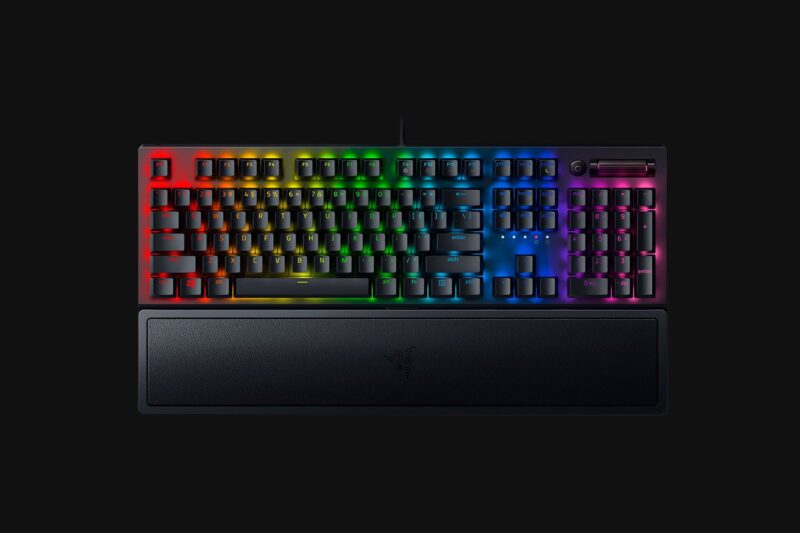 Out of box
The first thing that is immediately obvious when you unbox the BlackWidow V3 is the solid construction and premium feel. The keyboard is built atop an aluminium frame that has a matte finish which, during my test period, has proven excellent at repelling dirt, various oils and fingerprints. The full height keys are made from Doubleshot ABS plastic that feels great to type on – and according to Razer has an impressive 80 million keystroke lifespan.
Thanks to the transparent housing, RGB lights now also shine brighter even in daylight. And you'll love these nifty updates when you are playing games that support Chroma Integration (like LoL or DOTA2).
The keyboard comes in two variants of key switches – Razer Green and Razer Yellow. I got the Green switches for my review unit.
Ideal for gaming and typing
Actuation force: 50cN (50g)
Travel distance: 4.0mm
Activation distance: 1.9mm
Using the keyboard
The clicky, tactile feedback means that they sound very loud and are sure to annoy anyone in close proximity and I'm guessing the more silent yellow switches would appeal more to the other members of my family. But don't get me wrong here, the green switches do feel amazing with a very quick and assured response. The 4mm of travel is great and so smooth with the switches actuating at just under half that distance – 1.9mm. So in short: typing and gaming on them is fantastic, they just sound alot.
Price and market
As for today, you can grab the BlackWidow V3 with green switches for around 1 500 SEK. The closest competitor would probably be the Roccat Vulcan AIMO 120 (1 200 SEK). I can't really answer which is better than the other, it's really about taste and liking. It could also be that you have a favorite mouse from either Razer or Roccat that you want to match with.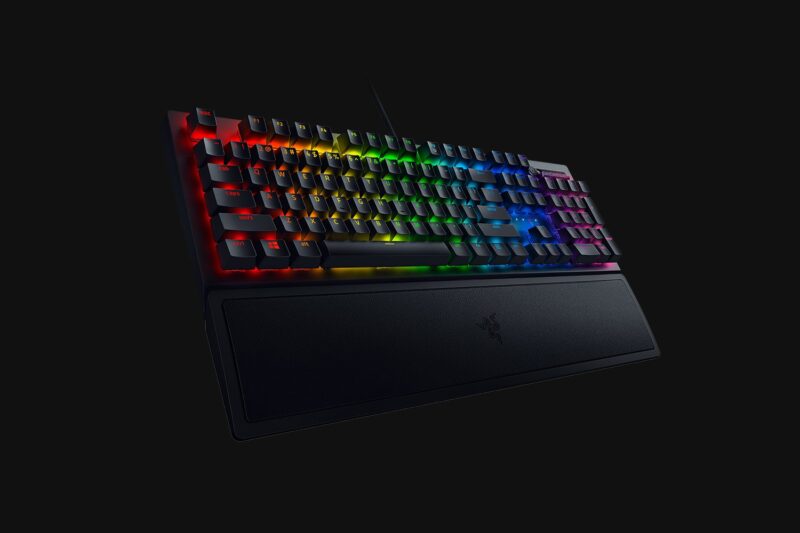 Verdict
What I can say however, is that if you are looking for a good mechanical gaming keyboard that can withstand months of heavy use, this could definitely be it. If you already own the BlackWidow V2 and thinking of upgrading, the V3 would give you a more durable keyboard (both chassis and keycaps), brighter RGB backlighting, and a cleaner look with the volume roller and dedicated media control button.
PROS
Robust quality
Excellent switches for both gaming and typing
Chroma lighting
CONS
Razer Green switches sound alot
No USB passthrough
_______________________________________________________________
The Razer BlackWidow V3 was sent to me for free for review, but I did not get paid to write this. The thoughts on this product are my own. You can grab the Razer BlackWidow V3 at Razer.com.