Jabra Elite 85h Review: Bang for the buck?
Designed to compete with high-end models from Bose and Sony, the Jabra Elite 85h is slightly heavier (296g) than the Bose QuietComfort 35 II (235g) and Sony WH-1000XM3 (254g). It's comfortable to wear, with nicely padded earcups, and seems sturdily built and with dual hinges, it folds up and flat to fit in a decent carrying case. But let me start from the beginning.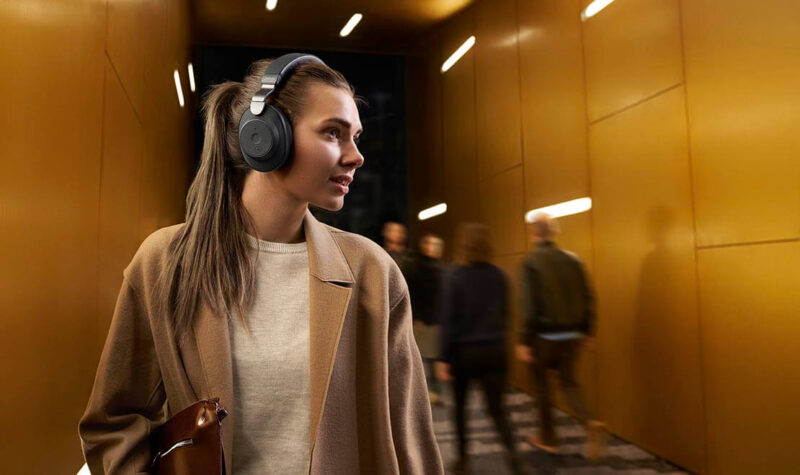 Comfort and design
The Elite 85h is accompanied by a sturdy faux leather case with a soft fabric interior, Jabra's Elite 85h exude a sense of quality from the get-go. Tucked inside the case's fabric divider, you'll find a 3.5mm Aux cable, an airplane audio adapter and a nowadays standard USB Type-C charging cable. The cans are available in Titanium Black, Gold Beige and Navy (which is the color I got sent to me to review).
You won't find any touch controls on the Elite 85h, however, in their place are a host of physical buttons, most of which are on the right ear cup. Even though you can pause and resume music by just removing the headphones, there's a concave button that performs the same function. On top and bottom you'll find raised, rubberized nibs that adjust volume or, if you hold them, they can skip or reverse tracks – you know, standard functions.
Around the rear of the right ear cup, you'll find the smart assistant button that you can use to chat with Siri, Google Assistant, or Amazon Alexa once you configure it through the companion app. You can use this button to compose messages with your voice, set appointments and alarms, check the weather or other smart assistant stuff. At the bottom of the right ear cup you'll find a USB-C charging port, along with the unit's 3.5mm AUX port and a button for muting your voice during calls. The left ear cup, keeps things relatively simple, sporting only a single button that lets you cycle through ANC modes for when you don't feel like taking your phone out to change them in the Jabra Sound+ app.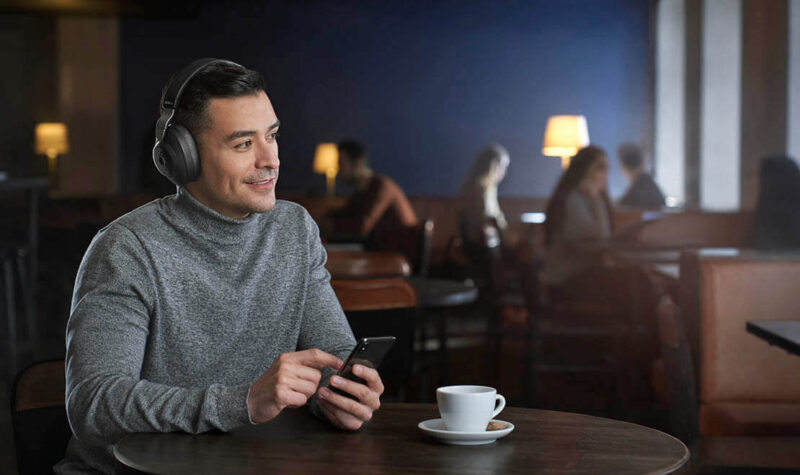 Performance and features
In terms of its ANC functionality, the Elite 85h headphones offer a variety of modes, referred to by Jabra as 'Moments', which let the user choose from four different levels of noise cancelation – Commute, In private, In public, and of course, no noise-cancelling at all. Alternatively, you can also create your own ANC profile known as My Moment, which lets you manually adjust music EQ settings, presets and whether you want to turn on HearThrough, which lets outside audio in. Taking things a step further, Jabra has employed sophisticated 'intelligent adaptive technology' to adjust its level of ANC depending on your surroundings with its SmartSound mode.
Jabra, of course, made a name for itself as a headset company and makes plenty of business-class headsets (and plenty that are designed for the workplace). And you'll be hard-pressed to find a better noise-canceling headphone for making calls.
What about sound quality? Well the Elite 85h delivers really good sound for its price range and I dare say they are up and snuggling on Sony and Bose when it comes to sound quality. What may alarm audio purists however, is that the Elite 85h headphones currently do not support higher end audio codec compression algorithms such as AAC, aptX or LDAC, which help to deliver music at near CD-like quality over Bluetooth.
Saving the best for last, Jabra's Elite 85h are hands-down the winner when it comes to battery life in the wireless ANC category, with a full charge providing 36 hours of playback with noise-cancelling switched on, and a staggering 41 hours with it switched off. Additionally, 15 minutes of charging is said to give you five hours of battery, which is mighty impressive.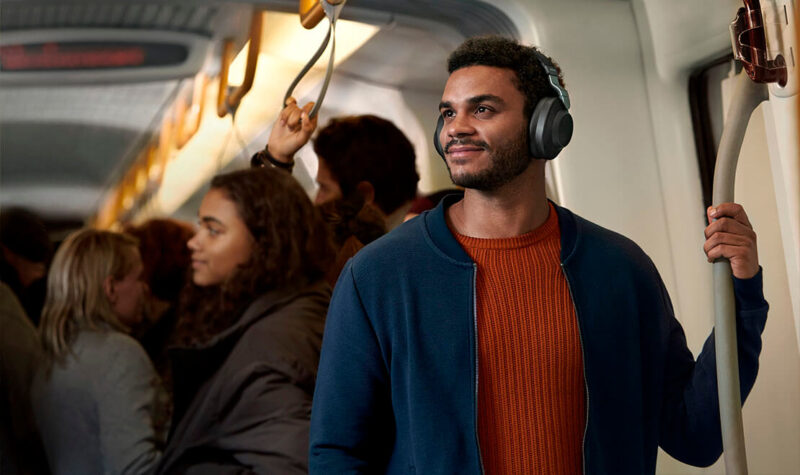 Verdict
As far as features go, this headphone is right up there with the Sony, its noise-canceling is also impressive, and, as I said, it's superior for making calls. It may not quite at the same level for music listening, but it still has excellent audio chops for a noise-canceling headphone. When you consider that Jabra's Elite 85h headphones are the company's first attempt at premium wireless ANC headphones, the result is quite commendable. I really can't wait to see what the company's next premium ANC headphones will accomplish.
PROS
30+ hour battery life with noise canceling on
Noise canceling is effective
Automatically pause when you take them off
Stylish
CONS
Not the best sound quality
No high-end codecs