Beoplay Portal Review: Premium Headphones Engineered For Gaming
Maybe you haven't thought about it. But gaming is no longer something that is only done by nerdy teenage boys. Gaming is everywhere, at home, at work and on the buss or subway. Gaming is done on consoles, on computers on phones and tablets. In fact, never before has it been so clear that gaming is the world's biggest form of entertainment. Another proof of that is that Bang & Olufsen themselves are entering the market with their premium products, and when I heard that I just had to test it for myself. Fortunately, they were not late to respond to my request and here I am now, sitting with their headphones Beoplay Portal on my head as I write this. But priced almost as an Xbox Series One X, it leads to the natural follow-up question – are they worth it?
Connectivity
Speaking of Xbox Series One X. The Beoplay Portal is compatible with Xbox Wireless protocol, enabling a fast one-button, low-latency connection to your Xbox Series X|S or Xbox One, and supports Dolby Atmos for surround sound gaming. Connecting these to your Xbox could not have been any easier. Press the dedicated button on the left earcup and press the sync button on your Xbox. Connected and ready to game in matter of a few seconds.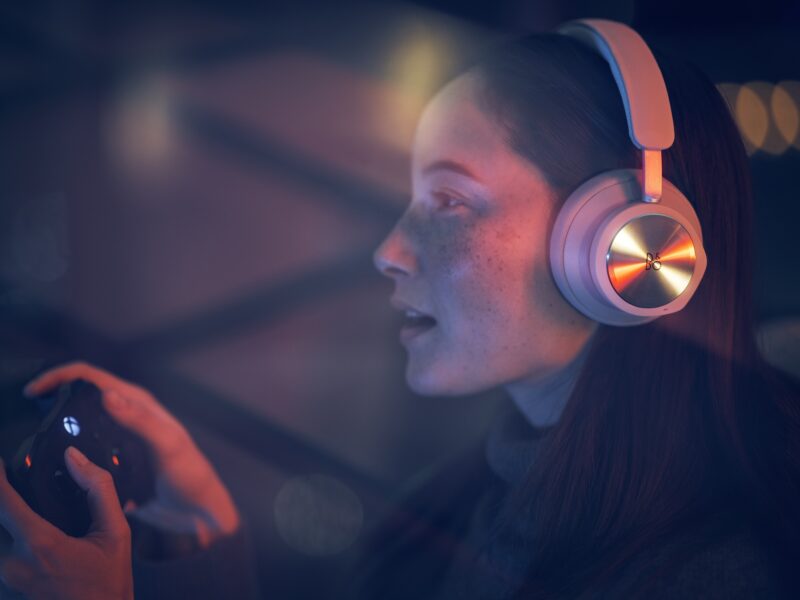 Unfortunately however, if you want to use your new premium headset with a Playstation 4 or 5, it's via wired connection. They come with a USB and an analog cable though, so you can plug them directly into your controller of choice for both audio and microphone compatibility.
Apart from the above, they also function as a regular pair of Bluetooth 5.1 or wired headphones, meaning you can hook them up to just about any device out there. They will remember your last 8 connected devices, so you won't need to re-pair them in the first place.
Design and comfort
Now this is where the Beoplay Portal differs from pretty much all other headphones I have tested (except from maybe Apple's AirPods Max) and where they definitely differs from all headphones that are aimed at gaming. The Beoplay Portal are made of exceptional premium quality materials, and you can tell that from the moment you pick them up of from its box. The ear cushions are crafted from lambskin over soft memory foam, the inner headband is made from a high quality bamboo fibre textile with good breathability, and comprises a centre-relief pillow design which prevents pressure on the top of your head.
All this premium material sure weighs a lot, I hear you thinking? No, in fact, the Beoplay Portal only weighs 282g making them lightweight enough for very long sessions, whether it's in front of the TV playing video games or whether it's on a 10-hour flight to the other side of the earth. In fact, they weigh almost 100g less than Airpods Max (386g) and 36g less than the only other real premium gaming headset I've tested – the Epos H6PRO (322g). These cans are definitely one of those that you forget you're wearing due to its lightweight and natural fit.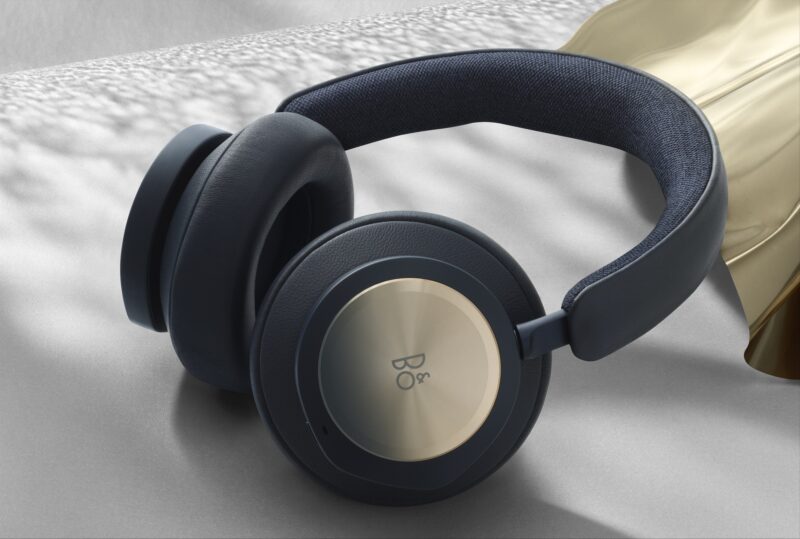 Controls
In terms of controls, there's a power/pairing button on the right earcup. On this cup you'll also find your USB-C charging port and a 3.5mm headphone jack. On the left cup ther's another button that cycles between your paired Bluetooth devices and your Xbox.
Both earcups also has a touch-activated sliders. One being used to slide through volume, and the other to toggle ANC/transparency levels if you're using your phone, or game audio/chat when you're gaming. They're very responsive and smooth to the touch.
You can double tap the logo on the earcup to start/pause what you're listening to.
Performance
There are two paths here. The "gaming sound performance" path and the "everyday listening to music and podcasts performance" path. As I have mentioned before, these are a pair of extremely comfortable headphones to use, making them perfect for everyday use. And as everyday headphones, it shouldn't come as a surprise to anyone that the Beoplay Portal's has an impressively balanced out of-the-box performance capable of handling any genre you might throw at them. Perhaps they're not in pair with something like Sony's WH-1000XM4 in terms of pure out of box sound quality, but if you tune them in the in-app EQ they're deliver just as good. The base has a rich depth, which in combination with airy mids makes the sound feel alive. In addition, the headphones are equipped with two 40 mm drivers with neodymium magnets to get the best acoustics possible.
However, chances are quite high, that most people buying the Beoplay Portal will see the music-listening bit as secondary to the Xbox/PC functionality, so how well are these cans suitable for gaming?
The audio delivered while gaming is incredibly immersive. And that Dolby Atmos I mentioned earlier, when it kicks in on compatible games, it really adds an extra dimension to the overall experience. As you know, one of the most important factors for a gaming headset is the microphone. Although most models have a boom attached, the Beoplay Portal is instead equipped with several built-in microphones. An array of these beamforming microphones isolate and amplify users voice while cancelling out background noise Thus, your teammates will hear a crystal clear voice without ambient noise. And by ditching the boom, we also get a stylish headset that's not as reminiscent of an airplane pilot as other gaming headsets.
As for the active noise cancellation it works great. It's not as good as the Sony XM4's or the Bose QC's, but it definitely gets the job done.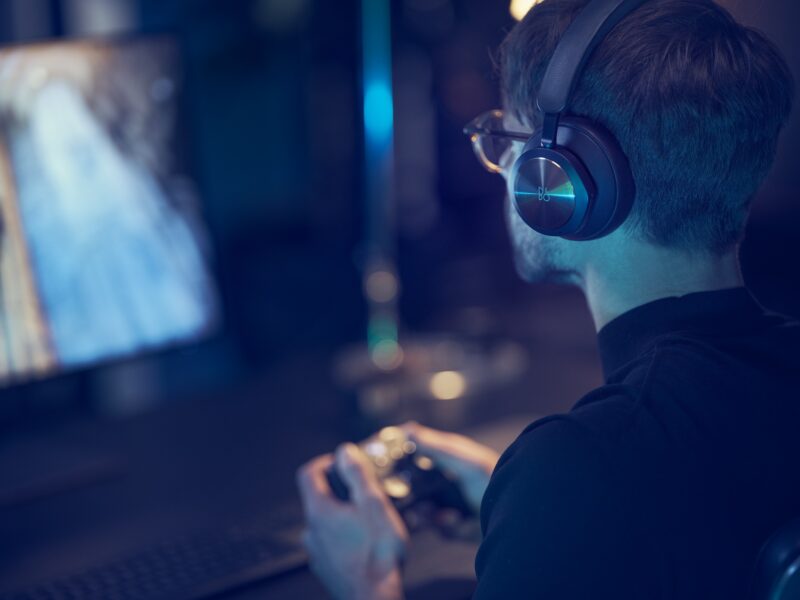 Battery life
In terms of battery life, the Beoplay Portal offers about 12 hours of wireless performance (over Xbox Wireless connection) and lasts up to 24 hours if you're on Bluetooth only with ANC on. A USB C cable is provided for charging, which is quite lengthy and enables you to charge while siting by your computer. If you are gaming from your sofa and have a few meters to closest wallconnector, you're gona have a hard time playing while charging though.
The headset takes slightly less than three hours to fully charge.
Verdict
The Beoplay Portal is a expensive sound experience (5,199 SEK as I write this), which immediately makes them a premium headset that is not intended for everyone. However, gaming headsets tend to fall flat when it comes to music, but Bang & Olufsen Beoplay Portal not only sounds exceptional when gaming, but also while listening to all types of music. In addition, it is the most comfortable pair of gaming headphones I have ever used. And all of a sudden, the Beoplay Portal are a couple of headphones that can be recommended to others as well.
I wouldn't recommend them to pure PS5-gamers though (because of the wired only connectivity), but if the price doesn't matter and you're a Xbox, PC or Nintendo Switch gamer looking for a very premium sound experience then the Beoplay Portal get two big thumbs up from me.
PROS
Best looking gaming headphones out there
Best overall build and materials
Great sound
CONS
Very expensive
Not for PS5 gamers