Streamplify Glow Light 14 Review: Scorching Hot (Literally)
Streamplify aims to brighten up your everyday life and provide better lighting for your streams and studio recordings. But can their lighting solutions meet users' needs, or will they remain in the shadows? Continue to read this review of the Streamplify Glow Light 14 as I aim to shed more light on the subject.
The Glow Light 14 is a panel light offering enhanced lighting solutions, designed for both streamers and individuals participating in video conferences or for those who just want better lighting in for their recordings. With its 14-inch size, it provides users with a generous light source that can be easily mounted on both slim and thick surfaces (up to 68mm).
Unboxing Experience
The unboxing experience is quite nice, and inside we find the 14-inch light panel, a power cable, a mounting stand, and a remote control. With these components, you can effortlessly create a particular ambiance for your streams or simply brighten up your surroundings around your computer. As mentioned earlier, the mounting stand can be attached to your desk, countertop, or any surface up to 68mm in thickness. Thanks to the broad range of thickness options for attaching the light panel, there are very few places where you can't set it up.
Features
The mounting stand not only offers secure attachment but also height adjustability. The stand can be extended to a maximum height of 91cm, providing an excellent height for your lighting needs. There are two levels at which you can extend the stand to its maximum height, giving you the flexibility to choose how tall you want it to be. This is appreciated because we all have different setups and varying requirements for the positioning of the light.
Now, let's shift our focus to the light itself. It offers 20 different levels of brightness and four color temperature modes, providing you with numerous options to discover the perfect lighting for your setup. The four color temperature modes include Summer Amber, Natural White, Calm White, and Winter Blue, spanning from 3000K to 6000K. By cycling through these color temperature modes, you can find the right tone or mood that suits your preferences.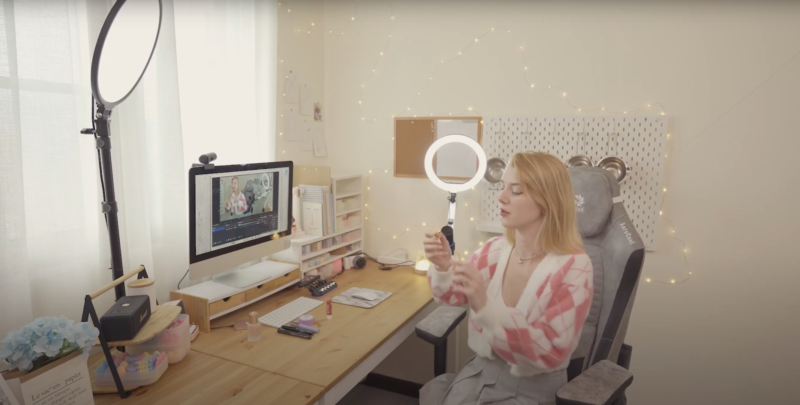 The stand can be extended to a maximum height of 91cm, providing an excellent height for your lighting needs. (Image credit: Streamplify)

On the back, there's a small LCD screen for easier access to settings. In theory, though, you don't need to get up and go to it to make adjustments. It comes with a remote control that allows you to cycle through four preset lighting modes, increase or decrease brightness, or switch between color temperatures. However, there was a MAJOR issue with my review unit: 1. The remote control didn't work when I tested it with batteries, and 2. it became EXTREMELY hot, to the point that it was impossible to hold. I quickly removed the batteries and concluded that I wouldn't be able to test the remote control any further. It was a bit scary, but luckily, everything turned out fine (and yes, I triple-checked that the batteries were installed correctly).
Verdict
If we overlook the alarming issue with the remote control almost catching fire, everything else has sounded quite promising so far. But what about the price? Well, at the time of writing, the price is just above 1000 Swedish Kronor, which might seem like a lot for a lighting panel, especially when Streamplify Light 10 and Light 14, which I've reviewed before, are several hundred Kronor cheaper and did a decent job too. It may feel like a significant investment for a bit of light, but here you get four color temperatures, 20 brightness levels, and good mounting options and height adjustment to provide users with plenty of choices for their setup.
Overall, it's a genuinely good product, but the price might be a deterrent if you just want to add a bit more illumination to your surroundings without stretching your budget. The light panel is a great purchase for streamers or those in video conferences with clients who want the flexibility and options to set up the perfect lighting just the way they want it.