Xplora X5 Review: Keep An Eye (Or Time?) On The Kids!
Sooner or later, it's time to let the kids go on their own adventures. But for many of us, it may feel too early to give our children a smartphone connected to the internet, social media and that big fragile screen. The idea is therefore that with the help of a GPS watch, you can keep in touch in a simple way for everyone involved, and at the same time minimize the disadvantages that a smartphone brings. I have (together with my 6-year-old son) had the opportunity to test Xplora X5 Play, which works largely as a basic Apple Watch for children, where the most important function is of course the ability to see where your child is and the ability to communicate with them.
Installation and setup
First of all, Xplora X5 Play needs an active subscription to function and you activated it via an email. If you buy one year in advance, it costs SEK 99 per month. A six-month advance gives a monthly cost of SEK 109. If you want to receive a monthly invoice, it costs SEK 119 instead. The watch itself (as of today) costs about SEK 1500.
It is not complicated to get started with installation and registration. However, you need to create profiles for yourself and any other adults who should have access to the watch / child. You also need to create a profile for the child and link the watch with a qr code on the screen. Your child will only be able to communicate with the people you create a profile for in the Xplora app.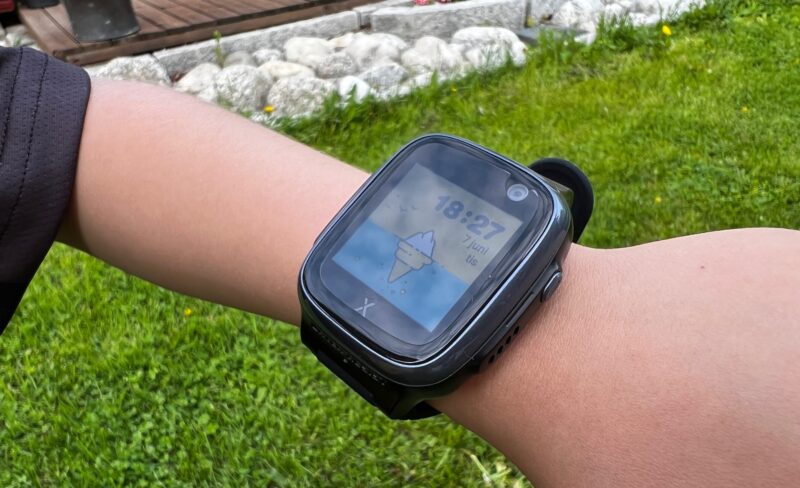 The system in the watch is Android, more specifically Android 7.1.2, but you won't find any of Google's services, you can't install your own apps, and the apps that are available are quite limited and more similar to those you'd find on a watch.
Functions and features
There's only one button (on the side of the watch) that is used to start and wake the watch, but if you hold it for a few seconds, the watch calls the parent as an alarm call. Good of course, if something happens.
The watch is quite robust and can withstand a lot and it is water resistant (however, your child probably shouldn't use it while bathing). You can also a buy protective screen cover for the screen, which is probably needed as my test watch looks quite scratched after my child has had it for a few weeks (only the protective plastic is scratched though).
The call quality is good and both me and my son hear each other quite good during conversations. However, I would have liked to see a little better speakers on the watch, at least louder.
Xplora 5 Play actually has a camera. Taking flattering pictures is difficult when the camera is on the wrist, but you can always take off the watch to take pictures. This is of course something you can play with as a child, when the demands on good image quality are not so great. Getting the image out of the watch, however, is not so easy. The only way seems to be to send it in a chat to one of the contacts, who from there downloads it to their mobile. The image quality can be compared to the images we took with our VGA cameras back in the days.
It also has a music player, which I have never tried, because it is too cumbersome a process to transfer music, so I'm really unsure of the functionality.
One gimmick feature that my son seems to appreciate very much is the ability to count his steps with the built-in pedometer. I do not know how accurate it is (compared to for example Fitbit and Apple Watch) but it at least makes my son want to move more and it gives him an idea of when it's time to go out and kick a little more football.
The child can also exchange watch faces for one that is to their satisfaction.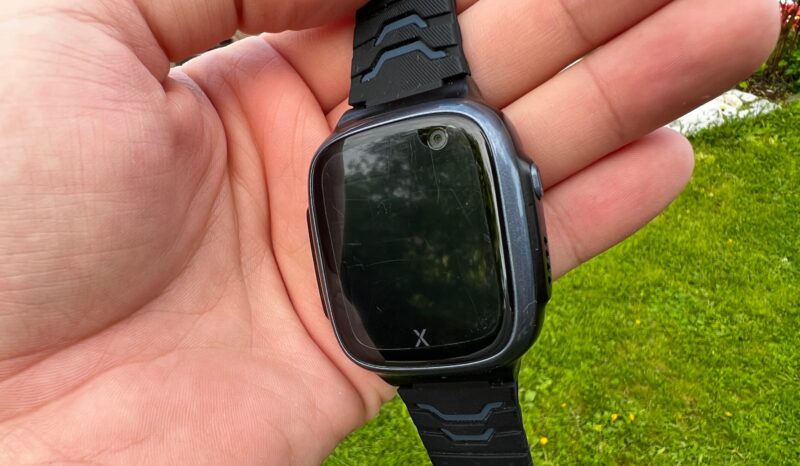 Parental control
As I said at the beginning, the GPS is probably the "most important" feature and it does a good job of pinpointing where my son (or at least the watch) is. In addition to being able to see where the watch is on a map inside the Xplora app, you can create so-called "safety zones" and receive notifications if the child leaves those zones. It is easy to do in the app, but the zones must be relatively large, 300 meters is the smallest diameter that can be set.
The parent can also schedule "school mode" in the watch. When that mode is set, the watch can only display the time and activate the alarm function. This solves, among other things, the problem of calculators on the wrist in the classroom or that children can't concentrate because they send emojis to each other. It can also be mentioned that the screen does not light up automatically when you hold up the wrist. Instead, you have to press the button to wake it up, which may also make the watch less of a distraction for the child.
Battery life
The watch has an 800 mAh battery that provides up to 72 hours of battery life. It is charged with the included USB cable with magnetic mount that is attached to the back of the watch. The battery life "okay" considering the size and functions of the watch, but Fitbit makes thinner watches with more functions that get through five days on a single charge without major problems, so I would like to see a slightly better performance from Xplora here.
As long as you have the cable with you, it is of course possible to charge with a powerbank or similar if you are away when the battery starts to run out.
Verdict
As a whole, I think that Xplora 5 Play is a well-thought-out solution for children who are starting to reach the age where they need a mobile phone but may not be ready to take responsibility for a smartphone.
However, it is a fairly short period in life and one can discuss whether it is worth a special investment, especially considering the quite expensive monthly cost. But if it's a gps watch you are looking for for your child, I have a hard time believing that you can be dissatisfied with what Xplora offers with the X5 Play.
PROS
Good alternative to phones
Easy to use (for kids)
Good overall quality
CONS
Unique charging cable
Expensive