Roccat Magma Keyboard Review: Perfect Gaming Christmas Gift
Roccat sent me their budget-friendly Magma Keyboard. It's a good gaming keyboard for the price. It's comfortable and easy to use, while also offering some satisfying RGB lighting and decent features. Lets jump into it.
Design and features
Unlike a lot of (or most) other RGB backlit gaming keyboards, the Roccat Magma uses a combination of 10 discrete LEDs, a five-zone lighting setup and a white/transparent-ish backplate to maximise RGB lighting. So instead of lighting up every individual key, the whole backplate lits up – creating a cool not so common RGB show.
However, the design take has it flaws. It doesn't feel like the most durable or high end quality keyboard I've ever used, and even if the transparent backplate is neat in theory it actually end up showcasing some of the interior components. This is of course kept hidden with the help of the RGB lighting but seeing dark spots where the keyboard is being held together doesn't lend to a sense of quality. Then again, at just 550 SEK ($59.99 / £49.99) you can't really complain at small design flaws like this, you'll just have to live with it.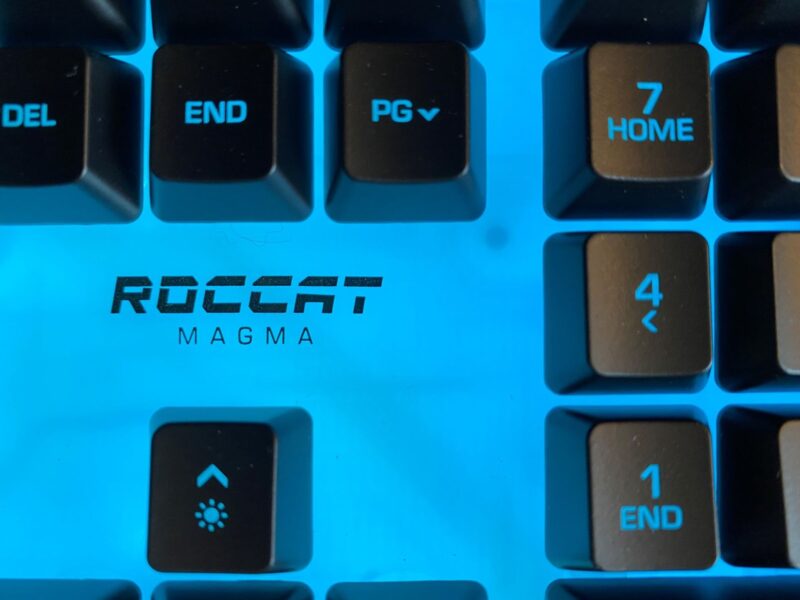 As for the key caps themselves, they feel good under finger, but I wouldn't mind if they had a little extra grip to them. They do allow for the Magma's backlighting to shine through though – which keeps the price down compared to individually lighting each button.
Performance
Typing on the Roccat Magma proved to be particularly satisfying, with each key beeing light enough to bottom out comfortably and quickly, and this despite the fact that the Magma uses the cheaper membrane keys.
The membrane keys have it's ups. And one thing that's even better than how the Magma feels when typing, is how it sounds – or doesn't sound. The Magma is very quiet and your family and friends certainly aren't going to be upset with the noise level at all and it won't disturb anyone if you type on it while you have a work call over Zoom.
The keys are also smartly designed with advanced anti-ghosting technology with 26 key roll-overs. In theory, this means you can mash as many keys you'd reasonably use during gaming and have all the keypresses registered withouht the keyboard going "nuts".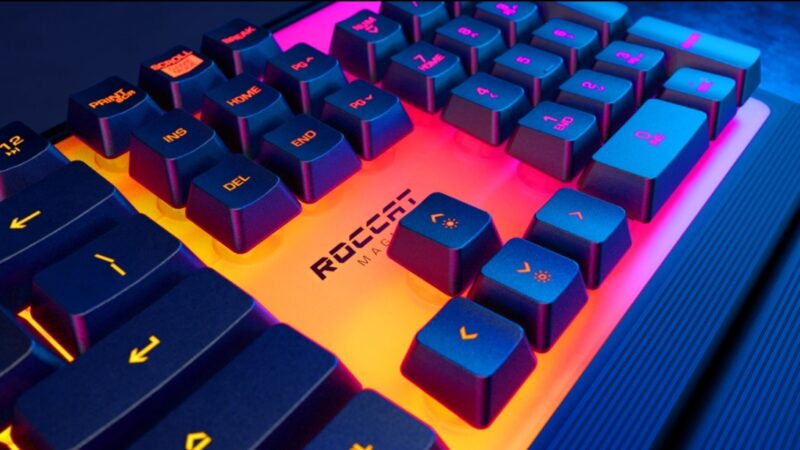 Verdict
At this price point there isn't really much to complain about with the Roccat Magma. It's a overall good keyboard with nice typing experience and it performs well in gaming. The RGB lightning looks cool, but if you study it to close it can feel a bit cheap.
I can reccomend this to any parent who's looking for a gaming keyboard for their sons and daughters to put under the christmas tree this year.
PROS
Exceptional sound quality
Very comfortable
Great design both for gaming and work
CONS
No wireless connectivity
Expensive
---
The Roccat Magma was sent to me for free for review, but I did not get paid to write this. The thoughts on this product are my own. You can grab the product from any of these swedish sites and from Roccat.com