Riders Republic (PS5) Review: Extreme Sports, Extremely Fun!
Riders Republic is the spiritual sequel to Ubisoft's Steep – a game I played about an hour before I got tired of it. Riders Republic on the other hand, includes every xtreme sport imaginable, in what is one of the best racing games of recent years.
Riders Republic hosts an made up version of Yosemite National Park in the US, but it also ties together woodland, snowy mountaintops, and Arizona like deserts. You play as a thrill-seeking extreme sports enthusiast taking part in a massive, deeply unsafe, and completely unorganised event in the area.
In fact let me start with by comparing Riders Rupublic to other games. I saw someone describing it as if SSX Tricky meets Tony Hawk meets Steep meets just about any other extreme sports game, using the open world structure of Forza Horizon, and that's exactly what it is.
The main premise of the game sees you as the new up and coming rider on the tour with the objective being to take on and tackle all and any manner of extreme sporting events to earn stars and therefore progress up the rankings and unlock even more events and sports to participate in. In the game you'll be swapping from event to event on the fly from your map screen, sometimes even within a race, trying to win, but also achieving side objectives that give you said stars. Riders Republic doesn't seem overly worried about pressuring you into anything. It's a play-as-you-want system, meaning you don't need to do anything at all. No requirement to buy any equipment or collect points. If you just want to glide around on the mountain and try your wings far out in the wilderness, you can do it. If you would rather cycle around among cacti, wearing a t-rex suit and listen to Coolios Gangsta's Paradise, without the slightest ambition to win anything, it also works really well.
Anyway, even if you did not intend to compete in anything, there a five main events that make up the bulk of the game, and once you're through the tutorial, the game does an excellent job of feeding them to you a little at a time. You have races, both on a bike or with your choice of skis or a snowboard. There are also trick events for both modes of transport. The fifth are air events, using either a wingsuit or a rocket wingsuit.
The game's trick system is more or less the same no matter which of those rides you're on, allowing you to go back and forth between biking and shredding down a mountain with ease. It's simple with all the default options on, but those wanting more depth can turn off some of the game's hand-holding options to up the difficulty, and be rewarded with more points.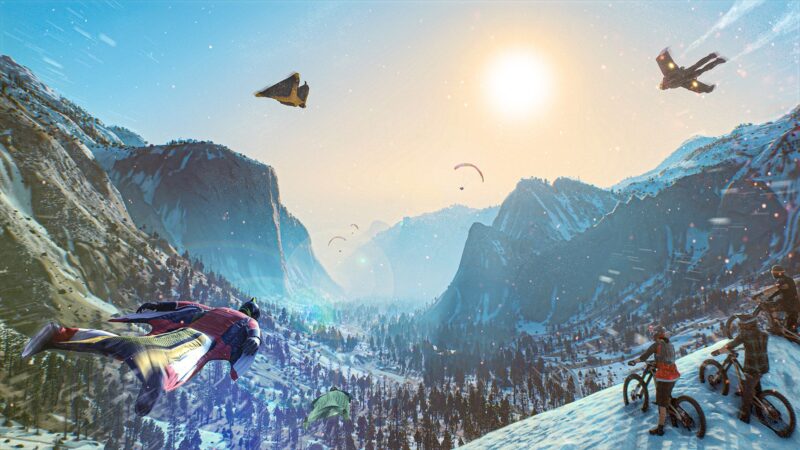 Graphically the game looks pretty good through to absolutely jaw dropping depending on which areas you are exploring or racing through and the game even includes a 'zen' mode that allows you to explore the world freely offline and spawn pretty much anywhere you want, this is great for finding perfect spots to have a crack at the games wonderful photo mode, you can really take some nice screen grabs and show off just how beautiful the game can look.
Once you get through the tutorial, Riders Republic opens up in a sandbox that is only limited by your imagination. There is enough to do to keep players busy for a long time and enough variety to keep things fresh. So grab your skis, snowboard, wingsuit, snowmobile, bike or whatever you find fun because it's time to ride.
Score: 8/10
Riders Republic is available on PC, PS4, PS5, Xbox One and Xbox Series X. I reviewed the game on PS5 with a code provided by the publisher.