Nest Wifi Pro Review: A Simple Way To Wi-Fi 6
For many of us, Google Wifi was probably one of the first mesh Wi-Fi systems we had heard of with the promise of better Wi-Fi being carried to fruition by multiple tiny routers. Google followed that up with much faster, but also larger and more expensive Nest Wifi. I really liked the Nest Wifi, but the 2020 hardware that impressed me then, doesn't really hold up today. Google has rectified that with the Nest Wifi Pro sporting a snappy and modern AXE5400 tri-band Wi-Fi 6E connection and I have been testing it for a couple of weeks.
Unboxing and design
Unboxing the Nest Wifi Pro is, of course, a pleasant experience. Google has learned from Apple that it should not only be fun to use a product, it should also be nice to unbox it. For this review, Google sent me a three-pack starter kit with three white mesh routers.
And speaking of colours. You can buy a single Nest Wifi Pro router in one of four colors. The base white color is called snow, a light yellow color is called lemongrass, off-white is called linen, and light blue is called fog. You can get a three-pack either in white or with white, linen, and fog. The two-pack is only available in white. Each of the three router points comes with a standard power cable and an Ethernet cable.
Apart from the ovoid shape and lamp-like fascia, a Nest Wifi Pro point has just three connections on the rear – much like the standard alternative. It has a power port and two Ethernet ports, which can be used to wire it to an internet connection (essential for the main router that you plug into your modem) and other devices if you want a more stable connection for your game console e.g.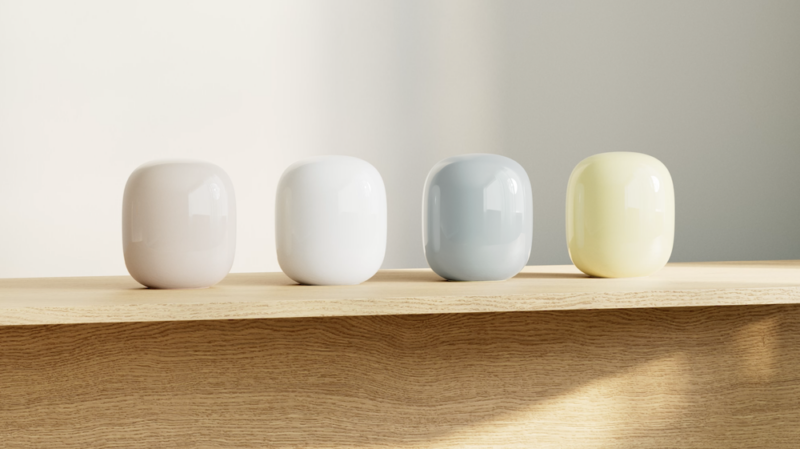 The only other identifying feature of the design is a single LED on the front, near the bottom, which is white when everything's working well, but changes colour when connectivity is poor. This can be dimmed or even turned off entirely using the app.
It's clear that these points are designed to blend into any room and quite frankly, the Disney-esque robot look could look really nice in a window or on a shelf.
Compatibility and setup
Simplicity is the key word here, no doubt about it. Installation is performed through the Google Home app (which I used on my iPhone). Each point you purchase (or each of the three in the starter kit) is identical, so it doesn't matter which you choose to be your main router, that is assigned automatically as you set it up. So, you just need to plug one into your modem, set the app to find new devices and off you go. You will need to scan the QR code on the bottom once using your phones camera, but the app wizard is really simple to follow and it took no more than maybe 5 minutes to have the first one set up and ready to use.
You then simply install each additional point in their respective rooms, ensuring they are within each other's signal range (the app will tell you). It took about 15 minutes to connect all three routers, accounting I had to switch rooms and start the setup over on one of the routers that didn't quite reach its sibling.
I wasn't too surprised that I had to reconnect all my previously connected devices. I also had to hard reset my Sonos system and completely redo the installation. This despite the fact that I chose the same name and password as I had in my previous network. But of course this has to do with security and that not all systems use the same data sending technology (for the record I swapped out a 2020 Nest Wifi System).
What did surprise me however, is that the Nest Wifi Pro system is NOT compatible with Google's other mesh options. Meaning a Nest Wifi Pro point will only create a mesh network with one another Nest Wifi Pro point. So you have to take that into account when deciding to invest in an upgrade.
Hardware and performance
Each point runs on a dual-core 64-bit ARM processor and 1GB of RAM, with 4GB of internal storage (mainly for system software and updates). The headline feature is Wi-Fi 6E connectivity (802.11ax), while its AXE4200 support offers combined speeds of up to 4.2 Gbps, and tri-band radios provide automatic switching between the 2.4 GHz, 5 GHz, and 6 GHz ranges.
On paper it sounds good, but how is it in practice? Unfortunately, it is not super easy to evaluate network speed and perhaps above all not easy to recommend a network product based on how it performs in my particular test. There are so many parameters that come into play, for example how you live (stone walls, brick walls, wooden walls or other), which internet provider, which devices you use both for tests but also other devices that can conceivably interfere with the Wifi signal on your test device.
So to make it as simple as possible, I'll explain my situation, as well as how it compares to the Nest Wifi system I've used before. I have a local ISP that delivers 1000 mbit/s down and 1000 mbit/s up to my house. My office (where I have my test computer etc.) is upstairs just above the modem where the internet is connected to the house. There I also have my first Nest Wifi Pro router.
On my test computer (in the office above the router) I am connected wirelessly to the network. Through my wooden floor I get around 875-950 mbit/s both up and down. Ping times average between 2ms and 4ms to the nearest test server with 10-20ms jitter on most tests – in other words good. However, when I test in the living room (two rooms and two wooden walls) from my office, I get a drastically lower 350-375MB mbit/s both up and down. Of course, I understand that I lose a lot because of my walls, but I probably wasn't prepared for it to be so significant.
Then I get even lower results in my third test room which is another wall further away. The positive, however, is that I experience significantly better range of the Wifi signal. In the room that I had the absolute worst signal before (barely any signal at all), I now have a fully functional signal and no longer have any problems connecting my Sonos speaker that I have had with previous routers.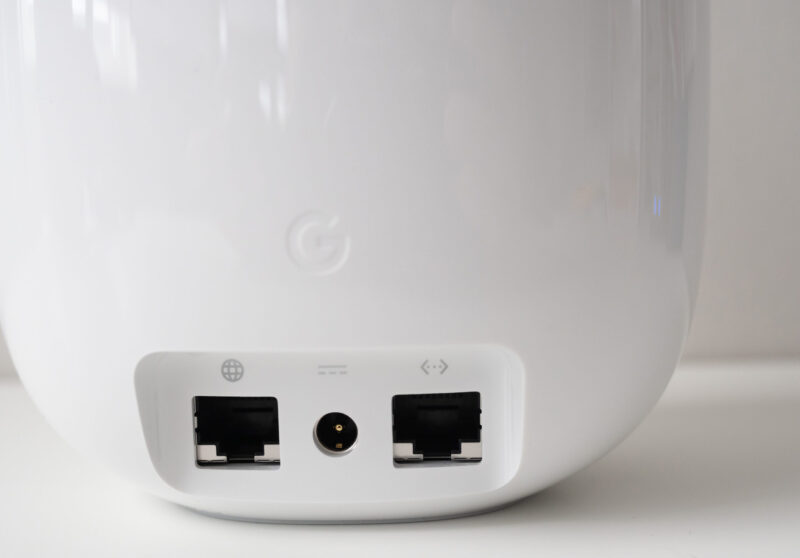 Perhaps the strongest proof that the overall Wifi has improved is that my tech uninterested partner asked me if we had "bought stronger internet" because all of a sudden everything was working so well.
So to sum up my performance tests, the mesh network seems to reach further now than before. Whether it is due to Wifi 6E in particular and that there are fewer devices that can interfere with the signal, or something else is difficult to answer. But whatever the reason, initially it seems like it's definitely worth upgrading from Google Nest Wifi to Nest Wifi Pro at my house at least.
Pricing
Having said that, you should know that the Nest Wifi Pro is a rather expensive upgrade. For a single router, you'll pay $199.99, a two-pack is $299.99 and the three-pack comes in at $399.99.
And then we also come to the (for me) biggest disappointment with the Nest Wifi Pro – the speakers are gone. With Nest Wifi, we got a Nest Mini built into each point. Something I use daily to make some of my everyday tasks a little more efficient. And for the price you're forced to pay to upgrade to a better network at home, it honestly feels a bit stingy of Google to no longer offer this as part of the price.
Verdict
In the Nest Wifi Pro system, Google has presented a very fuss-free way to upgrade your home network to Wi-Fi 6E and tri-band – one that will boost your stability, range and speeds (especially if you are upgrading from an non mesh setup).
If you are thinking of investing in the Nest Wifi Pro, you should know that they are not compatible with older Google mesh products and that unfortunately they no longer come with built-in Nest Mini speakers. If you can look past that, it's an unmarked buy for anyone looking to step into the Wifi 6 generation.