Roccat Kone XP Air Review: My Favourite Wired Mouse Just Got Wireless
It's actually starting quite bizarre how many quality products a company succeeds in spitting out, but Roccat has done it again. This time it's the wireless version of their much loved gaming mouse Kone XP. It comes boxed with a neat charing dock and a lot of RGB!
Desgin
Looking first at the design of the Kone XP Air, it sports the traditional Kone shape that has been around for a few generations now and there isnt really anything to complain obout ergonomic wise, I have to say it feels nice in the hand.
Like its corded sibling Kone XP, the Kone XP Air offers 3D lighting effects in the form of five LED panels under a translucent shell. This is a slight variance from the Kone XP which had eight lighting zones available. Regardless it does offer some unique lighting options for the RGB enthusiasts out there. For me, however, just as I said in my Kone XP review I would've liked it to be a little more subtle, potentially using smaller pockets of RGB rather than it taking over almost the entire top of the mouse.
Something real cool though, is the implementation of RGB features such as the lighting dimming as soon as you grip and move the mouse, and it completely shutting off after a certain amount of time being stationary. This not only helps with improving the overall battery life of the Kone XP Air but it also isn't distracting you if you're doing other tasks in the same environment.
Buttons
Button placement offers a lot of functional access for the index finger and thumb to leverage during gaming sessions. With 10 programable buttons and a "4D scroll wheel" you'll have lots of options for input.
I do have to mention though, after spending a lot of time with the Kone XP and some time now with the Kone XP Air, I have a hard time accepting the four thumb buttons on the side. They are quite difficult to distinguish from each other and if I had to choose, I probably would have preferred to have only two buttons there. Alternatively, it would have been fantastic to have the option to replace the four buttons with two instead (but I don't know if I'm nitpicking here).
Another thing I wish I could change is the hardness of the scroll wheel button. While it certainly serves its purpose and offers a bunch of different button press combinations (in what Roccat calls 4D), I just find it a bit too stiff.
But now it feels like I've been a little hard on the Kone XP Air. Most of the criticism I give here is really up to each person to decide and much of it depends on personal preference.
Features
Apart from the smart RGB features, the Kone XP Air basically have a "shift button" on it's side underneath your thumb as well (which we also find in the Kone XP). Meaning that each and every button can be given a secondary click as well. For example you can program a button to to something when you click it normally, and something else when you "shift + click" the same button. Roccat has trademarked it as Easy-Shift, and it definitely lives up to its name. I'm a real a fan of this and I'm actually not sure I could live without it now.
All settings for Easy-Shift, DPI levels, RGB and more are made in Roccat's Swarm software.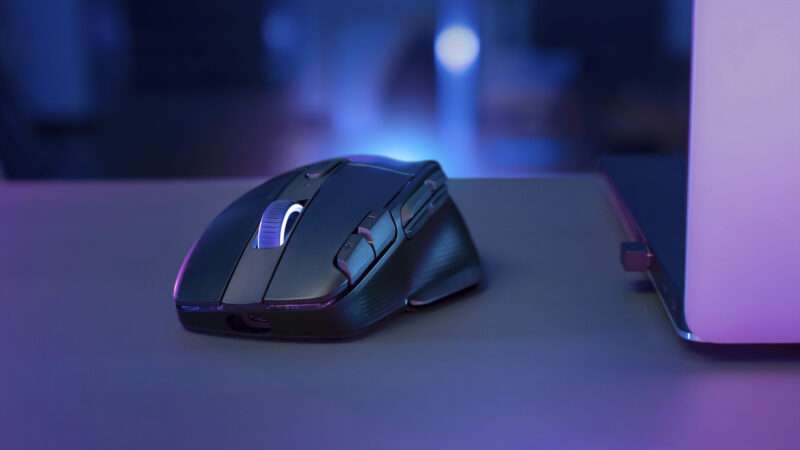 Battery and docking station
The Kone Air XP comes with a charging dock that also sports a little RGB. The RGB can of course be programmable to a color of your liking, but it also acts as a status indicator of your battery life.
It's simple to use, and the mouse itself simply slides on for extremely easy charging. To connect it to your PC, just slot in the provided USB-C cable and insert the dongle into the dock itself.
Place your Kone XP Air on it during your 15min break and recharge about 8hrs of play time. Best of all is that if you fully charge your mouse, you'll have about 100hrs of play time before it dies entirely. At this rate, you'll have a hard time running out of juice.
Connectivity
Wireless connectivity works as it should with two options available to you. You can either opt for a simple Bluetooth connection if your device allows, or you can hook up the accompanying dock and slot in the wireless adapter. Either option works flawlessly but I'd definitely recommend using the dock simply for that easy charging functionality while also being pretty aesthetically pleasing.
Verdict
I already said that in my Kone XP review. This is a great mouse in many ways. It fits comfortably in the hand, has more button combinations than I need, good features, and finally, completely cordless.
It's pricey though, coming in at $170, so that's certainly something to weigh up, but what you do get, however, is a gaming mouse that will certainly stand the test of time.


PROS
Comfortable
Awesome wireless performance
Battery life+

CONS