Google Nest Wifi Review: Mesh Router and Smart Hub in one
Google was one of the early adopters to start using mesh routers in its system, Google Wifi, which has been one of the most popular choices ever since it was released in Sweden in the autumn of 2017. Much thanks to its smooth and stripped-down handling. When it arrived, it was also relatively affordable. However, a lot has happened in the market since then, and now Google has released the upgrade – Google Nest Wifi. It's more stylish, it's better and far more expensive. But is it worth it?
Design and functions
I'm not gonna lie. The big plastic marshmallow design is gorgeous. I don't having them around and they definitely don't look ugly on a shelf whether it is in the kitchen, the bedroom or in the living room. The router has a 11 cm diameter and is 9 cm tall. By contrast, the point extensions are a little smaller with a 10,5 cm diameter and 8,5 cm height. The points come in your choice of three colors (pink, blue and as for our review – white), but the router only comes in white.
A drawback is that the router only includes a single spare ethernet jack, and there aren't any ethernet jacks on the points at all. That means you only get a single wired connection for something like a gaming console or a smart home bridge before you'll need to buy a separate ethernet hub. It also means you can't run a cable to the Nest Wifi Point to daisy-chain a wired connection for faster mesh performance.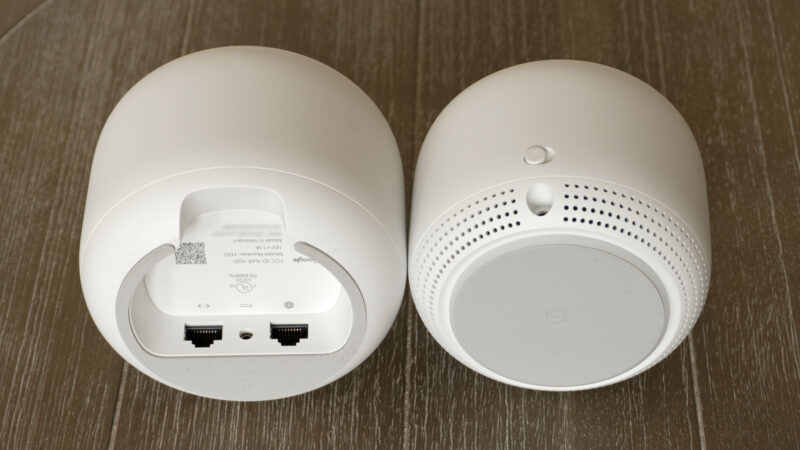 A cool thing on the other hand, is that the points are (in addition to serving as points), fully functional Google's Nest Mini smart speakers. They include access to all of the same, voice-activated Google Assistant features, as well as a microphone mute switch in the back and touch controls on top. Sound quality is more or less on par with the Nest Mini and with other small smart speakers such as the Amazon Echo Dot – which is to say that it's ideal for casual listening, but likely to underwhelm at a house party.
Performance
Like the Google Wifi before (and like most other mesh networks), the dual-band Nest Wifi doesn't separate the 2.4GHz band from the faster 5GHz band. Instead, it automatically "steers" you between the two of them on a single network as you move throughout your home. This worked particularly well in my tests, where I moved from room to room (and floor to floor), running speed test after speed test – I never noticed any real hiccups in the signal whatsoever (I ran speed tests from 6 different units during my testing). The big drawback here is no Wifi 6 support (we need an upgrade Google!).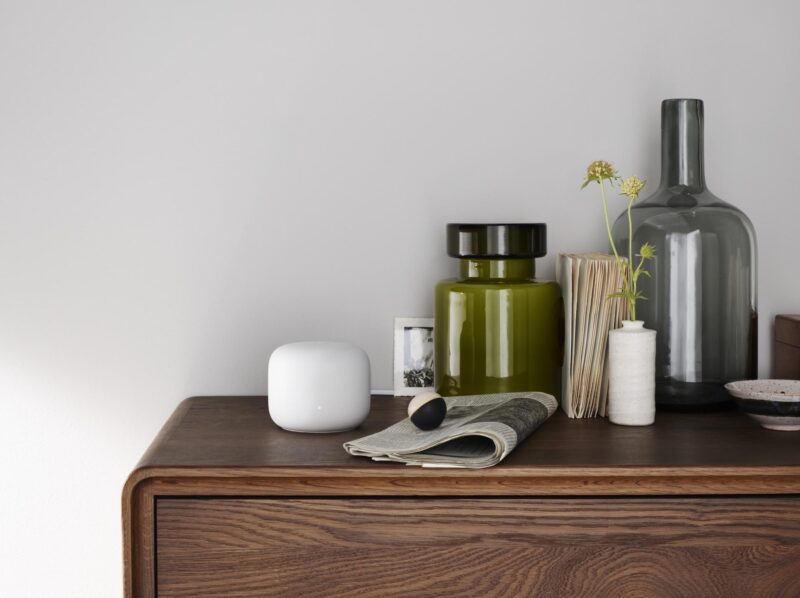 Price
At the time of writing, you can get the Nest Wifi (router + two points) for around 3700 SEK ($370). It will give you a super stylish networking system at home, with added smart speaker features, however, some other manufacturers may give the same stuff cheaper than that (maybe not as nice and simple though).
Verdict
If you have nothing in the smart home-way at home today, nor a mesh router, then Nest Wifi can be the right way to get started. At least, as long as you do not have too high bandwidth requirements on your wifi (and of course don't benefit from Wifi 6). Unless you already have a gigabit internet plan capable of taking advantage of Wi-Fi 6, or if you have a need to transfer mass amounts of data between different computers on your network at the fastest speeds possible, the Nest Wifi systemm is probably more than you need. That makes the Nest Wifi much easier for me to recommend.
PROS
Super stylish
Points are smart speakers with Google Assistant
Easy setup
Stable connections
CONS
Somewhat expensive
No Wifi 6