It's time for a little different review here at Techcravers. Namely, a deep dive into, what I consider to be, the most exciting player in the baby monitor market. A few years ago I got the chance to test Neonate's best model at the time, what made it interesting was that they claimed to have the market's best baby monitor for cold Nordic climates (where I live in other words) and the market's best range. Now they have released big brother Neonate BC-6500D and sent to me for testing. So stay tuned for my review below.
Design and features
On both baby and parent unit, you'll find a large LCD display, where you can follow how your child is doing, temperature in the room, battery level on both units and more. There are also night lights in the baby unit that are voice activated, so if your child wakes up at night and needs you, the light on the screen turns on by itself. It also has a nice vibrator function on the parent unit that you can set to vibrate so that your child's sound is not drowned out by any vacuum cleaner noise or other sound.
Furthermore, you have the option of connecting extra devices, so you can keep an eye on several children in several rooms paired with the same parent unit. You may connect as many as 3 baby units, where a sound-sensitive alarm system with different LED lights, will make it easy for you to see which baby needs your attention.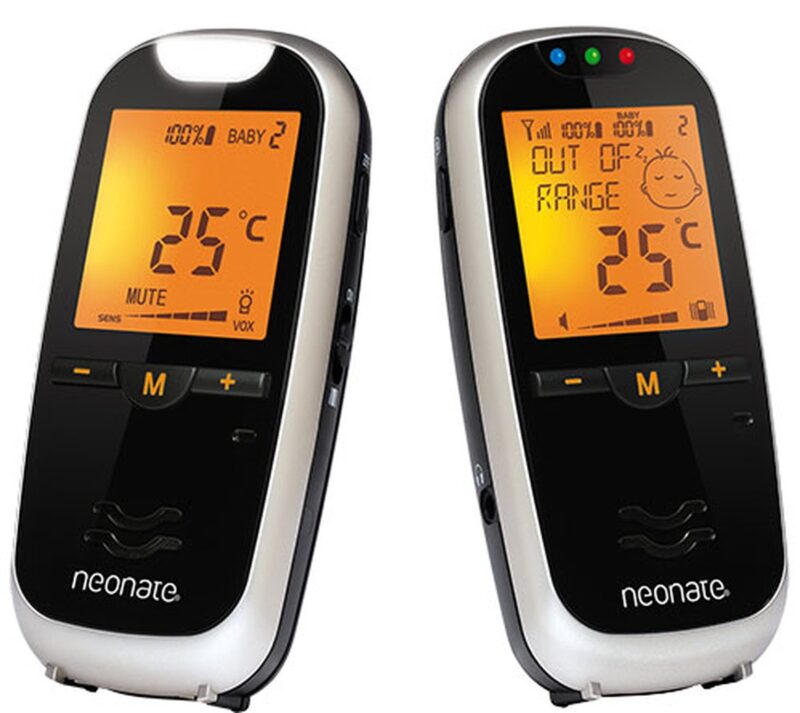 Signal and overall sound quality
Like the previous models, the BC-6500D is equipped with a digitally coded connection that makes sure to find the best frequency every time. This means that you don't have to worry about finding channels that aren't busy in densely populated areas, but just turn on the alarm, then you are well on your way. This works surprisingly well, and not a single time during my tests did I have problems with the signal being disturbed or broken.
Speaking of the signal, during my tests, I left the baby unit at home and had a friend speaking in it, we could keep contact (like walkie talkies) for much longer than would ever be needed when monitoring a child. I must also mention that it was -27 degrees Celsius a few days during the test period, but I could not see that it affected the battery life in any way (so big thumbs up).
The sound quality has also been raised considerably with a improved speaker in the parent unit and better microphone quality in the baby unit. Together with the noise-free digital connection, it gives you a clear sound without distortion.
Battery
Although I was perfectly happy with the bnatteries on my old Neonate model, Neonate has improved them a bit in this model. The capacity of the included lithium batteries has been improved to 1450mAh compared to the previous 1300 mAh, which gives you an even longer standby and service life. Also, a nice feature is that you can always put your parent unit in the included charging station, so you have control over where it is. It doesn't take damage from being charged. A full charge only takes 3-4 hours with the included turbochargers and will last for weeks.
The charging stations are really the only small downside I managed to find while I tested these monitors. Not because they are bad in any way, but because they are Neonate specific stations. If they break or disappear, they must be purchased from Neonate. You can however, charge them through micro-usb as well if you manage to find a cable (please upgrade to USB-C in the next versions).
Radiation
Of course one of the most important thing when choosing your baby monitor is low raditation. And one of Neonate's focus points has always been to keep radiation levels to a minimum. Despite new features and several features, they've managed to keep the radiation level down to a maximum of 20 mW – and that is when the baby monitor is active. When nothing happens, it goes on standby, which lowers the radiation to a minimum.
Verdict
Neonate have always delivered good and reliable baby monitors, which this one certainly falls under, and now they have implemented even more features than before. Also, I wan't to point out that, despite its many features, the BC-6500D is very easy to use.
The signal is crisp and clear even at long ranges and battery life is great. Neonate actually delivers what they promise here, so with confidence I can really recommend this product.
PROS
Easy to use
Great sound quality
Works well over long distances
CONS
_______________________________________________________________
The Neonate BC-6500D was sent to me for free for review, but I did not get paid to write this. The thoughts on this product are my own. In Sweden you can grab the Neonate BC 6500D from these stores.