Gravitrax Toy Review: Marble Run Galore!
We've always built different types of marble runs at our home. We've taken everything possible to build small walls and jumps for our marbles, but we have always realized our limits when it comes to giving the balls speed. It was my
partner who told me about 2019's "Toy of the Year" – Gravitrax, and I immediately got hooked on the idea of using magnetic aids to give our marbles speed boosts. The Swedish toy masters at Brio (who deliver Ravensburgers toys in Sweden) were kind enough to send me Gravitrax Starter Set and some expansions for it.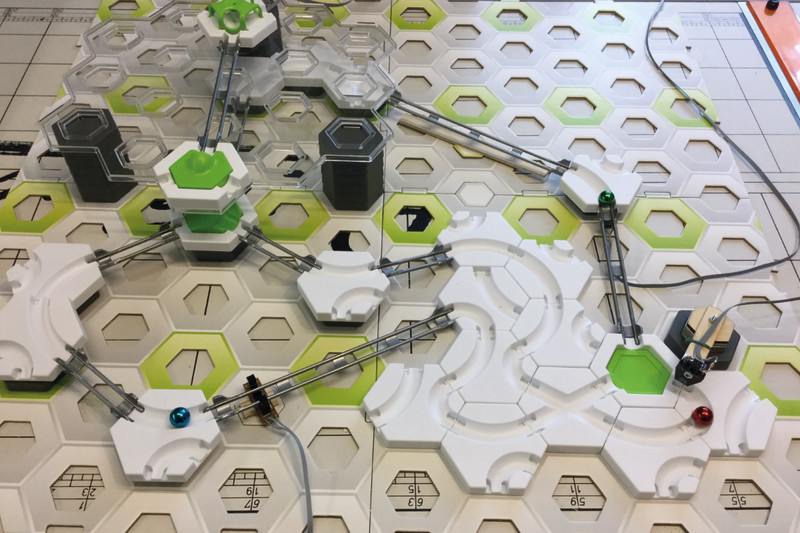 First of all, Gravitrax is a STEM toy. STEM stands for Science, Technology, Engineering, and Mathematics, and STEM-related toys and products are important to help kids develop useful skills in areas in which the career industry is continually seeing growing in. While it is not only great fun, it helps children grasp the basics of physics, gravity, engineering and problem solving while playing.
One thing that made me curious of Ravensburgers Gravitrax system was that no smartphone or tablet was needed to start playing. Lots of STEM toys rely on smartphones or tablets in order to work, specifically for augmented reality games. The problem is and always will be the screen time that comes with these products. Even if those toys can be super educational as well, I wanted something that would lower my sons screen time not increasing it.
What is it?
So what it Gravitrax? It's a modular STEM toy that challenges kids to create marble runs using a variety of different parts. The Starter Set on which I base this review, comes with 100+ components and you can start out with something as simple as having one marble roll down a ramp into a hex-shaped piece, or you could go advanced mode and have 10 plus marbles weaving through an elaborate set-up comprised of several hundred pieces, however then you need to get some expansion kits. You can also use magnetic cannons, scoops, hammers, and trampolines, even though most are available as expansions that you'll have to buy extra.
Although the instructions are simple to grasp the system is quite user friendly. The tracks are all built on a cardboard base board, which has hexagons cut out of it for the pieces to slot into, and as long as the pieces were in the correct places, then the tracks went together fairly easily, the pieces are well designed and fit together well. Kids around the age of seven or eight should be able to figure out the basics on their own. To really get the most out of Gravitrax I would say you need to be a slightly older child or have an adult with you. Or perhaps you are the adult who wants to play by yourself?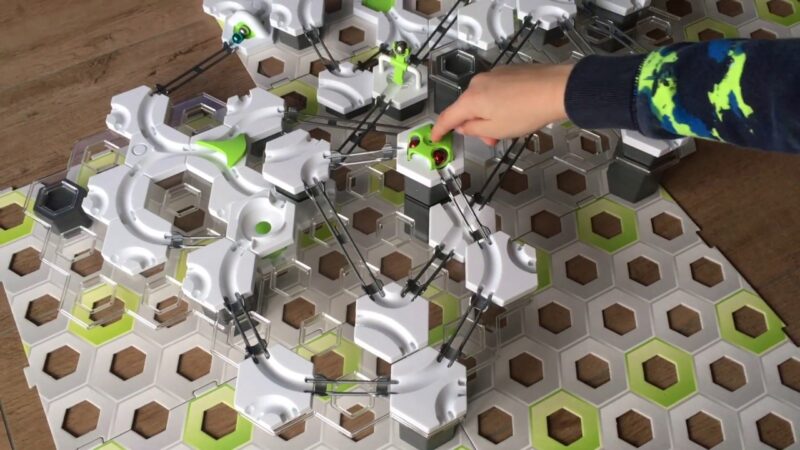 Aimed at children from 8 years and up, I think this is a pretty exact minimum age you should have. This is because you have to understand the complexity of building the courts so that the balls flow easily. However, me and my five year old son could easily play this together since I built the tracks and he could press the start button to release the balls and see them go around the different tracks.
Unfortunately the tracks are not all that sturdy and are very easy to knock out of place. This could especially be a problem with toddlers around. This is the only downside I can think of though. In fact, putting the demolished track back together is a educational trip itself, so I guess you could see that in a positive way as well.
Verdict
Overall, my whole family thought the Gravitrax Starter Set was a great fun and educational toy. We've all spent many hours together since we received it, and I thin that every kid and adult who love marble runners and construction toys will just love it. The Starter set is an excellent introduction to Gravitrax and it can be expanded indefinitely using the extra track packs and expansions that can be brought separately. I'm definitely keen to increase our set and add in some more elements in the future (you will of course be able to read about it here then!).
In conclusion, I just want to say that many kids would love to find this under the christmas tree this year.
PROS
Educational
Fun for kids and adults
CONS
---
The Gravitrax Starter Set was sent to me for free for review, but I did not get paid to write this. The thoughts on this product are my own. You can grab the product from one of these swedish sites.