Cooler Master CK721 Wireless Keyboard Review: Big Keyboard In A Small Form Factor
I've owned quite a few keyboards over the last few years, and I've reviewed a few for Techcravers as well. A good keyboard that you can be comfortable with is important, but at the same time it feels like an area where you don't see much innovation.
One of the things I've noticed however is the push in 65% keyboards. These mini-devices definitely help for someone trying to conserve space (like me). Cooler Master sent over their newest 65% one, the Cooler Master CK721, a while ago and after some time with it, I certainly like the direction they've taken.
Design
Compared to a regular keyboard, the 65% CK721 is, well, you guessed it, 65% of a regular sized keyboard. Usually you see this done with the elimination of the entire number pad side of the keyboard and that's what you'll notice Cooler Master has done here as well. This gives you a bit more versatility than a normally sized keyboard as it will help with optimizing space on your desk.
As for materials, the top plate is made of aluminum, while the bottom portion is a hard plastic. Cooler Master describes it as "A sandblasted aluminum body and rugged housing provide the durability to take it wherever and whenever you want". And coming in at 764g, I'd say this keyboard is light enough for travel, but still sturdy enough to not worry about damaging it during transport.
It definitely has a premium feel to it and I would mind using this in a public place or at my office. At the same time it looks perfect in a modern gaming setup as well.
Connectivity
I would be very surprised if you who buy this keyboard are disappointed with the connectivity options.
The CK721 supports Bluetooth, wireless, and wired connections. Using Bluetooth allows you to connect the keyboard to up to three devices at the same time and switch between them via the FN key and the DEL, PGUP, or PGDN keys – super convenient.
Embedded in the left side of the keyboard behind a removable panel is a USB-A adapter that allows you to connect the keyboard wirelessly to one supporting device through 2.4GHz wireless connection. And lastly, there is the USB-C to USB-A cable that will allow you to connect the keyboard to any supporting device through a cord (which doubles as your charger for the internal battery).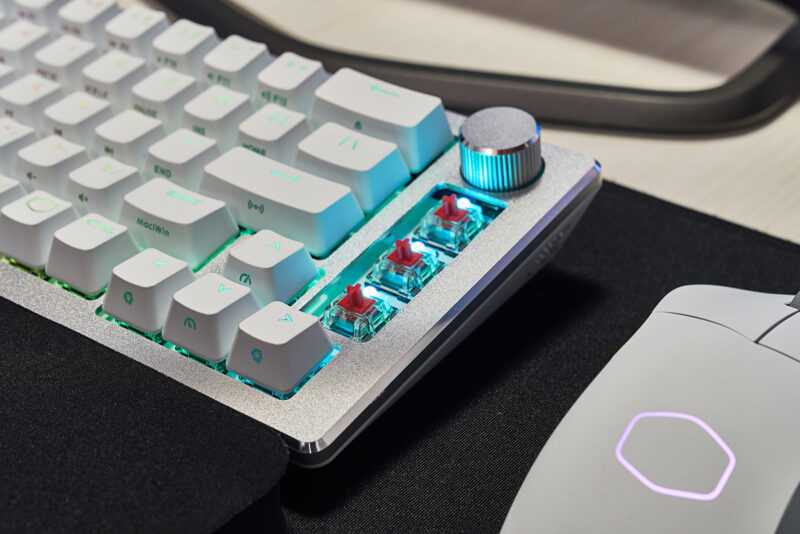 Battery life
Of course, wireless and Bluetooth means a lot of battery usage. Cooler Master promises 73 hours of battery life in the CK721. And while 73 hours of battery life might seem like a long time, it's actually on the shorter side compared to similar mechanical wireless keyboards from Asus and Razer. Asus and Razers keyboards offers 450(!) and 200 hours respectivley, but heyy do on the other hand cost about $50-70 more.
While primarily using the CK721 for my work, I found the keyboard gets around 70 hours of battery life with the RGB backlighting turned off. With RGB backlighting on, I averaged around 60 hours of use while doing the same job-related tasks.
When it came to gaming, I averaged between 45 and 50 hours of use depending on the games I was playing and whether I had RGB on or off. With RGB on, I averaged around 45hours of wireless use while playing World of Warcraft or Fortnite or games that require heavy use of the keyboard. For more laid-back experiences like The Walking Dead or other games that are light on the key presses, I averaged closer to 50 hours.
Pricing
At the time of writing this, the Cooler Master CK721 costs 999 SEK ($99 US) and it's avaliable in selected stores. The price puts it in competition with HyperX Alloy Origins 65 and the Razer Huntsman Mini. And while all three keyboards have a lot of the same features and build quality, the CK721 offers features like swappable aluminum faceplate(s), PlayStation and Xbox support, and of course the ability to connect wirelessly via Bluetooth or over a 2.4GHz connection.
Verdict
The Cooler Master CK721 is definitely the keyboard to get if you want a stylish small keyboard to fit you desk whether you're at the office or at the gaming station at home. There are keyboards out there with longer battery life though, so if that's something you're after you might want to keep looking, but if you are looking for a premium, customizable and attractive compact keyboard, that can be wirelessly connected to multiple devices, the Cooler Master CK721 is a great option that I can highly recommend.


PROS

Premium quality
Beautiful design
Affordable
Great connectivity


CONS
Battery life could be better