Google Pixel Buds Pro Review: My New Favorites!
There is an absolute plethora of really high-quality in-ear headphones out there and I'm well aware that it can be difficult to choose for anyone who doesnt get to test so many different ones as I do. The problem is that it isn't only the sound itself that should be evaluated these days. Much depends on what you value most, what kind of sound character do you prefer? How good noise reduction is needed? Is the transparent mode important, or is it perhaps pure sound quality that is most important? Sony, Apple, Beyerdynamic and Sennheiser dominates the product segment. And usually you notice that they have invested in being the best at something, rather than really good at most things. Until now.

Design and features
The Google Pixel Buds Pro are the first headphones I've tested with 11mm elements that feel small, physically. The shape is round and they fit very well in my ears with the medium earplugs and they don't stick out as much as many other models of the same size of the elements. The buds possess an IPX4 rating for water resistance, which is good enough for gym and outdoors use, while the case is IPX2-rated, so can withstand a few drops of water but shouldn't be exposed to anything more substantial than that. The case itself is a softly rounded pebble shape like its predecessors and perfectly pocketable.
Speaking of the case, I want to let you know that this is actually my favourite case for any type of wireless earbuds that I have ever used. It looks like an adorable little Disney character and the way the lid snaps shut is so much more satisfying than Apple's or Sony's (or any other for that matter).
In terms of ease of use when connecting, I have nothing to complain about with these headphones. They pair just as easily with my iPhone 14 Pro as with my Google Pixel 7 Pro (review to come!), the only difference is that when I open the lid of the case, my Android phone asks if I want to connect them (in true Apple fashion) , while the iPhone requires manual pairing by pressing the case's pairing button and then connecting in the iPhone's settings.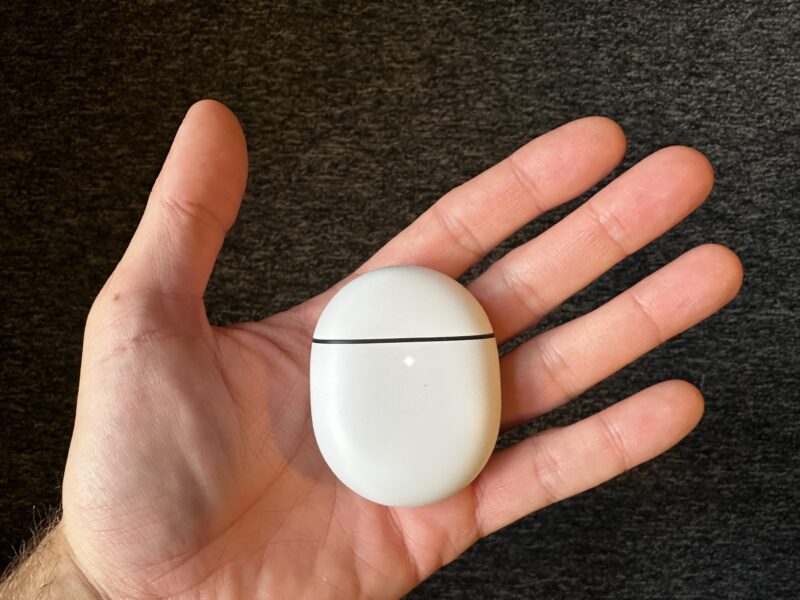 As for touch features, you can turn transparency mode on/off and switch between ANC on/off by long pressing one of the ear buds. You can also adjust your volume by swiping on the buds. These gestures work on both iOS and Android.  
Speaking of the transparency mode, it works very well, even if it is not quite as clear as in the new Apple Airpods Pro 2 (which I'd argue is the best in the class in that particular part) and the call quality is good, but not as good as in Jabra Elite 7 Pro.
The active noise cancellation (ANC) in the Pixel Buds Pro is not as extensive as in many competitors, but still good enough to block out all the most disturbing sounds. There's also no function in any app to increase or decrease the amount of ANC, but for me that's a completely unnecessary function because I always run on the maximum mode or nothing anyway. There is a function in these headphones however, that measures the pressure in your ear canal and then either adapts to it or lets you know that you should use a larger or smaller plug, in order to get better sound quality and noise reduction, and it works very well.

Sound quality
The single 11-mm dynamic driver inside each Pixel Buds Pro delivers a surprisingly robust soundstage, made possible in large part by Google's excellent digital signal processing and noise canceling. The sound character is warm, punchily playful and full of dynamics and life. The Pixel Buds Pro plays a lot of bass without becoming too Beats-like, and the midrange is tight and swingy without losing in the middle of the frequency range. Regardless of the genre, the Pixel Buds Pro delivers unabashedly well with plenty of character and engagement in the sound. It actually pains me to admit that I prefer listening to these plugs over my $300 AirPods Pro 2 that I just bought…

Battery life
Battery life on these are good. The seven hours of charge per bud (11 if you turn off ANC, which I barely do) got me through a good portion of a workday. They last longer than Samsung Galaxy Buds Pro 2 and on par with the AirPods Pro 2, however I got much better endurance from the Beyerdynamic Free Byrds. The case will give you about 30 more hours of juice.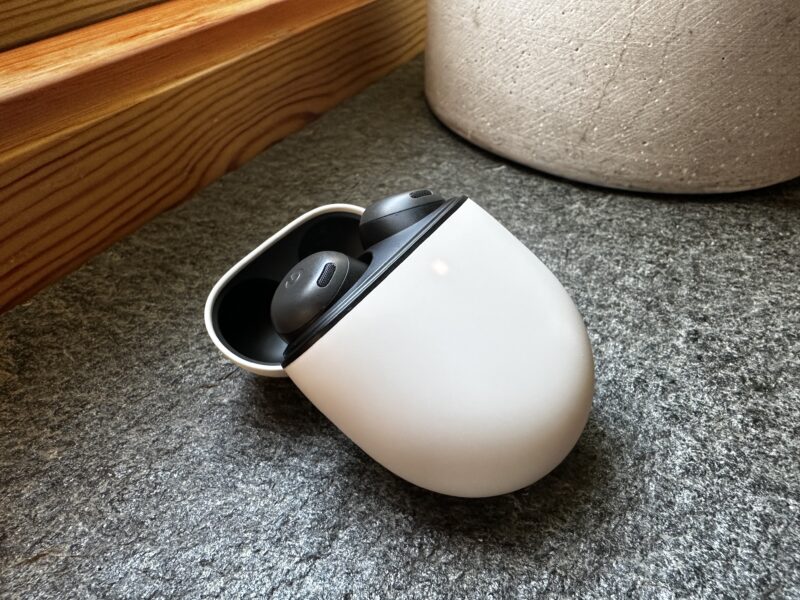 Pricing and availability
Finally these buds are now available officaly in Sweden and the price is set to 2 399 SEK (about $220). It's a cheap price for true wireless earbuds that not only claim to be Pro but also feel like it.

Verdict
The Pixel Buds Pro are probably my new everyday use earbuds, as they simply deliver across the spectrum. Fantastic sound quality, great ANC and transparency mode, small cute case and good features.