Google Nest Hub 2 Review: Tracks your sleep!
It's been a while coming but the much-anticipated 2nd-gen Google Nest Hub is here. One of the highlights is a feature called Sleep Sensing which is achieved via a clever radar system. There are a few design tweaks and other upgrades from last gen as well. Let's see whats new.
Design and features
Although it's been a while since the original launched, Google hasn't changed the design of the Nest Hub much at all. It's still a floating screen on a fabric base. And dont get me wrong, it's a great design so I can see why Google is keeping it. However, like its predecessor, there's no camera, which means no video calls. This actually bugs me, since in times of pandemics and a peak in video calls (both private and work) this should have been implemented by Google.
Instead, the latest feature that Google has added is automatic sleep tracking, which uses special sensors built into the new Nest Hub's display bezel to track your movement and breathing at night to evaluate your sleep. Google is also using those sensors to add some basic gesture controls, and it has beefed up the speaker inside the Nest Hub to improve its audio quality.
Sleep tracking
As mentioned, one of those partly hidden sensors above the screen, along with the Ambient EQ light sensor, is Google's Soli radar which was used in its Pixel 4 phones. They used it – to a middling degree of success – for Motion Sense, which allowed you to do a few things without touching the phone.
The radar, with help from other hardware, can track your sleep. And because this is radar there's no need for a camera like the Nest Hub Max which many people would understandably be uncomfortable about putting in their bedroom. The Soli radar monitors your movement and breathing in bed, and microphones listen to coughing and snoring. Other sensors are aware of things like lighting conditions and temperature.
Each morning you'll get a summary of your night's sleep with a basic overview of the key elements such as duration and quality. You can then swipe left to see how much you coughed, your respiratory rate and minutes snoring. What you don't get, as you can with a wearable device, is a breakdown of light, deep and REM sleep.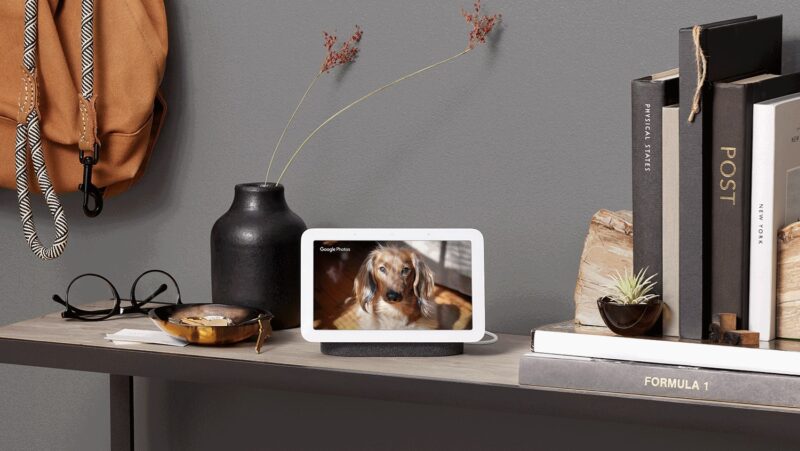 Sound Quality
The second-gen Nest Hub has 50% more bass than the original, but it's still pretty weak compared with many other smart speakers. However it's much loader and deeper than the predecessor. The new Nest Hub can fill a small room with audio, but it doesn't sound better than a similarly priced dedicated Bluetooth speaker.
Price
This is where Nest Hub 2 starts to get interesting. At the time of writing this you can grab the Nest Hub 2 for the tiny price of 599 SEK (around $ 60). That's probably cheaper than many regular bedside alarm clocks.
Verdict
For the 20 percent of Nest Hub owners that keep the device in their bedroom (according to Google), this new Nest Hub and its sleep tracking feature works very well and is a big improvement from last gen . But for the other 80 percent, I'm disappointed the new Nest Hub hasn't meaningfully improved the experience over the prior model. However, it's so cheap I'll probably end up getting one for my wife as well.
PROS
Very cheap
Good sleep tracking
Nice design
CONS
_______________________________________________________________
The Google Nest Hub 2 was sent to me for free for review, but I did not get paid to write this. The thoughts on this product are my own. You can grab the headset at Google Store or any of these swedish sites.