Technics EAH-AZ60 Review: A Worthy Sony & Sennheiser Competitor
If I may guess, Technics is a brand that was probably better known at the time every home had a cassette player. Today, they are probably better known for their DJ vinyl players than for true wireless headsets. But maybe it's a bit unfair, because Technics EAH-AZ60 TW has a lot to speak for them.
Design and comfort
With the risk of sounding like a broken CD, the AZ60 looks really nice and stylish. By "broken CD" I mean that virtually all products in this genre have now peeked at each other and more or less landed in an aesthetic that appeals to just about everyone. It's rare that we see any innovations on the design front and that speaks for the AZ60 as well. It's not a bad thing though, just like I said, they are very stylish.
The small earphones inside the case weigh seven grams each and the almost teardrop-shaped design enables a secure hold (in my ears atleast). The outer part of the earphones is more compact than the previous top model EAH-AZ70W and the weight distribution has been shifted closer towards the inner ear, which relieves the strain of wearing these earphones for longer periods.
Of course there's EarTip replacements in different sizes (ranging from XS to XL) and there should be a suitable EarTip for everyone.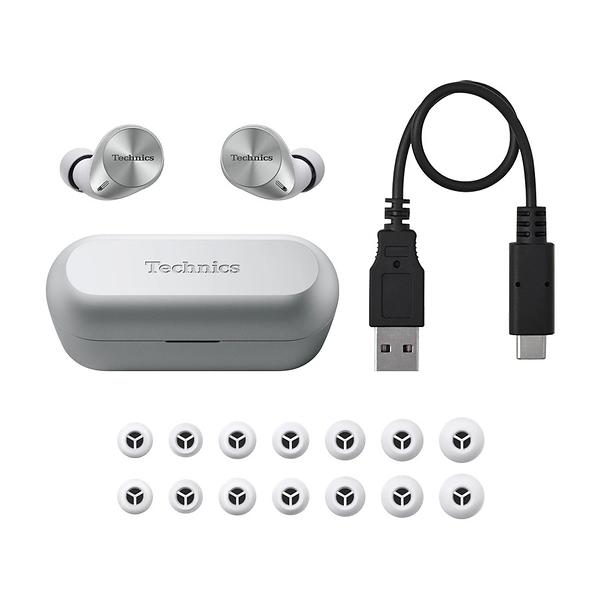 Price and market
At the time of writing, the Technics AZ60 costs 2300 SEK ($ 229/£ 199), which puts them in the same price range as the Sony WF-1000XM4 and Sennheiser Momentum True Wireless 2, so in other words there ain't really spring chickens Technics choose to duel against here.
Features
Starting with the obvious at this price range. ANC or noise-cancellation feels given around the 1500 SEK ($150) mark, so I'm not exactly surprised it's front and centre on the AZ60's spec sheet. Technics has also fallen in line with the majority of true wireless brands (check out my Jabra reviews) by offering both a premium, active noise-cancelling model and a more affordable proposition without noise cancellation (which the Technics AZ40 are).
The intensity of the noise-cancelling effect can be adjusted in the Technics Audio Connect app, which is also where you can switch between the AZ60's 'Ambient Sound' mode or 'Attention' mode. Ambient Sound is the usual we have seen for a while now, that microphones pick up sound from outside and let through, so that you hear if, for example, a car is approaching. The Attention mode is a bit more exciting as it promises to only capture and let through sounds in the frequency range of the human voice (as the speaker voice at an airport for example) – and in my tests, it actually seems to work quite well.
The AZ60 uses Bluetooth 5.2, which makes for super quick, almost instantaneous connections to your phone or tablet, and voice prompts inside the earphones do an excellent job of keeping you abreast of connection status. Thanks to the slightly more battery-efficient 5.2 connection, we get a pretty nice 7 hours with the ANC on. Add 16 hours from the case and we'll cover a day without any problems.
Sound quality
The Technics EAH-AZ60s use 8mm drivers, which promise powerful, room-filling sound with detailed highs. During my listening tests I was throughout pleased by the detailed and rich midrange as well as with the powerful, warm and precise bass range. The AZ60 handles the deep bass without any audible effort and does not mask the higher frequency ranges.
Overall, with no EQ applied, the AZ60 has a warm, smooth, yet detailed sound. And in the few cases where I came across a track where the base was too deep, I just plugged in the EQ and flattened things out.
Verdict
The Technics EAH-AZ60 is a great-looking set of True Wireless Earbuds that has great comfort and very good ANC. The slick app lets you customize every features to your liking. They also sound great with a rich midrange that brings your music to life.
I would probably say that Sony has a slightly better ANC and Sennheiser a slightly better sound overall, but I am very happy to see that Technincs really offers a fight here.


PROS
Comfortable
Stylish 'adult' look
Great sound and ANC
CONS
Phone calls sound in a noisy environment


---
The Technics EAH-AZ60 was sent to me for free for review, but I did not get paid to write this. The thoughts on this product are my own. You can grab the product from any of these swedish sites.