Google Nest Hub Review: Small, Smart and Simple
You might have heard of Googles first screen-toting smart speaker, the Google Home Hub. Just six months after its release, it's been given a new name: Google Nest Hub. This rebrand was simply a way to reflect the changes to Google's smart home division, which is now referred to as Google Nest. But do you need a display on your smart speaker, and is it worth the money? Lets find out!
Design
It looks like someone stuck a tablet to a tiny speaker, which… is exactly what Google has done here. At just over 11 cm (4.5 inches) tall, the Google Nest Hub is comparatively small, with a seven-inch portrait-style screen attached to an oval fabric stand on the back. Unlike its competition, the much bigger Amazon Echo Show — which features a ten-inch screen — the Nest Hub takes up almost no room at all, and can sit anywhere without taking up much space. That makes it easy to fit in many parts of your home. It has an overall modern and stylish look.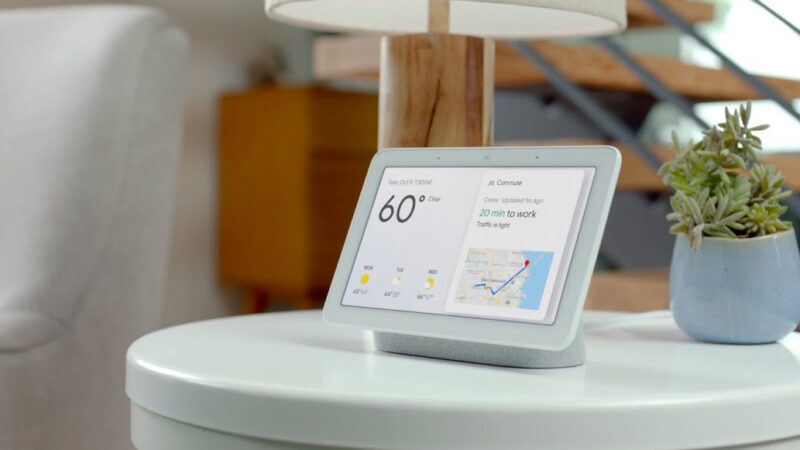 Screen and sound
The screen has a 1024 x 600 resolution that's sharp enough for the types of things you'll be doing with it – and good viewing angles.
Sound quality is the biggest disappointment. It lands between the Google Home and the Google Home Mini, and that's not stellar. It's not loud and lacks the bass and treble to make listening an enjoyable experience. It can however be paired with a better speaker using Bluetooth, or grouped up with other Google Home and Chromecast speakers. So you have a few options.
Smartness
The Smart Display ecosystem as a whole is still young. Yes, you have full access to the brains of Google Assistant, and YouTube works great. We got some tips from Gordon Ramsay on the perfect way to chop onions just by asking, "Hey Google, show me how to chop an onion". Nice.

Having trouble figuring out what to cook? With Google Assistant, you can get some ideas with the ingredients you already have at home. You can simple say, "Hey Google, what can I make using flour, lemon and sugar?"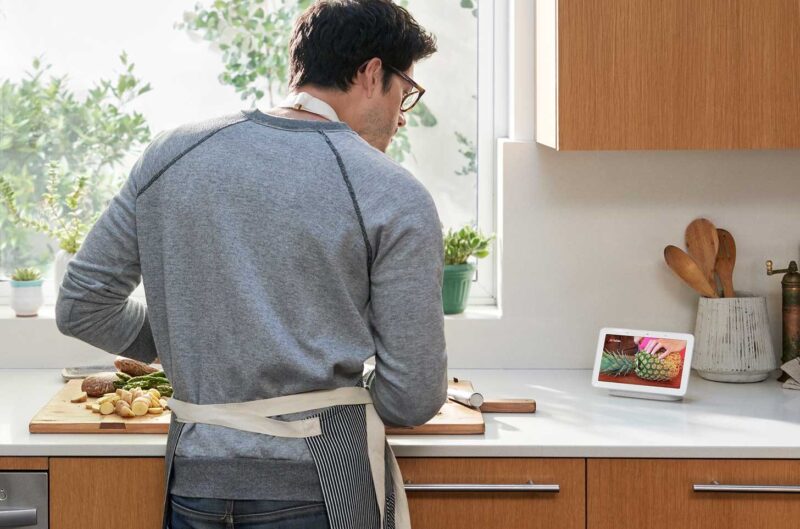 Receiving the latest news about the coronavirus COVID-19 pandemic can be life saving. That's why you can get all the latest news updates about the situation by saying, "Hey Google, tell me the latest coronavirus news." Google Assistant will then play sound bites from reliable sources.
Other helpful features include routines, which are customizable grouped commands that allow you to play videos or podcasts, get directions to work and turn on your connected lights with a simple command like "good morning." If you control your smart home with a voice command, you'll see your device pop up on the screen. Change the temp of your thermostat, and you'll see buttons and sliders to tweak the temp further or change the mode.
All of these features are the same on all of the Google Assistant-equipped smart displays, and one of my favorite features is to search for a recipe by voice, or find one in your phone and send it to your display. Google Assistant will read the ingredients and directions out loud and you can see them listed on the screen.
Verdict
Who should buy a Google Nest Hub? The truth is that it does just as well at home with the tech-interested grandmother as with the student. I myself haven't decided if I like it most as an alarm clock on the bedside table or as a chef companion in the kitchen.
And quite frankly, if you are looking for a smart(er) speaker, it's hard not to justify this, for the price of SEK 1000 in Sweden ($ 79). As long as you do not intend to use it as a boombox at the student accommodation.
PROS
Innovative Home View UI
The best looking Smart Display
Excellent price
CONS
No camera means no video chatting
Poor sound quality
Display will be too small for some