Sony Z-V1 II Review: Newer Isn't Always Better
Sony's initial foray into compact vlogging cameras with the ZV-1 has garnered significant favor among content creators. It offers exceptional image quality, user-friendly controls, and a compact, sleek form factor, all at an affordable price point.
However, since its launch in 2020, one particular criticism has stood out from the crowd: the ZV-1's lens simply isn't wide enough for vlogging. This limitation meant that the original camera was a non-starter for many individuals.
Sony has taken these critiques to heart, resulting in the Sony Z-V1 II. While it shares many similarities with its predecessor, it boasts a broader lens that is much more suitable for self-capturing. However, this model has undergone several other changes, and not all of them have been warmly received.
Design and features
The ZV-1 II closely resembles its predecessor, with no notable changes in its overall design and button layout. The weight remains largely unchanged as well. The initial difference I observed was in the grip, which is now made from the same material as the rest of the chassis, whereas the original model had a kind of rubberized coating.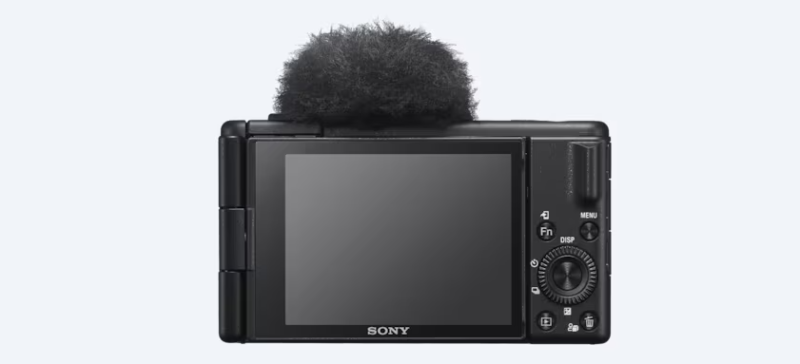 The screen appears to remain unchanged on the ZV-1 II, still featuring a 3-inch articulating touchscreen with a resolution of 921,600 dots. However, what you can do with the touchscreen has undergone quite a dramatic transformation.
With the original ZV-1, you could only use the touchscreen to focus on a subject or zoom in on an image in playback mode, and you couldn't adjust any settings or swipe through menus. On the ZV-1 II, you now have an array of touch icons that grant you swift access to all of the camera's functions, and you can also swipe and tap through all menus. This marks a significant QOL improvement compared to its predecessor.
The connectivity options are largely unchanged, except for the transition to a USB-C port instead of a micro-USB port. This means you still have a micro HDMI for video output and a 3.5mm microphone input. USB-C is used for power supply, file transfer, and webcam usage. Regrettably, there's still no headphone jack, which might disappoint some users.
Picture quality
Regarding image processing, the new lens is the factor that has the most significant impact on your results. The camera utilizes the same sensor as its predecessor, so the resolutions and frame rates offered here are largely the same. The new lens has an 18mm equivalent when at its widest, which is ideal for vlogging at arm's length, in line with the camera's intended use. However, for some peculiar reason, Sony has removed the optical image stabilization in this model, leaving you with only electronic stabilization. As you may already be aware, EIS requires cropping to function, so when stabilization is activated, you effectively end up with something around a 21mm equivalent.
There are also other compromises with this new lens. The telephoto range at 50mm is considerably shorter than the predecessor's 70mm, and it's slower at this end of the zoom scale, only opening up to f/4 compared to the f/2.8 on the ZV-1.
The autofocus functions, as expected from a Sony camera, are outstanding. Animal eye-tracking now works in video, while in the previous model, it was only accessible for still photography.
Another refinement comes in the form of multi-face recognition, inherited from the ZV-E1. This feature automatically adjusts the aperture so that multiple subjects can be in focus without requiring you to select a specific subject. It's highly convenient, especially for those who aren't familiar with manual controls.
While it's evident that the ZV-1 II is designed with video as a priority, it also captures photos, and it does so impressively. You can still take advantage of the exceptional autofocus, and the rapid stacked sensor allows you to capture bursts at up to 24 fps, which is great for taking sports shots or action sequences.
Verdict
In summary, the ZV-1 II is a bit of a mixed bag. It addresses some of the camera's needs, such as a wider lens and improved touchscreen functionality, but sacrifices certain features I'd rather not lose, like OIS and high-speed slow motion.
Overall, it's an improvement over its predecessor, primarily due to significantly enhanced touch controls, the wider lens, autofocus adjustments, and better microphone settings, making it more appealing for vlogging, as intended by the manufacturer.
However, the downsides are numerous, especially considering the $100 increase in MSRP compared to the original. If you don't often shoot vlog-style self-portraits, the original might better suit your needs, especially for longer focal lengths and slow-motion preferences. Fortunately, the ZV-1 doesn't appear to be discontinued, so it's still an option if you prefer it.
If you're in search of a pocket-sized video powerhouse, the ZV-1 II is one of the top choices. Despite some compromises, it offers an overall improved experience and remains easy to recommend.