Roccat Torch Review: Beautiful Retro Feel Microphone
Unfortunately, the first Roccat Torch I got sent to me was broken. But I got a new one sent to me and I have finally tested it long enough to give my opinions about it.
Design and out of box experience
There isn't really that much to say about the packaging. Putting the microphone together was easy and only took a few steps. Without reading the instructions, assembling the Torch was done in just a matter of minutes. Parts twisted and snapped on with ease and it looked super clean by the end of it.
To be honest, as with just about all Roccat products lately, the first thing that strikes me with the Roccat Torch is how cool and stylish it is. It looks gaming-ish, but also professional and if you ask me, it works in any office or studio out there.
Much like many of their recent PC peripherals, the Torch features the same signature bionic shell with honeycomb design, though one more prominent as its fully exposed rather than underneath the casing itself. And I don't know what it is, but something with the Torch really exudes a retro feel – and I love it!
Features and controls
There's a non-touch mic mute sensor at the top of the mic itself which is pretty cool, just swipe your hand over the mic to mute it, and again to unmute. Even if it's pretty cool and works well, I can't let go of the thought that it feels a bit like a gimmick.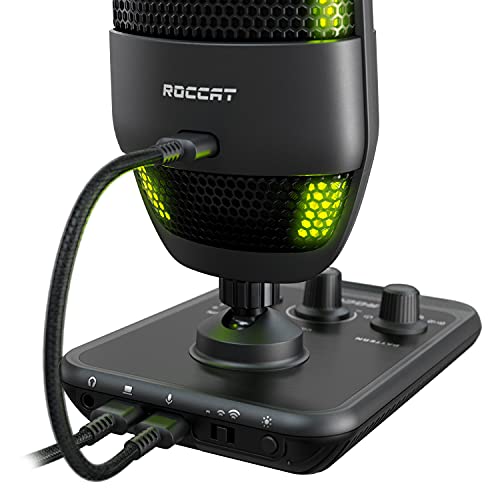 On the base itself we find a few more physical controls as well. It offers on-the-fly controls to adjust the pickup pattern, volume and gain. While most people will probably just set these and leave them alone, being able to make changes quickly is a huge advantage while you're gaming and/or streaming.
And a around the back of the base, there's a fair bit crammed into that slim body too. There's a headphone jack for latency-free monitoring, a Type-C port for connecting to your computer, a Type-C port for connecting the base and the microphone together, a switch for adjusting the gesture distance and a lighting control button.
Sound quality
Simply put. The Torch actually performs amazingly. It's a fairly cheap mic that could easily be mistaken for a premium one. And apart from sounding great, the Torch is also equipped with three different pick-up patterns, Cardioid, Stereo and Whisper. Cardioid will only take sound from directly in front of the microphone, useful for minimizing external noises while gaming or streaming. Stereo will grab any and all sound, perfect for musical recordings. And finally, the Whisper mode will amplify the sound so that even at a low voice, you will be heard crystal clear on the other end.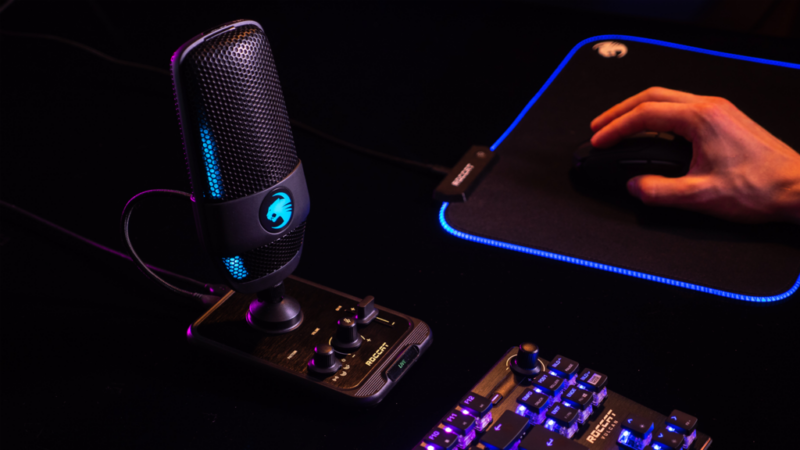 Verdict
Even though I've been playing around with this mic for about two weeks now, I'm far from done with my evaluation. But quickly summed up, I can recommend this mic to anyone who wants a cheap and stylish mic and which also outperforms its competitors in the price range.
PROS
Cheap
Looks cool
Really good sound performance
CONS
A bit bulky with the base
Gimmicky gesture features
---
The Roccat Torch was sent to me for free for review, but I did not get paid to write this. The thoughts on this product are my own. You can grab the product from one of these swedish sites (or Roccat.com)