Roccat Kone XP Review: You Either Love It Or Hate It
You might have thought that we had reached the top in terms of RGB lighting in our PC accessories? Well think again. Roccat's latest gaming mouse Roccat Kone XP is here and RGB is in focus, again.
Design
Kone XP's aesthetic is clearly a watershed. I have checked with my friends and colleagues and it has been shown that you either hate the mouse or love it. Personally, I prefer mice that are slightly more timid, but I can imagine that every single child in school would be the coolest in the class with this mouse in his/her possession.
The Kone XP obviously borrows most of its overall design from the AIMO Remastered, but there are some subtle and not-so-subtle differences between the two. The more subtle changes are that the Kone XP is slightly thinner and shorter than its predecessor and it weights slightly less.
Another change is that the Kone XP features a whopping 15 buttons, more buttons than any other mouse in its price range. Combined with Roccat's EasyShift technology, which turns your mouse button into a shift key, you can add up to 29(!) button functions. All of the buttons are completely customizable in the Roccat Swarm software so you can choose the layout you like. I did notice however, that the placement of some of the buttons makes it hard to press them and the modifier at the same time. But since there are so many options to choose from, I bet it won't be a IRL issue.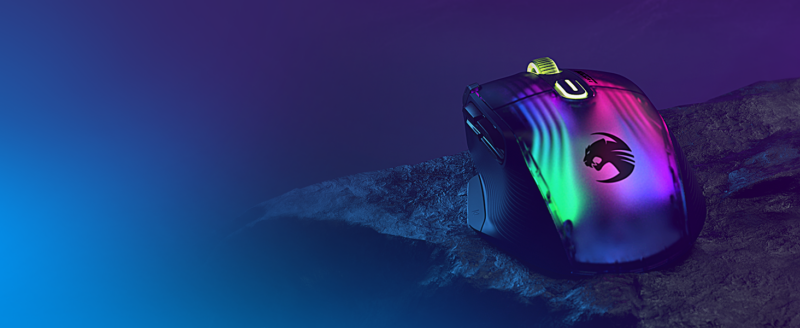 As for the not-so-subtle changes, it's hard to miss the RGB show that pops out of the translucent shell as soon as you connect it to your computer. Nineteen LEDs and eight light presets are available to you, all of which are handled, as with the customizable buttons, in the Roccat Swarm software.
Back to the watershed part. I've been using this mouse for the last two weeks, both at home but also at work. And I've had colleagues saying everything from "get that thing out of the office" to "I need one of those". But honestly, there is nothing wrong with Kone XP, it's just a matter of how much RGB you want in your life and it is of course possible to turn it off completely if you so wish.

Performance
If you haven't noticed already, this is a wired gaming mouse, which may be a turn-off for some gamers. I can understand why, since some wired mice have heavy, stiff cords that tend to get caught up and tangled when gaming. That's not really an issue with the Kone XP though. The cord on this mouse is one of those extremely lightweight 'braided' and flexible cords, and I barely even notice it's there. To be honest, I do not mind wired mice. The only disturbing part is when the cord collects dust, which they tend to do after a while.
You can setup 5 different DPI levels, ranging from 50 – 19,000, then swap between them on the fly with either custom mapped buttons or the two default DPI switching buttons to the left of left-click. That leaves you plenty of flexibility to adjust your needs based on game genre or even productivity.
For gaming, I've been testing the Kone XP with a few games – World of Warcraft, Fortnite (no build mode baby!) and Age of Empires IV. Beyond the specs above, the Kone XP works well for overall gaming, it floats over the mouse pad and lies nicely in my hand with easy to reach buttons.

Verdict
Roccat Kone XP is a really good mouse for both gaming and productivity. It's probably even my favorite wired mouse right now in terms of perforance and ergonomics. Unfortunately, as I mentioned earlier, it has an extreme gamer aesthetic that doesn't really appeal to me. If you find it appealing and are looking for a new mouse, it is an obvious recommendation in the price range.

PROS
Comfort
Many customizable buttons
Great performance

CONS