Razer Basilisk V3 Review: Freeeee Wheelin'
Alright, it's time again, PC gamers. Razer is releasing another Basilisk mouse. This version, the Razer Basilisk V3, is despite its name the sixth version of the company's cherished gaming mouse since the original model was released back in 2017.
Design
The Razer Basilisk V3 is a sleek, full-featured gaming mouse with a solid, matte plastic body, three side buttons on the left, and a right-handed shape with a thumb rest. It's suitable for all grip types and most hand sizes, but small hands may have problems reaching the sniper button comfortably (I have to reach for it and I thought I had medium to large hands).
It feels just about exactly like the V2 if you've used that. It has an very comfortable contoured shape and there's also plenty of rubberised padding on both sides of the mouse to make it even more comfortable to use.
Compared to it predecessor there's been a slight 10g increase in weight, with the Basilisk V3 coming in at 101g. But, to be honest, it still feels incredibly light, which will translate to snappy performance when gaming.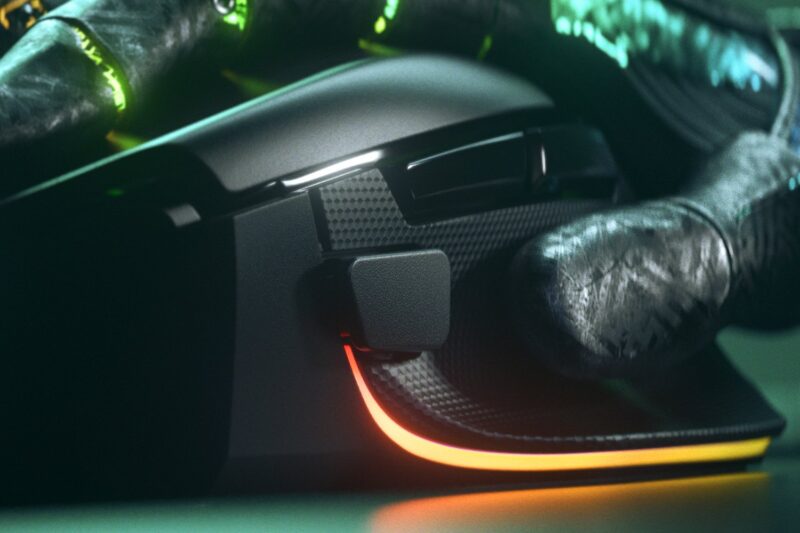 The scrolling wheel which is called the Razer HyperScroll Tilt wheel, can scroll frictionless (Free-Spin mode) or with notched movements (Tactile mode), where it scrolls line by line. The free-spin mode spins so well that it hardly feels like touching the scroll wheel at all. Tactile mode proved helpful for tasks like cycling through weapons in a game, while Free-Spin is really handy for getting through a long spreadsheet or a webpage, helping the Basilisk V3 potentially slide into your work setup as well.
RGB
Design wise, the really substantial addition to the Razer Basilisk V3 is addition of Razer's signature RGB lighting, not only on the usual scroll wheel and light-up logo in the palm. No, the Basilisk V3 has an RGB light that goes all the way around the base of the mouse, which creates a super sleek reflective underglow effect on your mousepad or whatever surface you've got it on. Myself I have a big wool felt pad both for keyboard and mouse and it looks absolutely amazing. While it is a single lighting element, the rim is customizable in nine places, so there's a lot you can do if you like tinkering with RGB patterns.
Performance
Alright, so the mouse looks amazing. But how well does it perform? The Basilisk V3 have ludicrously high sensitivity, with 20,000 DPI via hardware or 26,000 DPI via software. That's just as good as it gets in terms of gaming specs; however, many won't probably need a super high CPI like that. With that hard to reach sniper button you can reduce the CPI to 400 in a blink (you can make it higher or lower via Razer's software) allowing for some stable headshots.
I have played a bunch of different games and genres during my tests with Basilisk V3 and I like it in all contexts. It fits well in everything from FPS to MMORPGs, thanks to the fast response time and the many programmable buttons.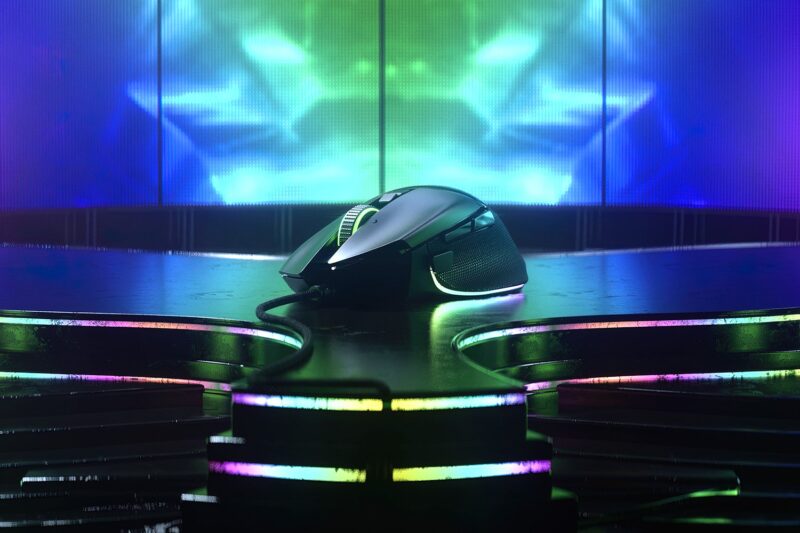 Verdict
The Razer Basilisk V3 impresses with its overall feel and super-comfortable shape, and its 26,000 DPI sensor makes it probably one of the most powerful options on the market.
Priced at around 800 SEK ($79.99) it's not the cheapest wired mouse, but here I think you get what you pay for. In addition, it is extremely stylish on any desk.
PROS
Well-built.
Comfortable
Super sleek
CONS
Sniper button hard to reach
---
Razer Basilisk V3 Specs
| | |
| --- | --- |
| Sensor Model | Razer Focus+ |
| Max Sensitivity | 20,000 native or 26,000 via software |
| Polling Rates | 125, 500 or 1,000 Hz |
| Programmable Buttons | 13, including 5x scroll wheel |
| LED Zones | 11 |
| Cable | 6 feet (1.8m) braided |
| Connectivity | USB Type-A cable |
| Measurements (LxWxH) | 5.11 x 2.36 x 1.65 inches (129.79 x 59.94 x 41.91mm) |
| Weight (excluding cable) | 3.3 ounces (93.55g) |
---
The Razer Basilisk V3 was sent to me for free for review, but I did not get paid to write this. The thoughts on this product are my own. You can grab the product from one of these swedish sites or from Razer.com.