New GTR7 Mini PC From Beelink
Beelink, a renowned technology company, has officially launched its latest line of Mini PCs, the GTR7 series, consisting of the GTR7 7840HS and the GTR7 Pro 7940HS. These new additions to Beelink's product lineup have undergone significant upgrades in performance, cooling capabilities, interface options, and overall appearance, promising to deliver a remarkable computing experience for users.
The GTR7 series Mini PCs are designed to cater to both daily office tasks and gaming requirements, making them versatile devices for a wide range of users. The key highlight of these Mini PCs lies in their powerful processing capabilities. The GTR7 model features the AMD Ryzen™ 7 7840HS processor, while the GTR7 Pro is equipped with the AMD Ryzen™ 9 7940HS processor. These processors are built using TSMC's cutting-edge 4nm process technology, featuring 8 cores and 16 threads. The Ryzen 7 7840HS boasts a base frequency of 3.8 GHz, with a maximum turbo frequency of 5.1 GHz. On the other hand, the Ryzen 9 7940HS offers a base frequency of 4.0 GHz and a maximum turbo frequency of 5.2 GHz.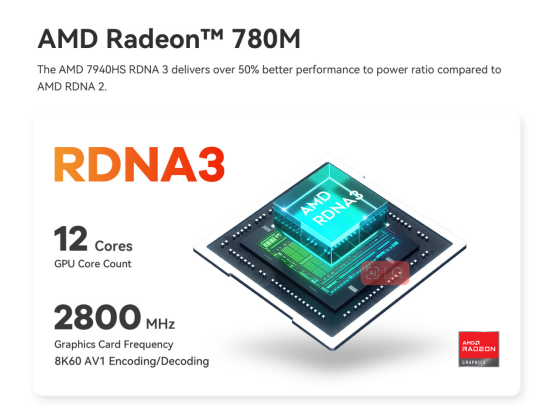 In benchmark tests conducted using Geekbench, the GTR7 series Mini PCs have demonstrated exceptional performance. The Ryzen 7 7940HS outperformed the previous-generation Ryzen 9 6900HX by an impressive margin of 29%. Such remarkable gains in performance are a testament to Beelink's commitment to delivering cutting-edge technology to its users.
Graphics processing is a crucial aspect of any gaming-focused device, and the GTR7 series doesn't disappoint in this regard. Both the GTR7 7840HS and GTR7 Pro 7940HS feature the integrated AMD Radeon™ 780M Graphics, built on the latest RDNA3 architecture, and equipped with 12CU cores. The Ryzen 7 7840HS offers a frequency of 2700 MHz, while the Ryzen 9 7940HS operates at 2800 MHz. These GPUs also support hardware ray tracing and are capable of 8K60Hz AV1 video decoding or encoding, further enhancing the gaming and multimedia experience for users.
To address the concerns of heat dissipation, Beelink has implemented efficient cooling mechanisms in the GTR7 series Mini PCs. Users can expect reliable and consistent performance even during intensive tasks, thanks to the thoughtful design of the cooling system.
In terms of connectivity, the GTR7 series offers a comprehensive range of interfaces to accommodate various peripherals and devices. Users will find a variety of ports, including USB-C, USB 3.0, HDMI, Ethernet, and audio jacks, allowing for seamless connectivity with external displays, storage devices, and other accessories.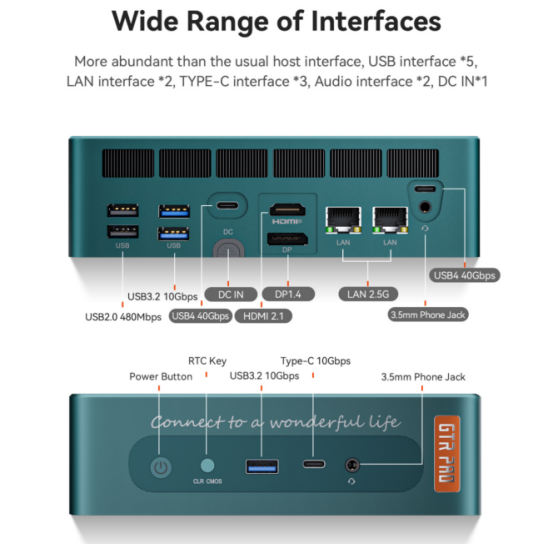 Furthermore, Beelink has integrated noise control features into the GTR7 series Mini PCs, ensuring a quiet and distraction-free environment during operation. This makes the devices suitable for both office environments and home setups.
With its impressive performance, efficient heat dissipation, diverse interface options, and noise control capabilities, the Beelink GTR7 series Mini PCs are anticipated to become highly sought-after in the market. Whether users are looking for a compact and powerful solution for office work or an immersive gaming experience, the GTR7 series is poised to deliver on all fronts.
Beelink continues to push the boundaries of Mini PC technology, and the release of the GTR7 series demonstrates their commitment to meeting the evolving needs of consumers. As users seek increasingly versatile and powerful computing solutions, Beelink's latest offerings are well-positioned to provide an ultimate computing experience.
Source: Press Release