Fitbit Sense Review: The best Apple Watch competitor to date?
After a few weeks of wearing the Fitbit Sense, I have sort of mixed feelings about it. In short, if you want a premium looking health device to monitor your daily stats, and also wants EKG on a Fitbit, this is your watch. But, the lower-priced and newly released Fitbit Versa 3 (which has the same general features of the Sense, without EKG and stress sensing) could be plenty enough. I'll try to sort it out for you.
The Fitbit Sense is the new flagship sibling in the Fitbit familiy. It adds many new sensors to the Fitbit lineup and it's supposed to track everything from stress to blood oxygen levels, temperature, sleep and it even has an electrocardiogram (EKG). Sense is actually the first Fitbit device with a compatible EKG app to assess your heart rhythm for signs of atrial fibrillation (recently received CE Marking in Europe).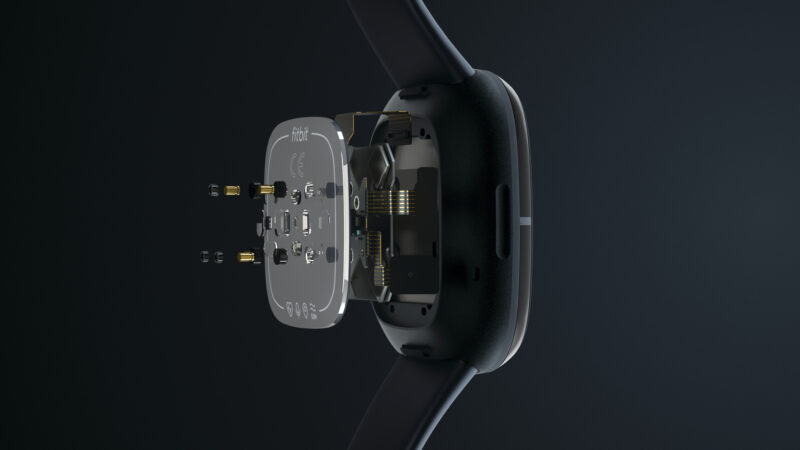 On top of all that, the Fitbit Sense of course also doubles as a regular smartwatch and fitness tracker. Priced at 3 499 SEK ($329, £299, AU$499), at least on the paper, it looks like a real Apple Watch competitor. But can it live up to it's hype?
Overall appearance
There's no real way around it, The Sense has a similar design to the Versa series. This is not a bad thing however, since the Sense is a very good-looking fitness tracker. The square face has gently curved corners, no inscribed "fitbit" at the bottom, and a glowing AMOLED screen that shows images in well-lit, striking detail. It looks clean both while training and at work (actually often mistaken for the more expensive cousin Apple Watch).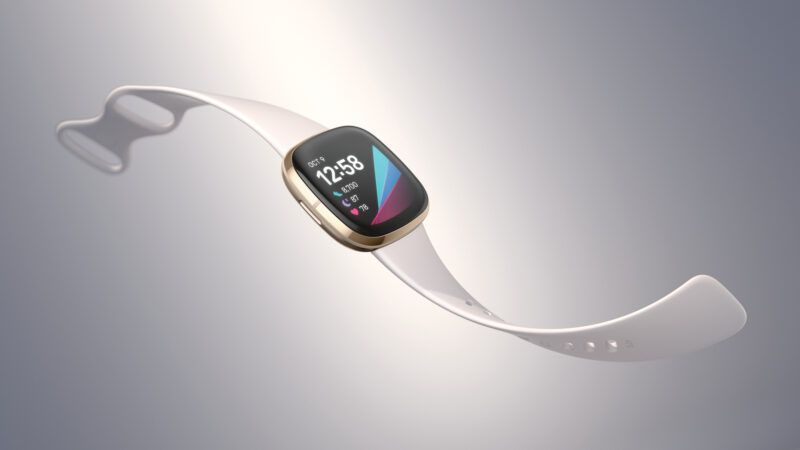 The main difference betwteen the Sense and the parallel released "budget" smartwatch Fitbit Versa 3 is the stainless steel edge around the Sense's square watch face instead of aluminum and a few new sensors inside (which does make it a tiny bit thicker). Along with the touchscreen, you interact with the Sense through an indented haptic side button, which can do everything from launching the Alexa smart assistant (Or Google, however not available from scratch) to starting a workout. 
It feels more comfortable than the Versa 2, especially during workouts and at bedtime, thanks to its more rounded finish. Undoubtedly the best physical development from pre gen is that those fiddly toggles used to switch out straps on earlier Fitbits are gone, thank goodness (I actually managed to push the old "spike" through my thumb and bled profusely, while trying to swap bands). Now they've been replaced with quick release buttons to make swapping bands out a lot easier. Thank you Fitbit!
Battery
According to fitbit, the Sense can last up to six+ days on a single charge in smartwatch mode (i.e. no GPS ). That's accurate as far as I can tell, however it depends a little on what sensors and settings you're switching on. I've been able to get six days on a single charge, but with limited notifications and sensors on, BUT I've been going out for runs with GPS enabled. For reference, a 45 min run drained about 6-8% battery. If you choose to use the always-on display, battery life will unfortunately be reduced to roughly two days.
Another small-yet-notable upgrade: the Fitbit Sense has a new charger! They got rid of the weird clasp-dock thing and now it is magnetic and supports quick charging, which can charge your Sense from 10-80% in ~40 minutes! Do you hear that Apple?
Functions and apps
At a time when going to work sick could be a very bad thing (even here in Sweden 😉), I'm sure a lot of people will be happy to hear that the Fitbit Sense also has a new skin temperature sensor that's supposed to catch early signs of illness. The sensor simply records the temperature of your skin at night, compares it to your personal baseline, and shows you trends over time. The graph in the Fitbit app is simple and easy to read. None of my readings ever went outside my target range throughout the weeks I were using the Fitbit Sense.
One thing that Fitbit fails to do is explain what to do with the data. Sure, I can see that my skin temeperature was -1 degree during the night, but does that mean I need a thicker blanket, or that I risk getting sick? This is almost general for all data in the app, although it is fun to follow and compare days, it can be difficult to know how to interpret all numbers and graphs.
Sleep tracking continues to be a strong suit for Fitbit. As with other Fitbits, the Sense will track your light, deep, and REM sleep, and give you an overall score from 1-100 based on your heart rate, sleep stages, and time awake.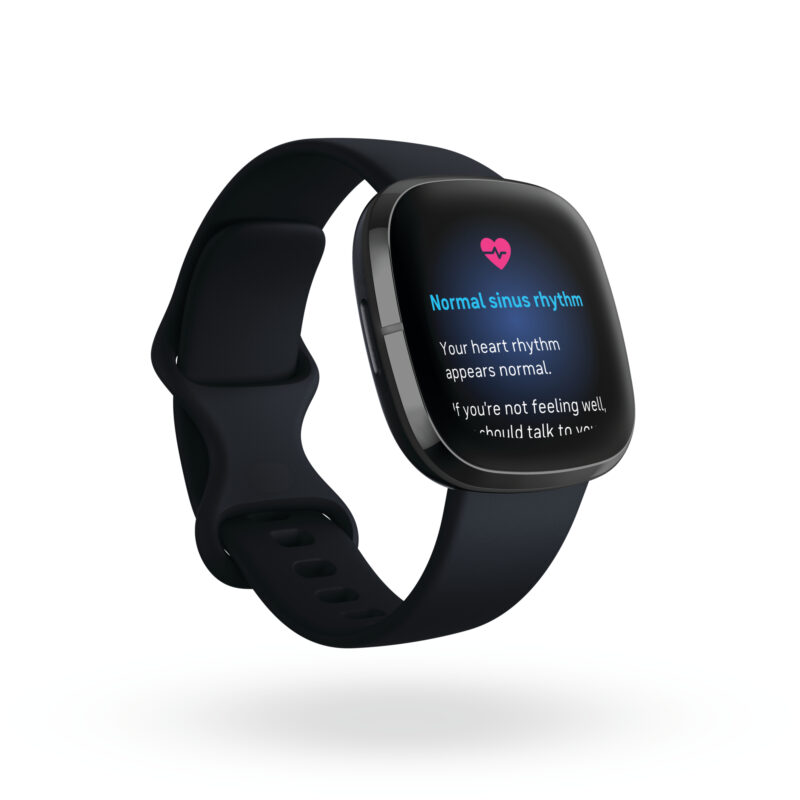 Among other things you can also use the Sense to control music on Spotify, but if you want to actually store music on your watch so you can leave your phone at home, you're limited to premium services from Pandora and Deezer (I don't think I know a single person who subscribes to Pandora or Deezer).
Worth noticing: many of the best features, like Sleep Tracking (except for getting a sleep score), remain locked under Fitbit Premium. A Premium subscription costs 800 SEK ($ 80) every year, however the Sense comes with a free six-month trial to Fitbit Premium, so you can try before you buy.
Another thing. The Fitbit Sense will only record SpO2 (blood oxygen levels) when you're using a certain watch face. If you're using another watch face, you literally won't get that data in the Fitbit app. I can't really understand why they chose to do like this, but I hope an update will come in the future.
Final Verdict
The Fitbit Sense is my new everyday smartwatch, beating even the Apple Watch thanks to its battery life. But while it packs more sensors than the Versa 3, for many the difference will be relatively minor — and perhaps difficult to justify that $100 price gap. This is a solid choice for anyone looking for a smartwatch but perhaps even more for those looking for an Android-compatible Apple Watch alternative at a good price.
PROS
Premium design
Health data galore
Stress and mindfulness
Unique temperature tracking
CONS
Smartwatch features lagging

Not obvious what to do with health data
Overall specifications
Fitbit Sense and Fitbit Versa 3
Display
1.58-inch touchscreen AMOLED
336 x 336 resolution
1,000 nits
Corning Gorilla Glass 3
Battery
Smartwatch mode: 6+ days
Lithium-polymer battery
Charge time: (10-80%): ~40 minutes
Memory
4GB (2.5GB available for music storage)

7 days of motion data, daily totals for past 30 days

HR data at 1-second intervals during exercise, 5-second intervals all other times
Materials
Sense: aluminum case, stainless steel ring for ECG
Versa 3: aluminum case

Classic strap: flexible material similar to that used in many sports watches
Sensors and components
Sense: Electrical sensors compatible with ECG & EDA app
Sense: Skin temperature sensor
Versa 3: Device temperature sensor
Optical heart rate sensor
Built-in GPS + GLONASS
Gyroscope
Altimeter
3-axis accelerometer
Ambient light sensor
Wi-Fi (802.11b/g/n 2.4GHz)
NFC
Vibration motor
Speaker
Microphone
Water resistance
5ATM
Notifications
Call, text, calendar, email, music control, and much more
Compatibility
Android, iOS
Dimensions
Sense:
40.48 x 40.48 x 12.35mm
45.9-48.2g

Versa 3:
40.48 x 40.48 x 12.35mm
41-43g

Small strap: 140-180mm
Large strap: 180-221mm
Colors
Sense: Carbon/Graphite stainless steel, Lunar White/Soft Gold stainless steel

Versa 3: Black/Black aluminum, Pink Clay/Soft Gold aluminum, Midnight/Soft Gold aluminum