Belkin Boost Charge 3-in-1 Wireless Charger Review: Apple fans look no further!
Plenty of people will simply stick to the chargers that comes in the box with their phone and / or other rechargeable accessories. However, with Apple potentially leaving the charger out of the iPhone 12 box (as they did with the new series of Apple Watches), there's likely to be a bigger market for alternatives.
Belkin's latest 3 in 1 solution the BOOST↑CHARGE™ 3-i-1 might be pricier than you'd consider paying (1 390 SEK), but it backs it up by offering a robust, well-designed 7.5W charging solution for iPhone, AirPods, and Apple Watch.
Design
My review unit, the white version, offers a sleek stand for an iPhone that feels just at home with the iPhone SE (2020) and the larger iPhone 11 Pro Max.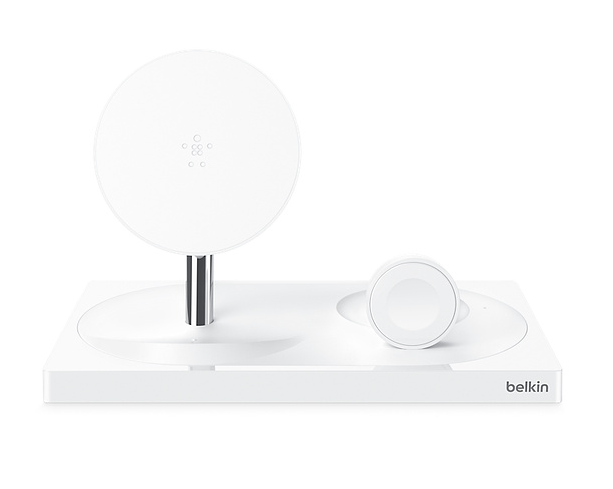 With a subtle tilt to the phone's position, it offers a decent enough viewing angle to be a good way to consume media (albeit in portrait mode) or to make and receive FaceTime calls.
There's an upright wireless charging puck that can accommodate an ‌iPhone‌, a smaller Apple Watch charging puck, and behind that, a small circular divot for the ‌AirPods‌ or AirPods Pro case. Many other 3-in-1 wireless chargers have enough space for charging two iPhones at once, but this one is designed specifically for a single ‌iPhone‌ and ‌AirPods‌, which is something to be aware of.
If you're worried about the phone slipping, there's a subtle "ridge" below to prevent just that, and it's compatible with "most lightweight cases" (and worked perfectly with the three different cases I tested).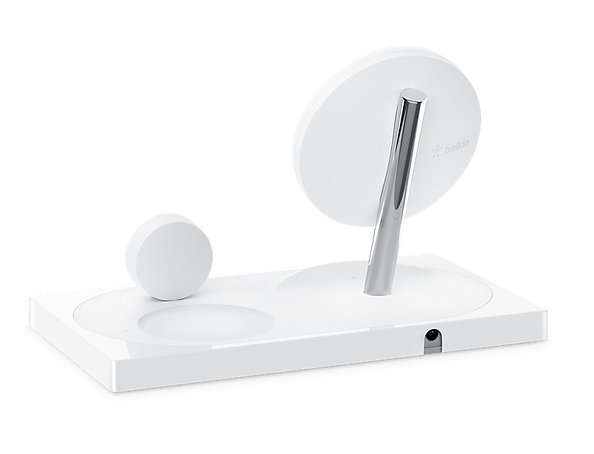 Everyday use
The upright charging space for the ‌iPhone‌ is actually good because it makes it easy to put the ‌iPhone‌ down and go, with no need to position it or make sure it's in the right spot to initiate charging (something I experience as a issue with with the typical flat wireless charger).
The only downside i experienced during my everyday use was the crowding issue depending on the Apple Watch band I was using, when charging the Apple Watch and the AirPods Pro case at the same time. Fortunately, I rarely need to charge the AirPods case so the problem is small though noticeable.
There are small LEDs on the front and side of the charger that let you know when it's powered on and charging your devices, and a single power cord sticks out from the back. These lights can't be disabled and could be a bit irritating at night, but I wasn't bothered too much by them. Oh, and there's no LED to identify that your watch is charging, the unit does support "nightstand mode" in WatchOS however – so once the device is charging, it'll simply show the time and a battery indicator.
In my testing, all three charging spaces worked as expected and I ran into no issues, with everything charged at the expected speeds.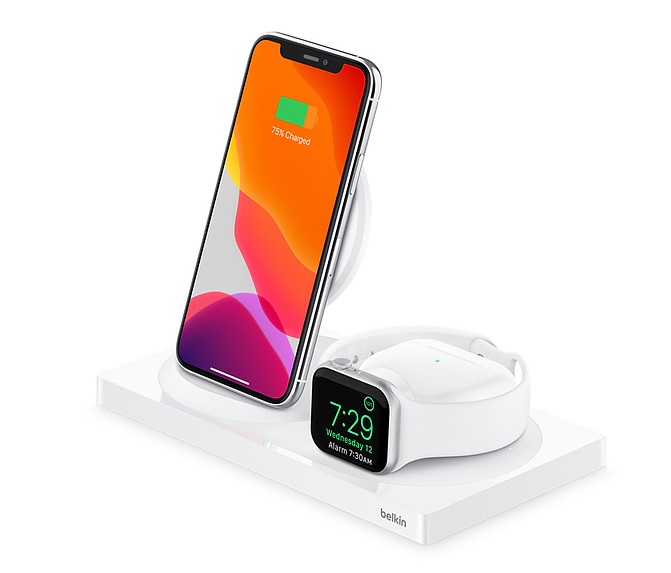 Verdict
If you've invested in Apple's hardware ecosystem, this is a perfect charging solution for your bedside table or desk. It might not be the most necessary purchase you'll make, and at 1 390 SEK it's not the cheapest, but it'll power up your devices ready for the day, and look good doing it. I can highly recommend it!
PROS
Charges all your Apple devices at once
Looks very stylish
CONS