XGIMI Halo+ Review: Portable 1080p Projector With Android TV
When I was a little kid, an absolute highlight for me, was when Dad brought out the slide projector so we could look at old photos on the fridge door. The pictures themselves were interesting to some extent, but what fascinated me the most was the mystique, when we dimmed down in the kitchen and the projector threw its light on the wall. That I, 30 years later, thanks to Chinese XGIMI would carry a projector with me outside and watch a 200-inch movie on Dad's garage wall instead, I hadn't thought back then.

Unboxing

Design and features
As you probably saw in my unboxing above, the XGIMI Halo+ is an tastefully sleek black little projector. It fits well in any home (or room) and does not take up more space than a Sonos One speaker. In fact, they share physical specifications quite well, as Halo+ is H: 17cm x W: 15cm x D: 11cm while Sonos is H: 16.2cm x W: 12cm x D: 12cm. The projector weighs 1.6 kg and is in other words super easy to carry with you to change rooms, or why not to the patio on a dark late summer evening?
In terms of features, this little beast have all the essentials. When turning on the unit it auto-focusses and keystones with impressive speed, to give a well-positioned and square image – excellent for a portable unit – then gives user-friendly options to tweak the positioning (this is shown in the video above).
A smart physical feature is the small stand built into the bottom of the unit, helping you to angle the projector correctly without having to carefully balance thin objects underneath it. Should I be picky, I would have liked to have seen that this stand could be set in a few different angles.
On the back there's one HDMI slot, one aux out, and one USB slot and that's all you get in terms of ports.
It has Android TV built-in and it runs well but with occasional stutters and slowdowns. Not so much that it will be a real disturbance though. The Google Play Store is available for you to download your favorite streaming apps, or why not cast your movies directly from your phone via the built-in Chromecast?
The Projector is controlled mainly using the included bluetooth remote control (or voice commands). Since the control operates over bluetooth, you don't need to point it directly at the projector, which is always handy.

Performance
Powered by DLP technology, the projector has 900 ANSI lumens projection that is good enough to maintain decent contrast even in tricky light conditions. It is not the brightest, yet good enough to project a visible frame in well-lit environments. This is shown in my video above, where I test the Halo+ in pretty horrendous conditions.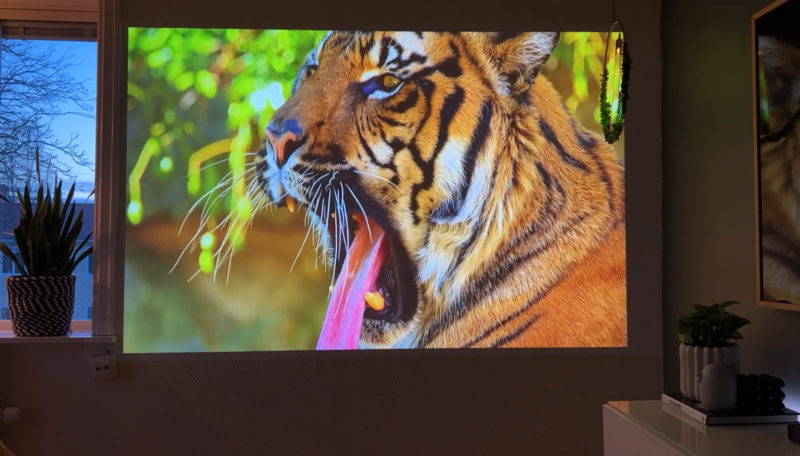 Picture quality is crisp, and while 1080p might not be the top standard anymore, in a portable projector of this brightness at this price it's impressive. The image is bright, with vibrant and rich colours, particularly with brighter more colourful content. Contrast is generally very good, too, although blacks do tend to be more grey, and darker scenes can be hard to see clearly under any kind of ambient lighting.
There are a few different picture modes, where Game Mode gives 26ms input lag and 60Hz refresh rate, in other words it's definitely great for quickfire party games like maybe Mario Party or Mario Kart. While if you're a competitive gamer who wants nothing less than the most lightning-fast available you might want to stay inside using your TV.

Sound
XGIMI Halo+ has built-in dual 5W Harmon/Kardon speakers. These get very loud and more than enough so you don't need external speakers, although I'd say they lack bass for that true cinematic experience. However, they are good enough so you can travel with just this projector and don't need to bring a extra Bluetooth speaker as you do with many other portable speakers. A big perk in my book.

Battery
First of all, I would like to mention that the specified brightness of 900 lumens applies when you have the projector connected with a power cable – as soon as you switch to battery operation (the Halo+ has a built-in 59.4Wh battery), it is significantly reduced. Not so much that you can't see the picture, but you should have the room properly darkened to be able to enjoy it.
Depending on what you then look at and what settings you use, the battery lasts for about 3-4 hours.
A small disadvantage is that the projector is running a proprietary pin-based charger. A USB-C cable would have been so much smoother, as most people have loads of them at home.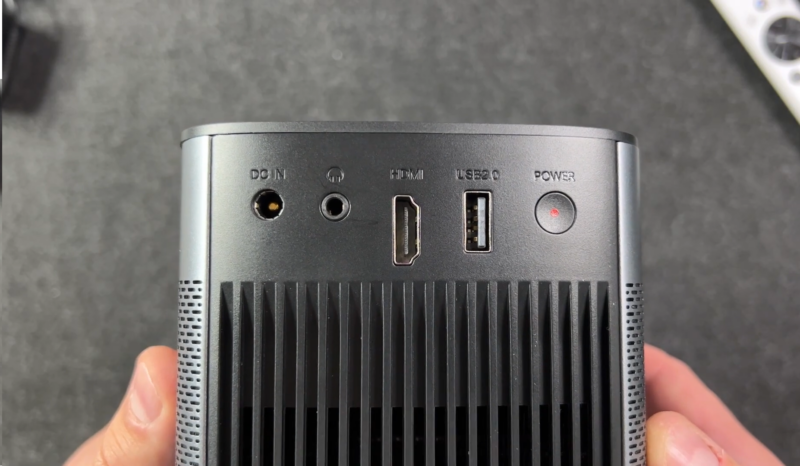 Verdict
Quality, brightness and configuration wise, the XGIMI Halo+ is the king of the portable projectors as of today. Its image is far better than that of the competition, and the built-in speakers are actually useable for watching films. It's also perfect in size as it's both very solid and portable at the same time.
My kids absolutely love to be able to watch their friday night movies on the wall in their room, or as the other day when we watched a movie outside on a sheet. They give two thumbs up as well.
PROS
Bright
Clever automatic setup
Crisp image
CONS
Expensive ($849)
Might be better suited to Android devices