Toshiba P300 (3TB) Quick Look: Faster, harder stronger?
You might remember my review of the 6TB Toshiba P300 from earlier this year. Anyways, one of the cons I had back then, was the lack of a 7200 rpm option. My friends at Toshiba heared me out though, and they sent me their 7200 rpm version of the P300. However, this time around with half the storage size, landing at 3TB in total. Now, let's get to my quick look of the drive itself.
Please remember that this is a quick look and actual speed tests will come in a future update! Be sure to follow me on instagram to get a notification about it!
With the Toshiba P300, you can install an internal hard drive in your desktop PC that is (according to Toshiba) suitable for 'creative professionals'. The storage capacity makes the drive suitable for large files so you'll always have room for extensive photo or video collections, high-end games and your favorite software. Should you move your desktop PC, the built-in sensor protects the hard drive against impact. This way your data will always be stored safely (which is actually awesome since I change chassis, motherboards and other computer components alot).
The P300 3TB drive uses three 1TB platters (discs) to achieve it's capacity, has a spindle speed of 7,200rpm and 64MB of cache with a quoted average latency of 4.17ms.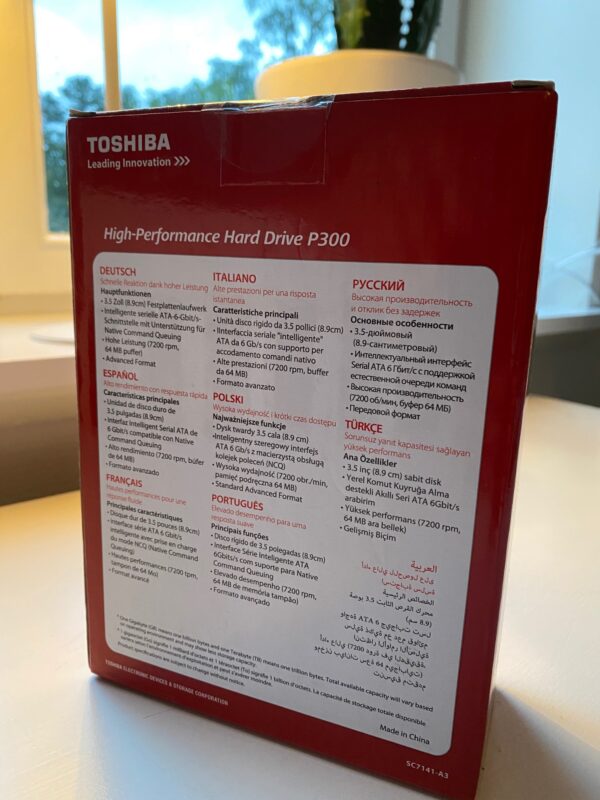 Physical Specifications:
Usable Capacities: 3TB
Spindle Speed: 7,200 rpm
No. of Heads: 6
No. of Platters (discs): 3
Cache: 64MB
Recording Method: Perpendicular
Interface: Serial ATA (SATA) 6Gb/s (SATA III)
Form Factor: 3.5in
Dimensions: 26.1 x 101.6 x 147mm
Drive Weight: 680g
Quick look verdict
Although Toshiba's P300 has a few years on its neck, I think that the drive ticks all the boxes for a modern hard drive; Perpendicular Magnetic Recording (PMR), Tunnel Magneto-Resistive recording technology (TMR), Halogen Free and Advanced Format technology. The range also adds another couple of data protection features to the list; an internal shock sensor and ramp loading technology.
The drive is very quiet in operation even when it was being pushed hard in some of my tests. Quoted power consumption for the 3TB P300 is 6.4W for typical Read/Write operations and 5.2W in low power idle mode.
Pros
Overall performance.
Internal shock sensor
Dual-stage actuator
Cons
A SATA connection cable isn't included.