Sony WF-1000XM4 Review: Master Class Earbuds
Sony's latest attempt to kill the Airpods hype has arrived and even though they have the market's undoubtedly worst name, I actually think the Sony WF-1000XM4 (from now on called XM4) may succeed this time. Launched earlier this summer (June to be precise), the XM4 earbuds tick most boxes for what you should expect from quality noise-cancelling wireless earbuds in 2021.
They are lightweight, compact buds and extremely comfortable to wear and won't fall out of your ears even if you're running. And of course, the XM4 comes with extra memory foam tips in different sizes, so a perfect fit for your ears shouldn't be a concern.
Design
Anyone familiar with Sony's previous earbuds, will notice straight away that the XM4 sports a brand new design. Gone is the oval 'bean shape' of the WF-1000XM3, replaced with a more modest circular bud with a bump on the side where the ear tip protrudes. They are about 10% smaller than its precursor and weighs less as well (41 grams compared to the XM3s 79)
I have only used the standard tips (that was on out of box) and to my great joy they fit perfectly in my ears. The XM4 never falls out, even when taking them for a run.
I really prefer the new shape but I also have relatively big ears and as I said they seem to fit perfect. They are not the smallest/lightest earbuds out there however, and I think anyone with small ears might find them to be a little bulky.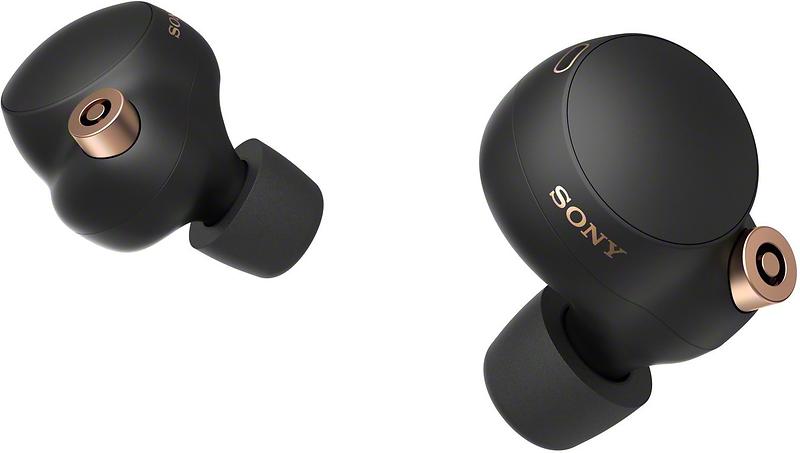 Features
As expected from earbuds these days, when you deliberately remove them from your ears, sensors will ensure the music is automatically paused and then resumed when you put them back in. 
On the outside of the buds are touch-sensitive buttons that work well. For seamless hands-off control, the earbuds will work with Amazon's Alexa, Apple's Siri, and Google Assistant. And although it's not a higher rating, the IPX4 water resistance should be enough for most people, meaning they can cope with splashes and sweat. 
It may not be a feature, but like the buds, the case has been shrunk, and is now about 40% smaller. The case has an LED on the front, USB-C on the back and wireless charging. Getting the buds in and out of the case is effortless.
Battery
Sony states 24 hours – that's 8 hours from the buds and then another 16 from the charging case. The case now has Qi wireless charging making it easier to top them up. Fast charging means you can get an hour of playback from a short five-minute charge.
Sound quality
But most importantly how is the sound? Well I'm happy to admit that the XM4's sound quality is spectacular. Listening to everything from podcasts and instrumental pieces to bass-thumping tracks and guitar solos and even streaming movies or TV shows with them feels as close to theater-quality sound as headphones can deliver.
They support the LDAC codec which can transfer three times more data than conventional Bluetooth and enables Hi-Res Audio Wireless. You will need to connect to a device that also supports LDAC, mind, although that's not too difficult as it's available on phones running Android 8.0 or later. For iPhone users, the XM4 supports AAC.
DSEE Extreme (Digital Sound Enhancement Engine) technology means the earbuds can upscale compressed audio in real-time.
The earbuds' noise cancellation is designated by Sony as "industry-leading," its most sophisticated and powerful level. In other words, it really doesn't get better than this, at least not from Sony. In fact, they beat my Airpods Pro in sound quality and noise cancellation by a wide margin.
Furthermore, they support 360 Reality Audio which is Sony's spatial audio technology for a surround sound experience. However, I didn't test this during my review period.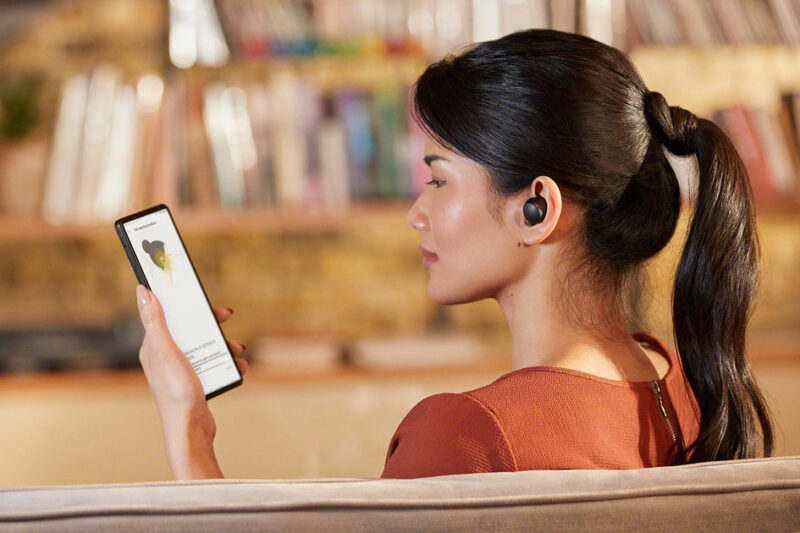 Verdict
Although not mentioned earlier in the review, the XM4 are quite pricey. However, if you have the cash, then you really can't get better than the XM4 for wireless earbuds. They may not be as lightweight as Airpods Pro and definitely not as seamless (when used with iPhone), but if you're looking for the best noise-canceling earbuds on the market right now, your choice is simple. The Sony WF-1000XM4 is master class earbuds.
PROS
Compact and comfortable
Incredible sound
Industry-leading noise cancellation
CONS
---
The Sony WF-1000XM4 was sent to me for free for review, but I did not get paid to write this. The thoughts on this product are my own. You can grab the product from one of these swedish sites (or Sony.com).