Shadow (PC) Cloud Gaming Review: Cloud Gaming That Works
Google's Stadia streaming service is set to be shut down permanently on January 18th, raising questions about the future of streaming services. However, French company Blade believes that their cloud-based service Shadow will be successful with consumers and continues to invest in it. I've had the privilege of testing Shadow for a few weeks now and here are my initial thoughts on the service.
What is Shadow?
Shadow is a comprehensive game streaming and remote PC service that grants you access to a "gaming" cloud PC from all your devices. Unlike other streaming services that rely on weak virtual machines on overburdened servers, Shadow provides access to a high-spec gaming PC. The current minimum specifications include a GeForce GTX 1080 GPU (or equivalent), an Intel Xeon 3.5GHz CPU (4 cores, 8 threads), 12GB RAM, 256GB of storage and Windows 10 Home. Additionally, the service comes with a 1Gbps internet connection, ensuring exceptional gaming performance and fast downloads.
All of the features of Shadow are available across Windows, Mac, Linux, iOS, Android devices and even some smart TVs. Your connected devices such as game controllers, mice, and external drives will function just as they would when connected locally. Furthermore, you don't require an ultra-fast internet connection to use Shadow, a minimum speed of only 15Mbps is required.
Pricing
The base pricing for Shadow PC starts at $29.99/£28/AUD$50 (329 SEK in Sweden) per month. While there is theoretically a one-time $29.99 activation fee, Shadow is not currently charging this. For an additional $14.99/£14/AUD$25 per month, the Power Upgrade plan increases the system specifications to include a Ray Tracing-enabled GeForce RTX 3070 (or an AMD equivalent, depending on location) with an AMD EPYC 7543P 2.8GHz CPU, and 16GB RAM.
Furthermore, additional storage can be added in 256GB increments, up to a maximum of 5TB, for $2.99/£2.80/AUD$5 each. Therefore, a Shadow PC with the Power Upgrade and 1TB of storage would cost $53.95/£45/AUD$80 per month.
I want to take this oppertunity to inform you that if game streaming is you're only interest here, there are more affordable options available. For example, Playstation Plus offers access to a library of hundreds of games and additional perks for $10/£9/AUD$15 per month on the annual plan. Another option is GeForce Now's GeForce RTX 3080 setup, which costs $16.67/£15/AUD$25 per month on the six-month plan. However, when compared to similar remote PC services, Shadow stands out as a more cost-effective option. For instance, Microsoft's Windows 365 Premium system, which has less CPU power, 16GB RAM, 128GB storage and no GPU, is more expensive at $66 per month. So overall, if you plan to utilize Shadow's power, it appears to be a good value.


Setup process
Upon signing up with Shadow, the company will begin creating and activating your remote PC. The process is not instantaneous but usually takes around an hour, after which the service will send you an email to notify you that your PC is ready to use. Shadow's Windows installer sets up a straightforward app on your local system. Once launched, the app will start up your cloud PC and open your desktop in a quick 30 seconds. Each Shadow cloud PC comes with a standard Windows 10 setup, and you can install any games or tools you need, just as you would with your local PC at home.
With powerful hardware and 1Gbps download speeds, you can download Chrome, Steam or any other software quickly. The full-screen view of the Shadow desktop is set to the same resolution as your host device for easy switching. The mouse movement is smooth, windows open and display instantly with no lag, making it easy to forget that your actual PC is located far away.
In my two monitor setup, it is extremely convenient to run Shadow in full screen on one screen and my local PC in the other screen. When I move the mouse between monitors, the pointer jumps seamlessly between Shadow and my local PC.
Hardware connectivity
Most game controllers, including Xbox, PlayStation and Nintendo Switch, should be automatically recognized and made available in Shadow. However, there may be some compatibility issues with less common hardware such as some Logitech controllers that may only be supported on Windows, but not Mac. If controller compatibility is essential to you, it is recommended to check the website for details on the supported devices and platforms.
Connecting USB devices is very simple. I connected a external hard drive and Shadow automatically detected it. Upon granting permission, I could use it as usual. Transferring files between my remote Shadow PC and USB devices is as easy as drag n' drop.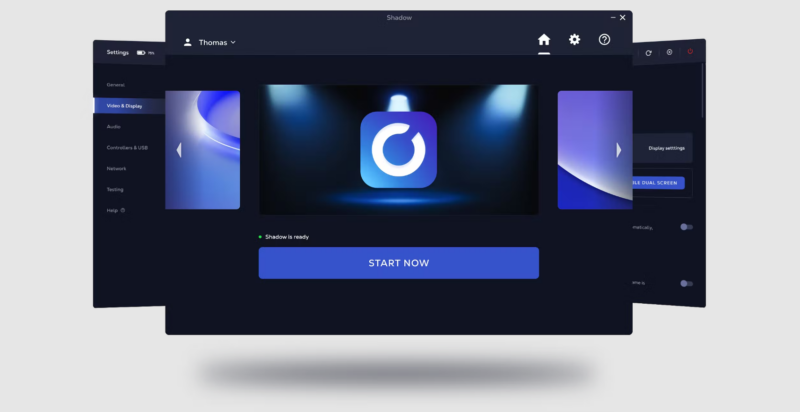 Gaming
Shadow supports any game that can run on a Windows 10 PC. It is worth noting that Shadow is not a cloud gaming service, but rather a subscription to a high-end computer that you have remote access to. Therefore, you have the freedom to install and play any game that you can download and install digitally.
Additionally, you can install any application that is compatible with Windows 10 on your Shadow computer. The service provides a full 1 Gbps internet connection for fast downloads, but storage for the base pricing plan is limited to 256GB. This can of course only hold a few games, however, the fast download speeds makes uninstalling and reinstalling games easy.
During my test period I played three games: World of Warcraft, DOOM 2016, and the Resident Evil 2 remake. The performance was impressive when playing World of Warcraft alone, but there were noticeable latency issues when trying to play PVP and run through dungeons with friends.
Both DOOM 2016 and the Resident Evil 2 remake performed exceptionally well, and using in-game performance monitoring, I confirmed that the game was running at 60fps in 4K and 120fps in 1080p. Although there was a minor input lag, it did not affect the overall gaming experience.
So in other words, it is clear that the hardware in the Shadow PC is more than enough to play modern games at high settings. But unfortunately, it is also clear that this type of remote solution still does not work optimally in online games with ultra-low latency requirements.
Verdict
While cloud gaming is no way near fully developed, Shadow is one of the closest to delivering on its promises so far. While it still experiences occasional stuttering, which makes it less suitable for competitive gaming and online games, other genres perform excellently.
I can recommend this service to anyone who wants to explore cloud based solutions, or wants to avoid buying a $2500 USD gaming PC. Shadow far outshines the competition, but also does so at a higher price.