Razer Seiren Mini Review: Cute and Affordable!
If you're looking for something a little less eye-catching than the Razer's streamer microphone the Seiren Emote, then you may have ended up right. This time around I'm taking a closer look at Seiren Emote's smaller sibling, namely the Seiren Mini.
The super-cheap Razer Seiren Mini will cost you 599 SEK ($50) and it's designed to take on the Blue Snowball Ice in the beginner streamer market, offering an incredibly simple setup that's ready to broadcast within the second you plug in the USB cable.
Design
The Razer Seiren Mini is a super cute little mic, that looks like an accessory that you would think came from a late night talk show-desk. The base is about 9 cm in diameter and the mic is 15 cm high. It is available in three colors: black, white and pink.
Instead of the braided cables we usually see on streamer mics, the Seiren Mini's cable is rubberized, and its attachment at the mic end is shaped to complete the curve of the body, sitting flush with the pill shape. This is of course nice for the overall design, but it really sucks that you'll have to wait for a replacement cable from Razer if it breaks.
The mic can be used on a boom arm, but comes with a small stand that allows for quite a bit of positional angling.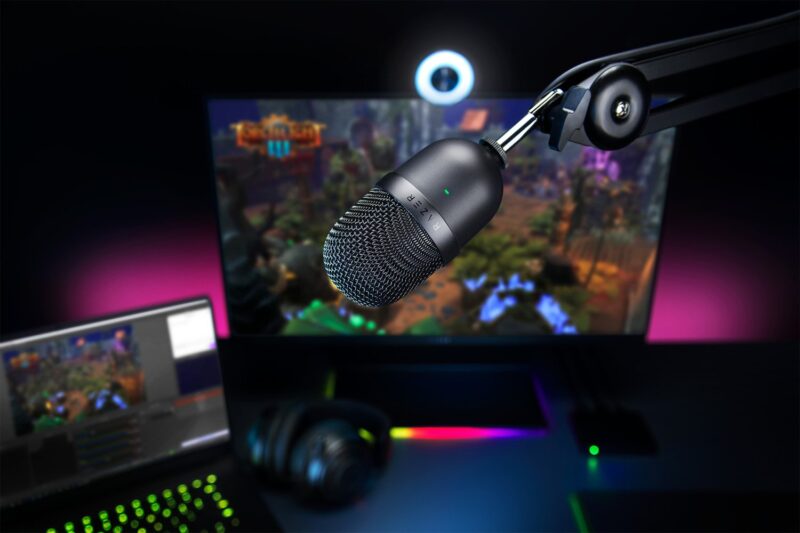 Features
There really aren't many features to talk about here. On the hardware side, much like the HyperX SoloCast, features were stripped away from the Seiren Mini to keep the sound quality up and the cost down. There's no volume or gain dial. Hell, there's isn't even a mute button or headphone jack. So when you want to control the gain or mute yourself, you're going to have to do that at the software stage, using OBS, Ableton, Bandicam, Discord or any full-blown Pro Tools, it's your choice.
Specifications and performance
| | |
| --- | --- |
| Frequency Response Range | 20 Hz – 20 KHz |
| Sample / Bitrate | 48 kHz / 16-bit |
| Polar Patterns | Supercardioid |
| Headphone Amplifier Impedance | N/A |
| Dimensions (extended in stand, LxWxH): | 2.2 x 3.5 x 6.4 inches (55.9 x 88.9 x 162.6mm) |
| Weight (microphone only): | 0.6 pounds (272.2g) |
| Extra | Removable stand |
Short story: It's actually hard or even impossible to get better audio than this for the money it costs. I'd say that the Seiren Mini sounds just as good as Razer's more expensive Seiren offerings and it does a great job of tapering down background noise to focus on what's in front of it.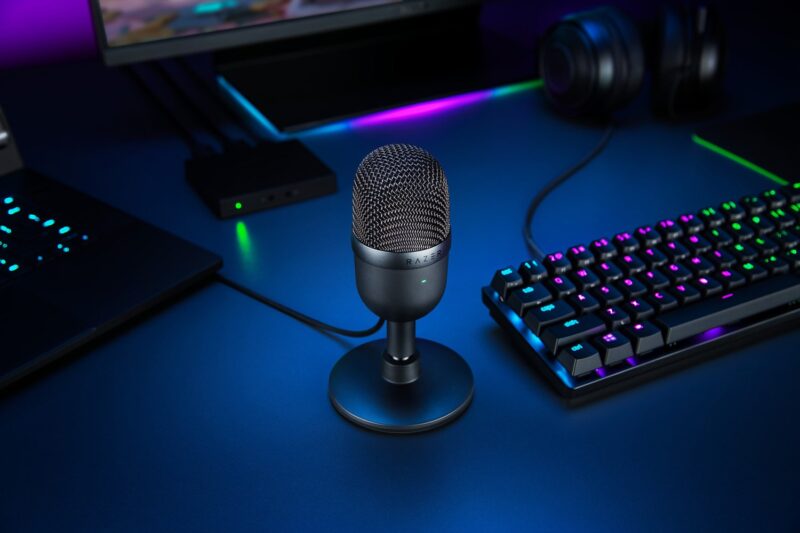 Verdict
The simple fact that the Mini, at just $50, sounds as good as its more expensive brethren says it all. When it comes to simplicity and value, the Razer Seiren Mini is a top contender – if not the top contender. If you're new to streaming or want something that's easy to travel with and lets you get right to business, this is probably the mic for you.
PROS
Super cheap
Cool (cute) design
Great sound quality
CONS
_______________________________________________________________
The Razer Seiren Mini was sent to me for free for review, but I did not get paid to write this. The thoughts on this product are my own. You can grab the mic at Razer.com.