Razer Huntsman V2 Review: Perfection at a price?
The Razer Huntsman V2 updates Razer's (and arguably the world's) most popular keyboard series with some key features and design that Razer first introduced back in 2018. Razer have added a whole bunch small refinements that sounds cool, like 8K hyperpolling, which theoretically reduces input lag by increasing the number of times the keyboard communicates with your computer. The new keyboard also have PBT keycaps and a redesigned and super comfortable wrist rest without any sharp plastic corners.
Design and comfort
Like Razer's recently released mouse, the Razer Basilisk V3 (that I will review in the upcoming weeks), the Razer Huntsman V2 feels like a refresh that helps keep the Huntsman current, rather than true innovation. At first sight it looks very similar to both the Analog and Elite. You're getting the same broad design that many have come to rely on. You're getting a slightly thinner frame and gone are the RGB underglow that can be found on the Elite and Analog models. This has been replaced by more simplistic RGB on the top of each doubleshot PBT keycap and circles of bright light around each of the dedicated media keys. While it's certainly a more minimalistic and sleek look, those who were looking to pair the underglow effect of the Elite or Analog with the similarly lit Basilisk V3 will be a little disappointed here.
The only thing I don't like in terms of design is the choice of font on the keys. I understand that Razer is looking for some kind of "cool gamer font" here, but to me it just looks cheap.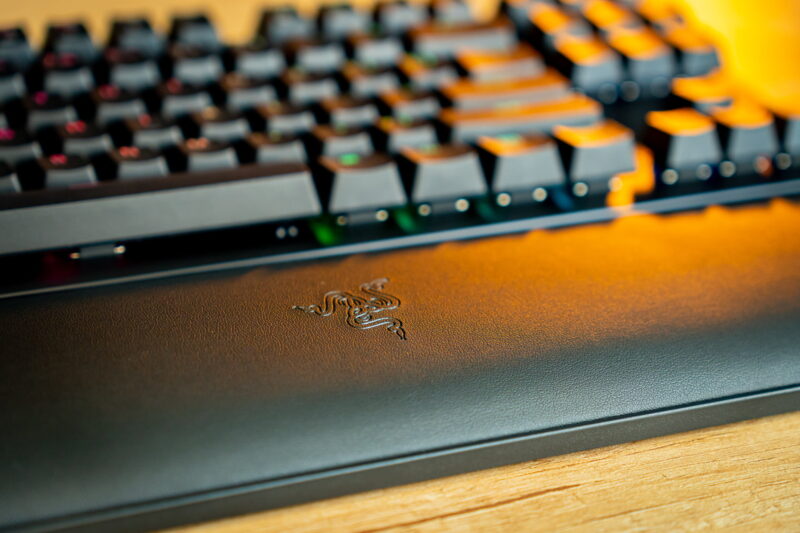 In terms of comfort, I can honeslty say that this is the most comfortable wrist rest I have ever rested my hands on. The padding has a perfect density and softness. It feels like my hands are resting on the softest of down pillows and I almost don't want to stop writing, just so I can continue to feel the softness.
Features
One of the biggests features and USPs from this version of the Huntsman is the 8K hyperpolling. Basically it's a feature that allows your keyboard to communicate with your PC at 8x the rate of a standard set of keys. That sounds cool on paper and it may seem like a nice thing to have, but unfortunately it's hardly even noticeable while you're typing.
One of the other big changes to this version is underneath the keyboard. Razer has taken step of lining the body of the keyboard with sound dampening foam. Why? It allows for dulling of the sound of the switches without changing their feel. Smart!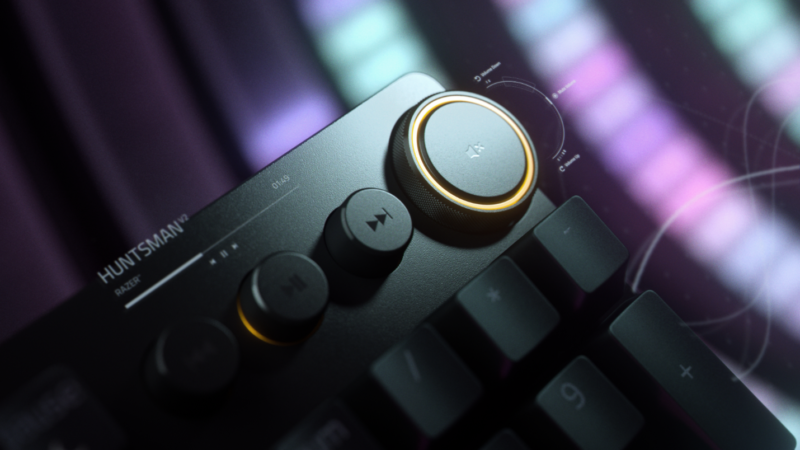 Price
Fortunately you aren't paying extra for that cool sounding feature. The optical Razer Huntsman V2 is a good bit cheaper than the Huntsman V2 Analog, and it's available now on Razer's website for $199 / €209.99, while Analog costs about $70 more. Swedish retailers sell it for around 2099 SEK at the time of writing this.
As you can understand from the price however, this is a premium keyboard. The the price isn't outrageous for what you're getting, but it's still worth highlighting. If you were hoping to keep to a tight budget, this isn't the keyboard for you.
Verdict
The Razer Huntsman V2 is the perfect keyboard for anyone who wants an incredibly comfortable typing experience, both for work and gaming. The Doubleshot PBT keycaps are durable and perfectly textured to make for very pleasurable typing. It's also has the markests fastest keyboard response available with that 8K hyperpolling. If you insist that you can tell the difference, then definitely go for this keyboard.
In any case, this will be my everyday keyboard for a long time to come.
PROS
Super fast and lightweight key presses
Best wrist rest on the market
Looks sleek yet playful
CONS
8K hyperpolling sounds better than it (probably) is
No USB passthrough
---
The Razer Huntsman V2 was sent to me for free for review, but I did not get paid to write this. The thoughts on this product are my own. You can grab the product from Inet.se sites or directly of Razer.com.