NZXT Announces Their Newest Line of Krakens AIO Liquid Coolers
NZXT, a leader in PC gaming hardware and services, today announces the release of the Kraken and Kraken Elite. This new generation of popular coolers offers NZXT's coveted design and high-quality cooling while displaying essential data via NZXT CAM, a free software allowing users to monitor, control, and customize their NZXT products.

These new products are the latest versions of their award-winning all-in-one liquid CPU coolers series, the Kraken X-3 and Kraken Z-3 series. The Kraken Elite offers a 2.36″ LCD screen with higher resolution and frame rate, better viewing angle, and higher color accuracy. This screen can display data from NZXT CAM and static or animated images with more clarity. The Kraken features a 1.54″ LCD screen that can display system temperatures and static images from NZXT CAM.
The all-new Kraken series is available in 240mm, 280mm, and 360mm sizes, offering outstanding performance with a quietly efficient 7th-generation Asetek pump. Users can choose from the High Static Pressure F Series fans or the new F Series Core RGB fans, which can efficiently cool the latest CPUs from Intel and AMD. In addition, the installation process is simplified with a single breakout cable and reinforced tubes for enhanced durability.

Additionally, NZXT is launching RGB versions of their H5 Flow and H7 Flow and a retooled version of the H7 Elite. The H7 Elite comes pre-installed with the new F Series Core RGB fans and includes an RGB controller for an easy out-of-box RGB experience controlled by NZXT CAM.

NZXT CAM is also updated with new features for the Kraken Elite and Kraken Z-3 series, such as a dual infographic and carousel mode for displaying system data. With the integration of GIPHY, you can access a vast library of GIFs and add them to your Kraken's screen quickly. The new web integration mode allows users to display data from websites like Google Photos, Spotify, or any website of your choosing, adding even more customization and function to their builds.

Key Facts about the Kraken Series

Stay Cool
The 7th gen Asetek pump ensures your Kraken cools and stays quiet
F Series Fans provide High Static Pressure to optimize air push through your radiator. This allows for superior heat dissipation.

Fluid Dynamic Bearing (FDB) ensures smooth, quiet operation with a long lifespan.
Enjoy precision PWM control, which means fans cool quickly when needed, but stay quiet at lower loads for maximum efficiency

RGB variants include the F Series RGB Core fans that give a vibrant feel to your gaming setup with the 8 individually addressable RGB LEDs on each fan.
Simple Installation
Setup is made simple with a single breakout cable that removes the guesswork from the installation process.
The liquid tubes are protected with reinforced nylon-braided sleeves for durability and worry-free handling.
Includes mounting accessories for the latest Intel and AMD motherboards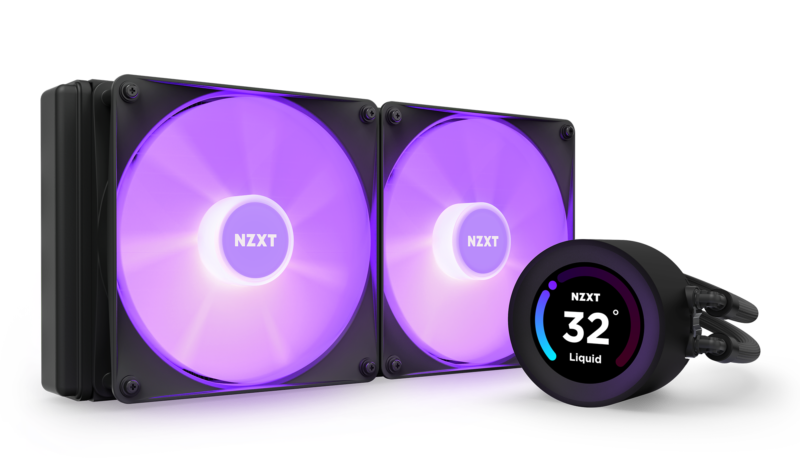 NZXT CAM Ready
Personalize screen content with user-friendly NZXT CAM software.
Control fan and pump speed by running your fans at 0 RPM mode at low temperatures for a quiet operation.
Set your Kraken's RGB and other NZXT lighting effects to cater to your setup's style.
Kraken Exclusive Features

Performance in Real Time
Display custom images and system specs in real-time on the 1.54″ diameter LCD screen.

Transmissive TFT, 262K color display with 240p x 240p resolution, brightness of 300 cd/m², and a viewing angle of 80°.
Kraken Elite Exclusive Features

Eye-Catching Quality
Showcase your favorite images, animated GIFs, and CAM information with outstanding visual quality.
The Kraken Elite's 2.36″ wide-angle TFT-LCD screen comes with a 640 x 640 resolution, brightness of 690 cd/m², and a refresh rate of 60 frames per second, which offers a clear and sharp picture with enhanced color accuracy and is visible from more viewing angles.
New NZXT CAM Features to Personalize your Kraken Elite & Kraken Z-3's Screen:
GIPHY integration is now within NZXT CAM, allowing you to pick your favorite GIF within NZXT CAM easily.
Incorporate information from your favorite websites with the new Web Integration feature with your favorite Google photo albums or with your "Now playing" song from Spotify (Spotify only Kraken Elite).
The ability to relay NZXT CAM system info with animations and infographics.
Screen Rotation in 30° increments to support several pump orientations. (before 90° increment).
Source: Press Release