LEGO Luigi Review: Mamma mia!
LEGO Luigi is the latest addition to the Super Mario Lego range, which focuses on bridging the game between digital and physical games. Just as his brother, Luigi lights up, makes squidging noises if you walk him across the floor, he interacts with enemies and objects, and putting him into a green pipe starts a 60-second timer for your personally-designed level.
I contacted LEGO before the summer to ask some questions about the upcoming LEGO Luigi. The fact was that I had never testes the original LEGO Super Mario and I had never really understood the hype. I got the answer that "We send some review sets when it's time for release AND in the meantime we send some sets from LEGO Mario so you can get a grip on what it's about". Said and done. Together with my children, I have built Mario worlds, demolished Mario worlds and defeated Bowser more times than I can count this summer. And now I'm ready for his brother.
The Box and its content
The design and shape of the box is in-keeping with the previous LEGO Super Mario box and why not, it looks great. It puts the main emphasis on LEGO Luigi, he is after all the main reason you would buy this particular set. Open the box and tip out the contents and you'll find 7 bags, a flimsy 'quick start' guide, and a small white box. Bag one and the small white box is Luigi himself, while the rest of the bags contains the pieces for the starter course.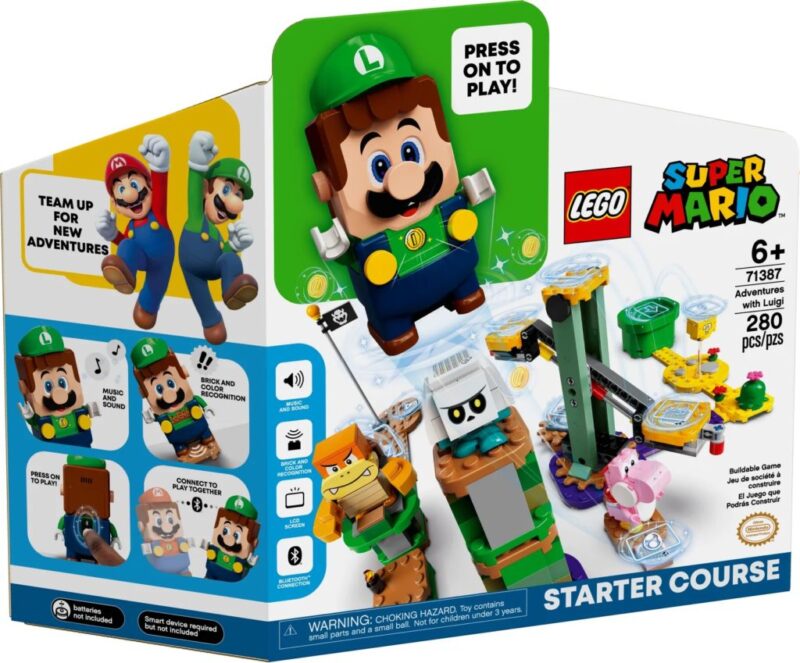 App and eatures
You use the app in your phone to get a clear construction instruction in 3D. And In addition to just being fun to play with and bounce around with Luigi in the different worlds you have built up, LEGO have updated the app considerably since its first version a year ago, and now has space to connect the two characters, on the same screen. You can control their volumes and settings individually which is a nice touch. Once paired together a scarf/neckerchief icon appears on their tiny belly screens, which is very handy and let's you know that they have been paired.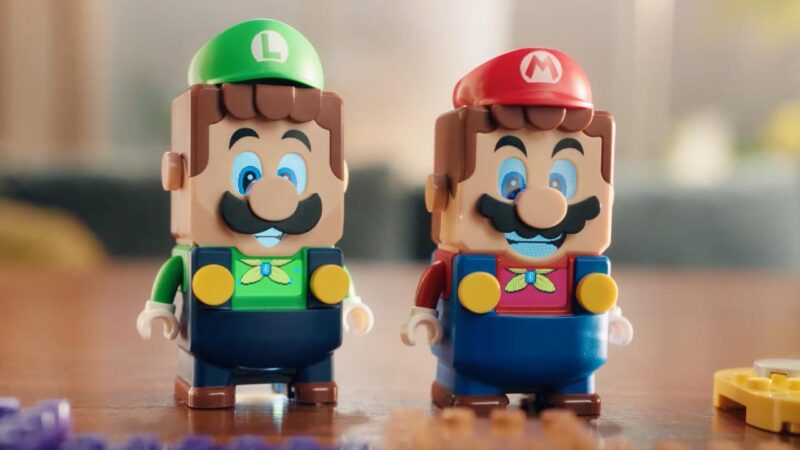 The real fun however, begins when you have paired them, since it enables the new 'two player' mode. Create a course, big or small, by combining the parts you have from both starter courses and any other expansion sets you may have and away you go.
Either Mario or Luigi needs to start a 'level' by being placed in a drain-pipe, and they both become synced allowing you both to traverse the course gaining coins and defeating baddies along the way, finally heading to the flag and finishing the 'level', remember that both characters need to finish into order to get the goodies and not a time-out!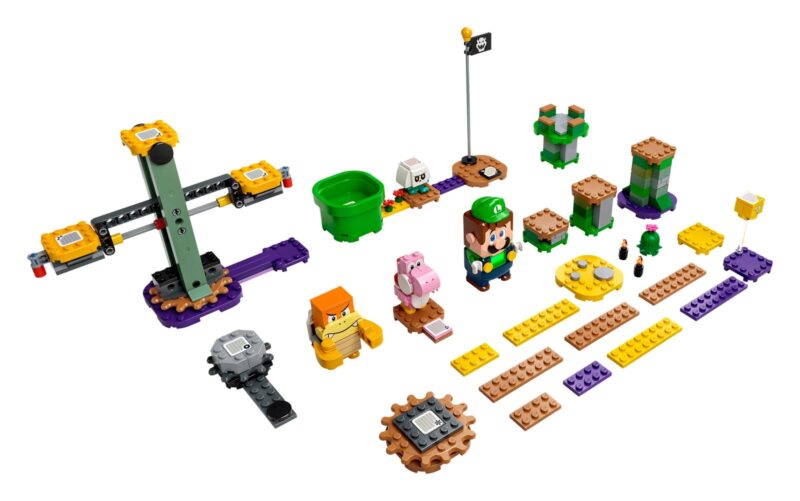 Verdict
For kids it's the perfect, exciting entry point to both LEGO and the Mario franchises. For adults, it's a spot of joy in a time when joy is hard to come by. No matter your age, you'll end up falling a little bit in love with the LEGO Super Mario and Luigi Starter sets. It's the perfect little distraction for these "hard times".


---
The LEGO Adventures with Luigi Starter course 71387 was sent to me for free for review, but I did not get paid to write this. The thoughts on this product are my own. You can grab the product from one of these swedish sites (or Lego.com).