Hombli Smart Doorbell 2 Review: An Affordable Alternative
The Dutch 'smart home company' Hombli has always released affordable products in the smart home area and most recently they released Hombli Smart Doorbell 2 which is a direct competitor to Nest Doorbell (Battery). How good is it? Let's find out!
Design
Something you will notice immediately is that the doorbell is much larger than a regular doorbell. The camera is clearly visible, just like the round pushbutton. When you press the button it lights up. The overall design of the doorbell nice and stylish. Actually it's very similar to Google's previous doorbell the Nest Doorbell. There's a black version and a white version (which is the version I got for this review).
Installation
Installation progress is easy. Charge the bell via the micro USB port, download and install the Hombli app on your preferred device and create an account. The Hombli doorbell is completely wireless, so you do not have to bother connecting it to your electricity network, but if you're going to use it with your existing chime however, some wiring will be needed. If you want to go full wireless you'll need to buy a wireless chime from Hombli for €25 extra (about 250 SEK).
Pairing your new doorbell to the Hombli app is easy. Make sure your iPhone and doorbell are on the same WiFi network, scan the QR code on your phone with the video doorbell and you're done.
The doorbell can be mounted outside either by screwing it to the wall or in the frame or by sticking it with the 3M sticker. The included corner holder gives the bell an oblique viewing angle and is optional. Although the bell is attached to the holder via a small screw, a malicious person can take the entire bell with a bit more brutal force. An anti-theft alarm will warn you in such a situation.
Features and smart functions
The Smart Doorbell 2 is weather resistant, and works great in the north of Sweden even during very cold periods. However, the 3600 mAh battery will take a beating during -10 degrees and even if the rechargeable battery according to Hombli lasts about four months with ten triggers per day with ten to thirteen seconds of video, I'd say you need to prepare to charge a bit more often during these cold conditions.
It has a slot for a micro SD card wich you can use to put a micro-SD card of up to 128 GB for local storage. If local storage is not your thing, you can also subscribe to Homblis' cloud service. The service is €3.49/per month or €35 per year and then you can view the recordings for up to seven days, a bit stingy when compared to Google's 30 days.
So what happens when someone's at the door? When someone rings the doorbell, your smartphone (or tablet) rings and the screen switches on. You can see who's at the door and can decline or accept the call. Visitors will not notice the rejection. If you accept the call, you can talk in the app, after which your voice will be heard from the loudspeaker of the bell. That speaker is decent. When the visitor talks back, you will hear this from your smartphone.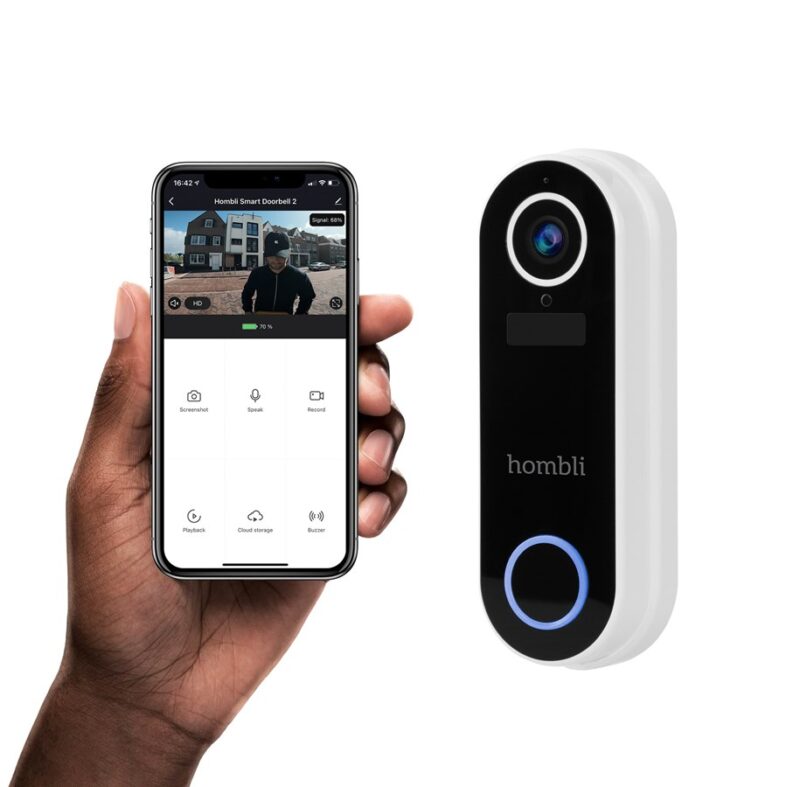 You can also set up the doorbell to work as a security camera. You can get notifications when it detects movements. While that could be useful, the function does not fully stand out. The motion detection can be switched on and off, but does not support a zone (like the more expensive Nest Doorbell (Battery) from Google – meaning as soon as someone walks through the screen, you will receive a notification. If you live close to a street where people walks pass everyday, this will become a problem. Not to mention that the battery will be sucked out faster than normal.
Verdict
Hombli Smart Doorbell 2 is exactly what I was expecting. A cheaper alternative to the more expensive competitors from, for example, Ring and Google. The cheaper price also means that some (for me) much-needed functions disappear, such as the ability to set up zones for the motion-sensitive camera. But if you are only looking for a cheap and smart doorbell that shows you who is waiting outside, Hombli Smart Doorbell 2 is a perfect choice you.
PROS
Affordable
Included micro SD slot for local storage
CONS
No chime included
Not poissible to set up zones