EA Sports FC 24 (PS5) Review: Nothing New, Still Fun
I don't know. We might have to go back to the drawing board with the name anyway. EA Sports FC 24 is just too long, cumbersome, and awkward to pronounce and write for that matter. Fortunately, it's not the name but the actual game we're here to discuss. From now on, I'll refer to it as FC24 for simplicity's sake.
The biggest (and most controversial) change for this year's edition is the inclusion of the world's best female players in Ultimate Team, which is the most popular game mode where you collect your own players in various ways to build a strong team to compete against others doing the same. So now, you can put together a striking duo with Erling Haaland and Stina Blackstenius if you'd like. For me personally, it doesn't make much of a difference, as I've NEVER managed to become a true UT (formerly FUT) expert. But, of course, it's a welcoming move to see all female idols getting their rightful place.
Apart from the name change and the addition of the women's teams, it's pretty much the same game as FIFA 23 though. You'll find yourself on familiar ground. There are slightly quicker and smoother menus, new card types in Ultimate Team, minor improvements in graphics and the feel of the game, a few adjustments in how players move and collide, new camera angles in various game modes, improvements in career modes (manager/player), and the introduction of Cross-Play in Clubs and Volta.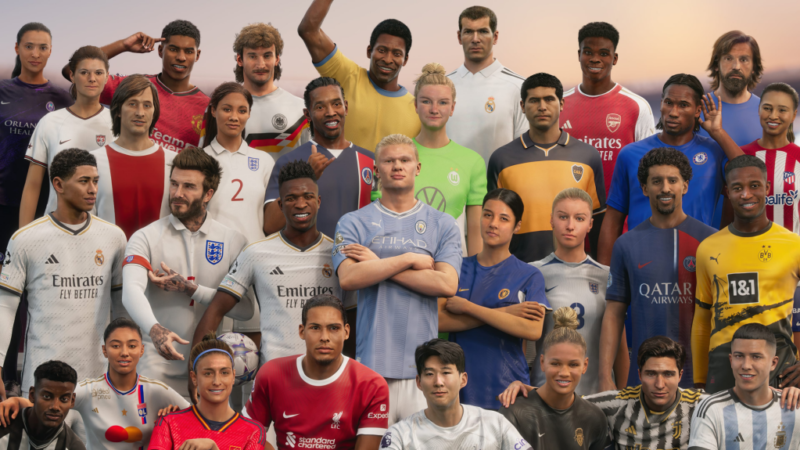 Rivals is also still present, which is the ranked online mode, and Champions (formerly FUT Champions and Weekend League). It's pretty much what you had in last year's version, with one exception: Evolutions. This is something that has been in the NBA 2K series for a few years and essentially allows you to take a regular gold player and develop them by completing missions. According to EA, you can do this twelve times each season, which lasts around 40 days. There are various requirements for players that can be evolved, and the improvements vary from evolution to evolution.
Something that's frustrating is that the game still suffers from the same, often laughable issues, on the field. While it generally feels better and faster than last year, I sometimes find myself pulling my hair out over the brutal things that occur. Players collide with each other and tumble around. Goalkeepers are still entirely useless and seem to treat the ball like a hot potato. They'll dive down and half-save a weak shot, then they stand up, and the ball inexplicably floats in the air, lands on the goalkeeper's head, back into the air with the ball, and finally, the goalkeeper punches it away.
Actually, there isn't much more to say about this year's edition – Ultimate Team is what most players indulge in. However, if you want to play with a friend, you can always opt for the classic 'Kick Off' mode where you select teams and play for fun without the casino-like elements (the world's best pre-game event).
This is still where I believe the FIFA series, or now the FC series, should primarily be evaluated. Football entertainment. EA Sports excels in this aspect, and they can surely make it even more enjoyable with a few minor gameplay patches. Whether I'm playing with a friend on the couch or grinding UT online until three in the morning, I have fun. And that's the main point of a video game. Even though many people complain about the changes that have been made, FC 24 will mark the start of something new and very exciting.


Score: 7/10
EA Sports FC 24 is available on Xbox Series X and Series S, PlayStation 4, PlayStation 5, Nintendo Switch, Xbox One and Microsoft Windows. I reviewed the game on Playstation 5 with a code provided by the publisher.