Fitbit Luxe Review: The most comfortable tracker to sleep with
Fitbit is back with a new stylish fitness tracker in its lineup and even though Fitbit may have defined the fitness tracker era, it's produced some seriously ugly devices over the years. But they're back to change that with the all-new Fitbit Luxe. For the last month, I've been wearing and testing the Luxe. Truth be told, I forgot I was even wearing it at times thanks to its small form factor – which is a huge benefit.
Design
Fitbit Luxe have the same slim shape as the Fitbit Inspire 2. While adding a stainless steel casing, slim band, and colorful screen, it's clear the Fitbit Luxe was made for those who want equal parts fashion and fitness. There are a plethora of bracelets to choose from, some of which look like pure gold jewelry.
I've seen reviews calling this a women fitness tracker, but these are probably reviews written by very insecure men.
The truth is that Fitbit has finally managed to make a fitness tracker that I am actually eager to put on my wrist, while still packing it with plenty of health tech.
Features
The Luxe is the first Fitbit tracker to come with an AMOLED screen, but it's not the only wearable with that type of screen tech. Fitbit's Versa 3 and Sense watches both have AMOLED screens. It's a 124×206 pixel panel with a 326 PPI density. It's far from the best fitness tracker display out there, but does the job more than adequately.
It's meant to be a fitness tracker, not a smartwatch replacement, so it only offers the basics like delivering calls and texts to your wrist, the ability to set timers and alarms, and support for Do Not Disturb mode. You can't use Fitbit's contactless payments feature, and there's no option to remotely control music from Spotify.
Health and Sleep tracking
Inside of that slim tracker body lies an array of sensors that unlock what the Luxe is capable of monitoring. There's nothing groundbreaking here, or anything we've haven't already seen packed into a Fitbit tracker before, but on the other hand, everything we are used to taking for granted is included this time as well.
When it's time for bed, the Fitbit Luxe is the most comfortable trackers I've taken to sleep, period. As a matter of fact, the comfort is probably is probably the Luxe's biggest USP. Once the accelerometer-based tracking has done its work, you'll need to head to the Fitbit companion app to delve deeper into the stats.
That's where you'll find your sleep score, sleep duration, sleep stage breakdown, breathing rate and restoration insights based on sleep heart rate. It's also where you can find your estimated oxygen variation, giving you estimated SpO2 readings to give you a better sense of your current state of health and fitness level.
As I said, there's nothing groundbreaking here, but the Luxe does deliver those great tracking basics in a software package that makes it far more enjoyable to interact with than its other fitness trackers. The smartwatch software influence makes a big difference here as far as making the Luxe a solid device to track steps, sleep and give you a nudge to keep moving during the day.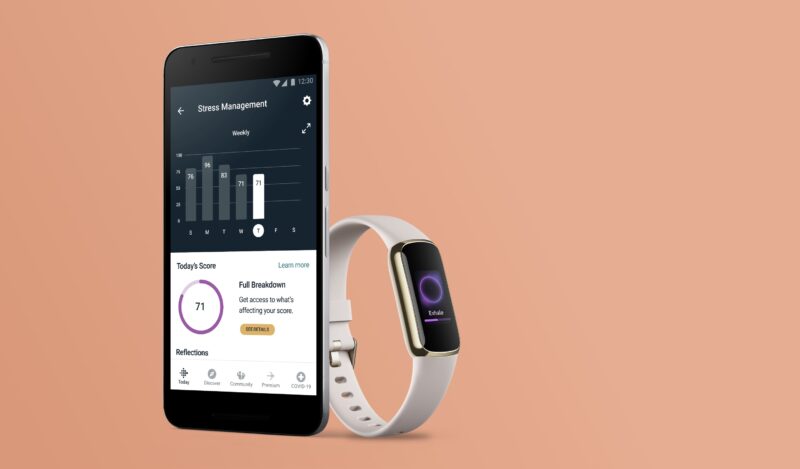 Battery
As usual with Fitbit devices battery, there is a big pro and a big con. The good thing is that a full charge takes me relatively easily through a week of use (or 6 days at least), but the bad thing is that Fitbit insists on using its own charger that only fits this particular tracker. The charger is fast however, and when it does hit 0%, it'll take you 2 hours to get it back up to 100%.
Verdict
The Fitbit Luxe is one of the most attractive fitness tracker I've worn, and definatley the most comfortable. Throw in a few different bracelets to your liking, and you have a health tracker for just about every life situation.
PROS
CONS
Missing a few key features (like built in GPS)
________________________________________________________________
The Fitbit Luxe was sent to me for free for review, but I did not get paid to write this. The thoughts on this product are my own. You can grab it at Fitbit.com
Specs
| | |
| --- | --- |
| Fitbit Luxe | Specs |
| Display type | AMOLED |
| Estimated battery life | 5 days |
| Durability | Water resistant to 50m |
| Materials | Stainless steel case |
| Sensors | 3-axis accelerometer, optical heart rate monitor, vibration motor, red and infrared sensors for SpO2 |
| Compatibility | iOS and Android |