Bring The Cinema To A Campground Near You This Summer
This article is an add for Xgimi.
Camping is a great recreational idea, offering a getaway opportunity from the hectic everyday life. From camping farms to forest hideouts, a night in the outdoors and other camping experiences have a comfortable feel sprinkled all over them. Board games, fishing and hiking are quite popular camping activities, and you can make it more sporty by bringing bicycles along. Going on a boat cruise with friends and watching movies around a campfire also sound interesting, and smart camping projectors can make a camping movie night memorable.

A camping movie night is a fun activity suggestion, and smart portable projectors can deliver an excellent experience. They are easy to pack in a backpack.

Here are some features that the ideal camping projector should have for maximum performance:

Power sources may not be readily available in secluded camping spots.

An ideal smart camping projector should have features that simplify setup immensely. With auto focus, the camping projector delivers a sharp and crisp display within seconds after powering on, and auto keystone correction ensures the projection is rectangular and ideal for immersive viewing.

Wi-Fi may be unavailable in some camping locations, but ideal camping projectors come with ample internal storage for users to pre-download and save their favorite movies, music, or TV shows for later viewing.

The ideal smart portable projector should have excellent built-in speakers that can deliver great quality sound, eliminating the need for carrying external speakers.

Resolution and Brightness
A resolution of 1920 x 1080 pixels FHD is sufficient for a smooth and clear image, and brightness between 300 to 800 ANSI lumens is ideal for a bright image in nighttime camping conditions.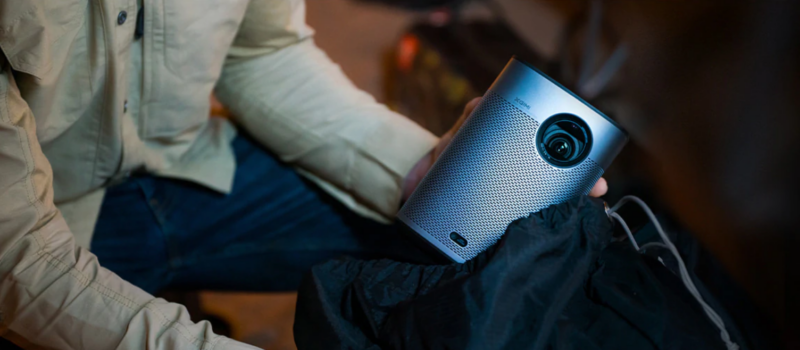 Portable Camping Projector Recommendations
XGIMI portable camping projectors boast amazing features to light up any camping experience – Or to level up the party in your own backyard. Here are the recommended XGIMI smart camping projectors that can ensure your camping movie night experience is unforgettable:

XGIMI Halo+ (1920 x 1080 pixels FHD Portable Projector)
Halo+ is an excellent camping projector. Easy to carry and pack, Halo+ packs several powerful features for awesome outdoor movie nights:
● Built-in Battery: XGIMI Halo+ has a 59W built-in battery that provides about two hours of playing time, sufficient to stream your favorite movies in places without available power sources.
● Brightness/Resolution: XGIMI Halo+ can project a max 200″ display, with 60-120 inches recommended for maximum screen size–quality balance. Halo+ also has a with a brightness of 900 ANSI lumens, which delivers a well-illuminated display during a camping movie night. In addition, Halo+ can project in 1920 x 1080 pixels FHD resolution, delivering your favorite movies in a crystal-clear display.
● Harman Kardon Sound: The Harman Kardon brand is famous for excellent industry-grade sound, and Halo+ packs dual 5W built-in speakers from Harman Kardon, which produce rich and immersive HiFi sound to spice up outdoor movie nights.
● X-VUE 2.0 Image Engine: Halo+ also comes with XGIMI's X-VUE 2.0 Image Engine for color revivification. Users can watch their favorite movies with enhanced clarity, color detail, and rich, lifelike visuals.
● Hassle-free Setup: Halo+ helps users save time and effort during setup with the Intelligent Screen Adaptation Technology, which packs auto focus, intelligent obstacle avoidance, smart screen alignment, and auto keystone correction.
● Internal Storage: Halo+ runs on 2GB RAM and 16GB ROM, which provide sufficient storage space for you to download and save your preferred content for offline viewing in places where WiFi is unavailable.
You can learn more about the powerful features of Halo+ here and see XGIMI Halo here.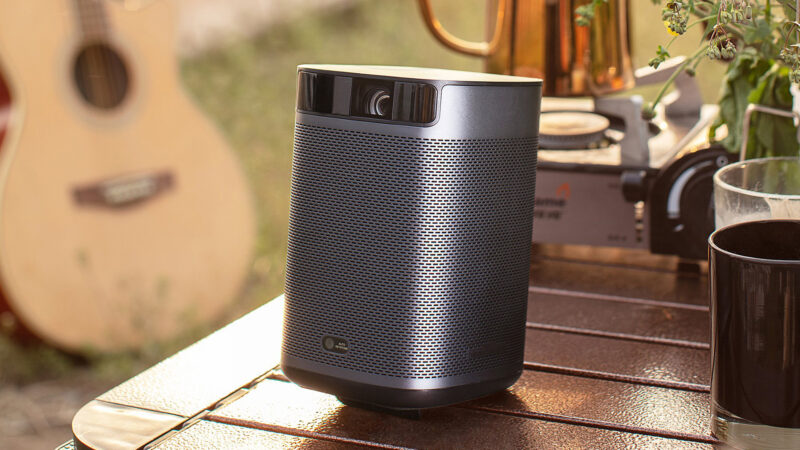 XGIMI MoGo Pro+ (1920 x 1080 pixels FHD Portable Projector)
MoGo Pro+ is another excellent XGIMI camping projector option with several powerful features for an ideal camping movie night experience.
● Built-in Battery: XGIMI MoGo Pro+ has a built-in battery that offers about 2 hours of playing time, enough for you to watch your favorite movies and TV shows.
● Internal Storage: MoGo Pro+ has an internal storage capacity of up to 2GB RAM and 16GB ROM, giving users sufficient space to save their favorite movies for offline viewing later. Pre-downloaded content comes in handy when WiFi is unavailable.
● Large Display: MoGo Pro+ can project up to 200 inches with the ideal range being 60-120 inches, providing a widescreen display from a handy device to ensure you can enjoy watching your preferred movies.
● Easy Setup: MoGo Pro+ has an auto focus feature that ensures the picture remains crisp even when the projector is tilted. Also, the portable camping projector has an auto keystone correction feature which delivers a rectangular image from any angle, correcting the angles even from side projection.
● 1920 x 1080 pixels Resolution: MoGo Pro+ supports a native resolution of 1920 x 1080 pixels FHD for a crystal-clear display with enhanced clarity and sharpness.
● Harman Kardon Sound: MoGo Pro+ packs dual built-in Harman Kardon speakers that produce rich and clear sound outdoors, making camping movie nights enjoyable.
Find more about XGIMI MoGo Pro+ here and see XGIMI MoGo Pro here.
Regional fact about camping:
When you are in Sweden you have the right to walk, cycle, ride, ski and camp on any land with the exception of private gardens, near a dwelling house or land under cultivation. We call it the Freedom to Roam.