The H6 Flow: A Perfect Blend of Performance and Aesthetics for PC Enthusiasts
In the world of PC enthusiasts and gaming, performance and visual appeal are two critical aspects that often go hand in hand. Recognizing this demand for both power and aesthetics, a new player has entered the arena. The H6 Flow, designed for those who seek a harmonious blend of performance and visual allure, is making waves in the PC case market.
One of the most striking features of the H6 Flow is its expansive and uninterrupted view. This unique case is equipped with wraparound tempered glass on the front and sides, offering a panoramic peek into your PC build while maintaining a compact form factor. PC enthusiasts can now showcase their meticulously crafted systems without compromise.
The H6 Flow's dual-chamber architecture sets it apart from the crowd. Its uniquely-angled front panel directs airflow from the three pre-included 120 mm fans (or the 120 mm RGB fans for the H6 Flow RGB version). At the base of the case, two 140 mm fans provide direct cooling for heat-generating components, ensuring optimal performance even during intense gaming sessions. The revamped perforated panels are designed to maximize airflow and overall performance.
Cable management is often a headache for builders, but the H6 Flow series aims to simplify the process. Generous cable-routing channels and straps are built into the case, ensuring organized cable management and an easy building experience.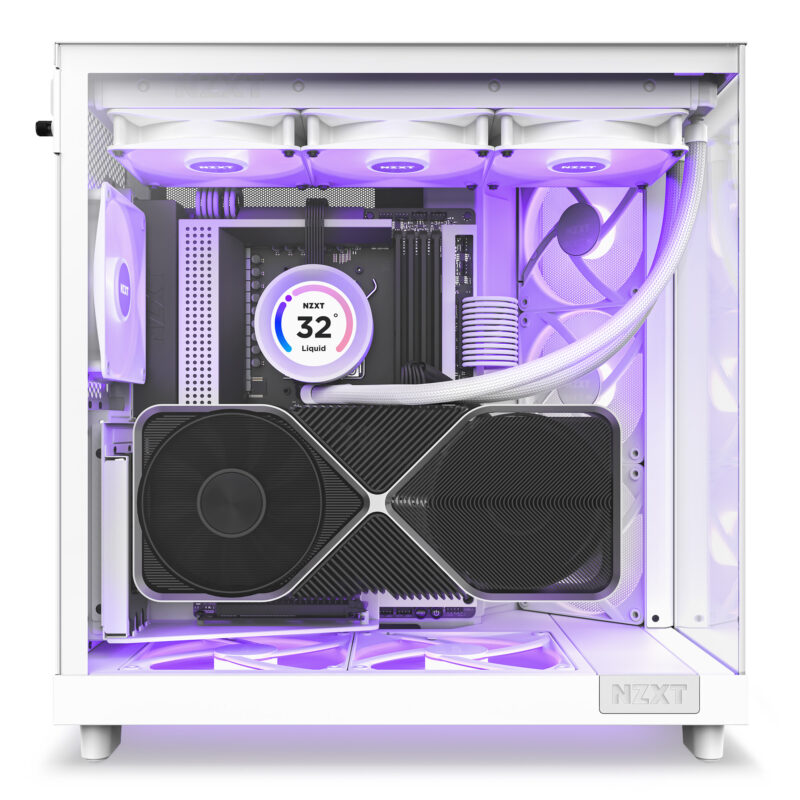 Key Features of the H6 Flow Series:
1. Panoramic Paneling: The wraparound glass panels with seamless edges offer an unobstructed view of the inside, highlighting key components.
2. Compact Dual-Chamber Design: The compact dual-chamber design not only improves thermal performance but also creates a clean and uncrowded aesthetic.
3. Out-of-the-Box Cooling: The H6 Flow comes in two versions, one with visually stunning RGB fans and another with non-RGB color-matching fans. Both versions include three pre-installed 120mm fans positioned at an ideal angle for optimal cooling right out of the box.
4. High-Performance Airflow: The top and side panels feature an airflow-optimized perforation pattern to enhance overall performance and keep dust at bay.
5. Quality of Life Features: Tool-free access to the top and side panels simplifies the upgrading process, and an intuitive cable management system makes building a breeze with wide channels and straps.
6. Spacious Support: The top panel can accommodate radiators up to 360 mm in length, while the case offers up to 365 mm GPU and 200 mm PSU clearance.
Available Colors: The H6 Flow and H6 Flow RGB are available in Matte White and Matte Black, catering to different aesthetic preferences.
In a market where aesthetics and performance are of paramount importance, the H6 Flow series is making a compelling case for itself. Whether you are a professional PC builder or a gaming enthusiast, this innovative PC case promises to deliver an exceptional combination of visual appeal and robust performance. With features like panoramic paneling, a dual-chamber design, and out-of-the-box cooling, the H6 Flow series is set to redefine the PC case experience for all.
Source: Press release