Streamplify Streaming Gear Review: Time To Start A Streaming Career
If you want to sell products is among the most important you can focus on packaging. By that I don't just mean physical packaging as in what material the products are actually packaged in, I mean everything. From visual perspectives to user-friendliness. Let me introduce a company that understands this – Streamplify. A few weeks ago, I received an entire kit sent to me containing a streaming camera, a streaming mic and two ring lights. Here are my summarized thoughts on the different parts of the kit.


Streamplify USB mic
In the stylish package comes – of course – a microphone. It feels solid in my hands and not cheap and plastic as you would expect with a mic in this price range. Also included is a microphone boom arm and its mount, which you can easily attach to the desk you are sitting at and can angle it as you want it. A pop filter is also included, that on the other hand feels a bit cheap and fragile, but it's nothing you think about once you have attached it to the microphone. A shockmount is also included, which provides protection from shock (mechanically transferred noise) and safely mounts the microphone to its boom arm.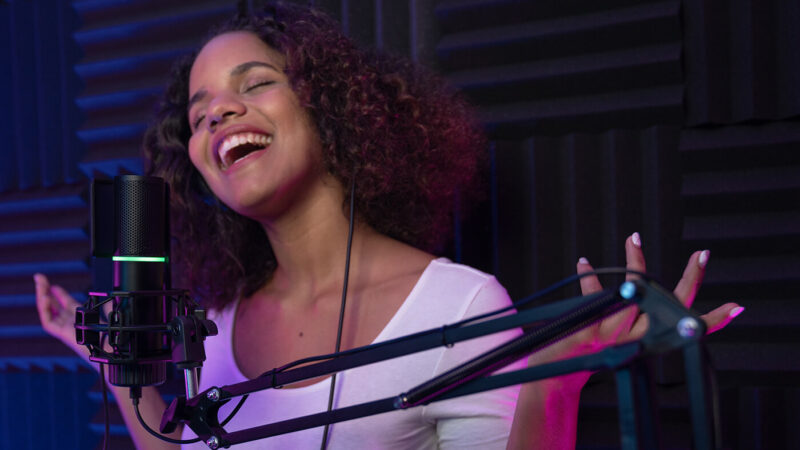 So far so good.
The mic is connected via USB and it is plug-and-play, which means that you do not need to install a lot of extra software to get started. I can certainly like when there is a software option to fine-tune the sound image exactly as you want it. But again, nothing I directly expect from a mic that costs 650 SEK ($ 69 USD). If you need to have a mic with you between several different places on the go, it's a convenient bonus not to have to install software.
The microphone itself has a classic cylindrical design with a volume control on the front, a button below for RGB settings and a 3.5 socket. Above the volume control is an RGB LED ring that goes around the microphone and you can switch between eight color settings. Just choose one that suits you at the moment. It gives a cool gaming vibe to your setup.
Through the 3.5 socket, you can plug in a headset and listen to how you sound and adjust the volume of the microphone until you sound well. It's always a good idea to test how high or low you are before you jump into a conversation in e.g. Discord so that you don't crack the eardrums on others.
The sound image itself sounds very good considering its price. My voice sounds clear and the pop filter does well with noise reduction. I have mics that sounds much better over the years, but I've also definitely had significantly more expensive mics that sound worse.

Streamplify CAM
The next essential part of Streamplify's kit is of course the camera. Streamplify CAM is a webcam that offers full HD recording with 1080p and 60 FPS. It has autofocus and built-in microphones, but let's start with what we get in its packaging.
In the package we – of course again – find the webcam itself. In addition, it comes with a small tripod that you can use if you do not want the webcam sitting on your monitor. The cord of the webcam is generous for its length of two meters, which gives you plenty of opportunities to position it in other ways than just on your monitor. Unlike many other webcams I have tested the camera does not cover anything of my screen (strangely enough, many do), so it's suitable to have on the monitor.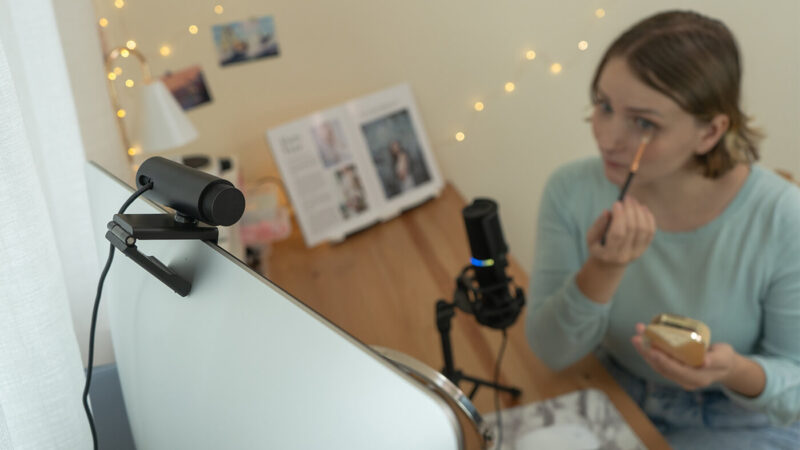 There is a cover around the camera that you can slide back and forth, a mechanical safety device so that no one can look at you without you knowing about it. At the same time as you prevent the webcam from seeing anything, you also turn off the microphones on the camera.
Speaking of the built-in microphones. The camera has two microphones, one on the front of the camera and one on the right side of it. However, these are not the best microphones in the world. They sound very distorted and even if those you talk to will definitely hear and understand what you are saying, you will probably sound pretty bad and low. It almost feels like the microphones are built for the need to be complimented with a certain USB microphone…
The tripod is what it is, in terms of quality. It has a standard height of 14.5 cm, but you can pull out the legs so that the tripod can have a height of 21 cm. I haven't used it at all because the camera did so well up on my monitor.
The camera is (just like the microphone) plug-and-play. And with support up to full HD recordings at 60 FPS, it is more than enough for those of you who want to start streaming or just want a camera to use when talking online with colleagues, friends or family. The webcam's autofocus works really well, and it Also adjusts the brightness based on your room's ambient lighting.

Streamplify LIGHT 10 + LIGHT 14
Speaking of that ambient light. If you don't have another light source in your office / computer room besides the light from your monitors, it may be time to rethink that it if you plan to start streaming. To enhance the quality of the image and prevent you from disappearing into the obscurity, you'll need something to light up your surroundings. This is where Streamplify's LIGHT 10 and LIGHT 14 comes in.
Both are so-called light rings and if for some reason you have missed what a light ring is, here is the explanation. A light ring is a circular light source that lights up (duh!) And that you can put around your webcam, camera or your smartphone to give you a better light image and when you stream or vlog.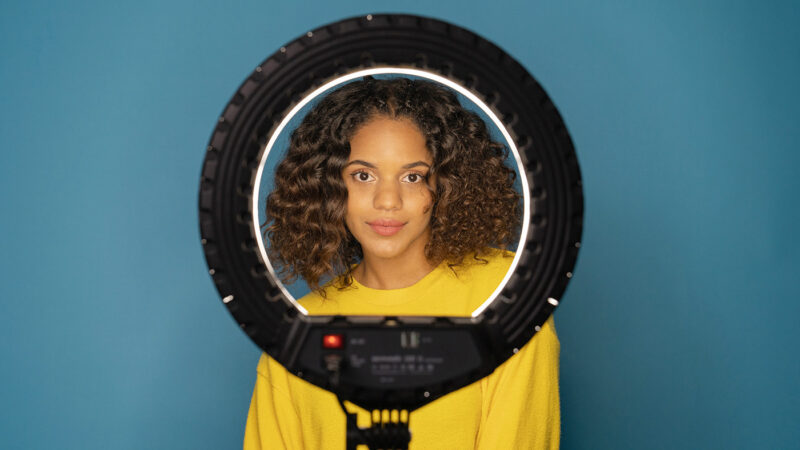 The cheaper LIGHT 10 packaging of course includes the light ring as well as a tripod, a mount for DSLR cameras and a mount for mobile phones. The larger and more expensive LIGHT 14 includes those mounts as well as a solid floor stand that can be adjusted between 50 cm and 170 cm. Also included with the LIGHT 14 is an IR remote control that you can use to adjust the color temperature and brightness settings with accuracy and ease.
Additional USB charging ports is built into LIGHT 14 and ensures that your smartphone or other devices remain fully charged while you work.
Both ring lamps have three different color temperature modes, simply explained, there are three different modes you can use depending on which environment or light mode you want in the image. The three different modes are called; Summer Amber, Tranquil White and Winter Blue.
Summer Amber has a more yellowing hue, Tranquil White has a more neutral white hue and Winter Blue has a blue hue. As if three color modes were not enough, we also have ten light levels to choose from, these are of course entirely up to you and how the lighting is around you when you record.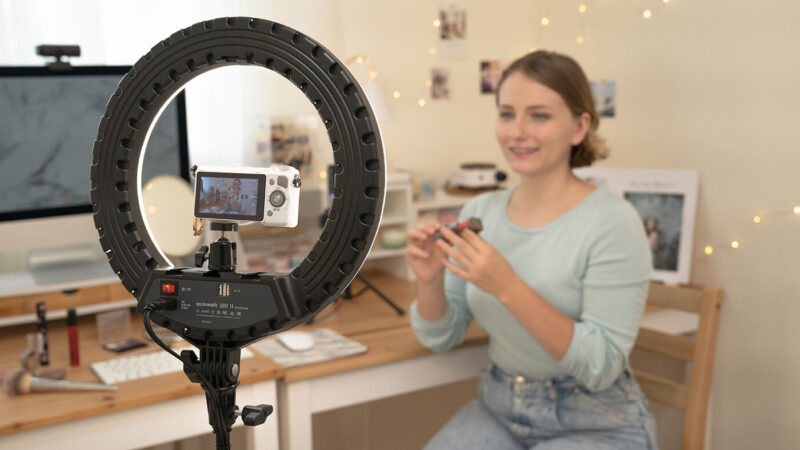 Other than that, it feels like the ring lamps are quite self-explanatory, what I can state is that even though they feel a bit plastic in the construction, they perform very well and have contributed a lot to give me the right lighting in both film and still image material.
Verdict
If you have just decided that you want to enter the world of podcasting or game streaming, Streamplify's streaming accessory is an absolute must have.
The products may not appeal to the slightly more advanced user and of course you can spend thousands of SEK on better products in each segment. But to just get started right away, I don't think there's any better alternative out there right now.
PROS
Very affordable
Super easy setup
Good overall quality
CONS
---
The Streamplify Streaming Kit was sent to me for free for review, but I did not get paid to write this. The thoughts on these products are my own. You can grab them from any the official site.