Nvidia Shield TV Pro (2019) Review: Best but Nothing New
The new Nvidia Shield Pro doesn't do much new, but doesn't really have to either, in order to remain the overall best streaming box and retro gaming machine out there. However, the lack of a bundled controller (while retaining the previous generation's price point) harms the deal in the end.
Late 2019 Nvidia released not just one, but two new streaming boxes. The new tube-designed Nvidia Shield TV ($149) and the more powerful Nvidia Shield TV Pro ($199) with same aesthetics as last model. Shield TV Pro has a number of advantages over its cheaper cousin:
USB ports
More storage and RAM
Some exclusive games
Smart-home hub potential
Plex media server functionality
The rest of this review will therefore focus on the Pro model. The Nvidia Shield TV Pro is an Android-powered set-top-box / games console, it's about as powerful as streaming devices come, and is jam-packed with features that will tempt movie and video game fans alike.
What you get
Opening the package you get the console itself, a new-and-improved remote control. Biggest con here is that Nvidia no longer ships the Shield TV with their Nvidia Shield Controller.
Remote
The new remote is, despite the somewhat strange v-shape, very good in the hand and has a whole lot more buttons than its predecessor. New additions include a power key, a user-programmable multipurpose button, fast-forward, play/pause, rewind, proper volume controls, and a dedicated Netflix button. The buttons light up when you pick up the remote, which saves hassle in the dark. And even with the backlit keys, Nvidia claims two AA batteries will keep the remote running for six months.
The remote also doubles up as an IR blaster now for controlling your TV, while it'll also beep if lost if you make use of the mostly-inessential Nvidia Shield TV mobile app.
Software features and interface
If you've used an Android TV device in the past year or so, you know what you're in for. It's a clean, smooth experience, despite the Shield's modest-on-paper hardware. Apps load swiftly and run without a hiccup, even in 4K/HDR.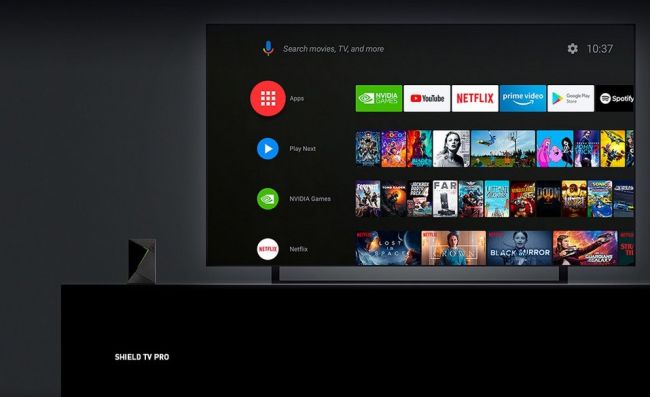 The Shield's by far coolest new feature, though, is 'AI upscaling'. What AI upscaling does, is kind of magical. Any content below 4K resolution technically has to be upscaled to play on a 4K screen; more pixels need filled than exist in the source data. What Nvidia has done here, though, is train an AI model on real 4K content, then set it to the task of filling in missing details based on that set of data. It sounds like fake news, but the results are really impressive.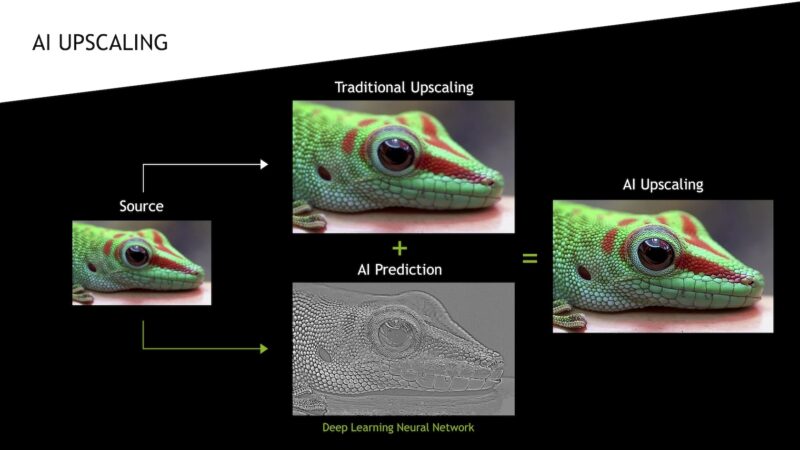 Hardware
The Shield TV Pro (and Shield TV) include Nvidia's latest 'Tegra X1+ chip', which according to Nvidia is "up to 25 percent faster" than the older device. The Shield has always been strong when it comes to performance, and I don't think you'll find a faster Android TV experience anywhere. Netflix, YouTube, Tivimate (ITPV), and other apps open near-instantly and are buttery smooth as you scroll around for something to watch. Google Assistant responds quickly, and Android TV can now be included in routines created with the Google Home app.
Gaming
Right away Nvidia givers you access to 20 free (you hear that Googla Stadia?) PC games that can be streamed over the internet as part of the GeForce Now service. It's in beta phase, but works good enough. Apart from Nvidias own gaming service, you can download emulators right of Google Play Store, to play your old school games from Nintendo, Sony or Sega. I don't even think I'm exaggerating if I say this is the absolute best product in the market to enjoy classic video games.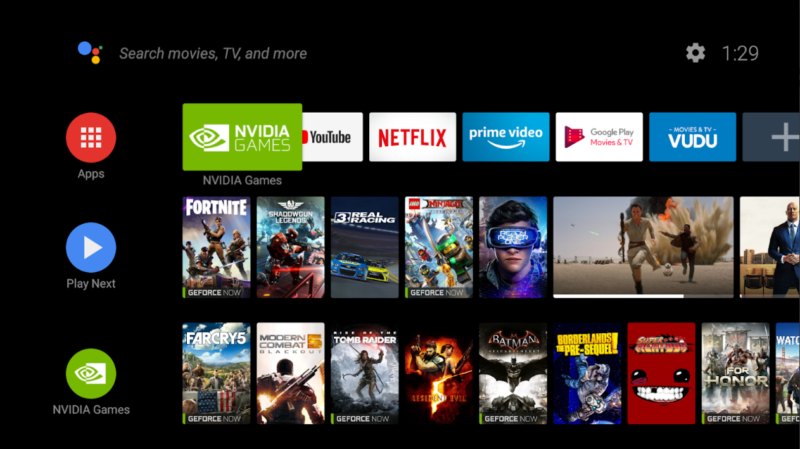 Verdict
If you want the best Android TV streaming experience this year's Shield TV Pro is a great pick. What is disappointing is the price – for the same cost as the older 'Shield TV Gaming edition', 2019's Shield Pro really only adds a on paper processor bump and a nifty upscaling feature (it's really great). And that's at the expense of a bundled Nvidia Shield controller. As a result, what was already an expensive streaming proposition offers less value than with previous generations.
Overall, it's almost unreservedly recommended. But it may sting to know that the Shield TV Pro isn't quite the deal it once was.
PROS
+ Blazing fast performance
+ Impressive AI enhanced 4K upscaling
+ Great remote
CONS
– No HDR for Youtube
– No significant upgrade from the old Shield TV
– No HDR 10+, Wi-Fi 6 or HDMI 2.1
– Too pricey