Kioxia Exceria Plus MicroSDXC (1TB) Review: A Must Have For Steam Deck Owners
When Kioxia reaches out and wants to send their latest products I always accept. Not only because it's exciting to see the latest from the memory market, but also because it's their cards I tend to use in my everyday life. This time they sent me the high performance microSD card Exceria Plus MicroSDXC with a massive 1TB storage.
What is Exceria Plus MicroSDXC
Exceria Plus MicroSDXC 1TB is the latest UHS Speed Class 3 (U3) microSDXC card from Kioxia, meant for sports, action cameras and drones, given the high rated read/write speeds. However, it's also perfect for gaming handhelds such as the Steam Deck (no need to upgrade that super expensive internal storage).
The card lineup comes in two different colors, magenta for 32GB, 64GB, 128GB, 256GB and 512GB capacities, while the 1TB model is black. Confusing enough though, the small cardboard enclosure, wich the card is shipped in, is magenta as well just as the lower models and not black. You'll be able to tell the size pretty fast from the top corner though, but I still think they could have done something to the 1TB enclosure to make it pop out among the others.
The card also comes with a microSD adapter wich allows the card to be used in even more devices.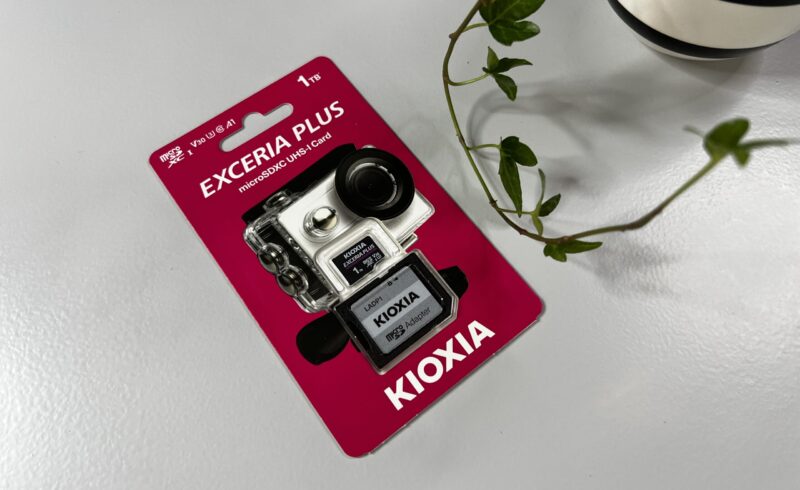 The card is certified SDXC I, V30, U3, class10 and A1. That means it's fast enough for basically everything you toss it at. Writing 4K high quality video to the card shouldn't be a problem, given your device can write fast enough. The card is rated at 100 MB/s for reading and up to 85 MB/s writing.
Durability
Besides its impressive promised speed the Exceria Plus MicroSDXC card is IPX7 rated waterproof. This means that it will at least withstand submerging in 1 meter of water for 30 minutes, wich in itself is good, but it also means it's perfect to use while filming underwater with a GoPro for example. It is also shock-, and x-ray proof and has built-in overheating protection. Operation temperatures range from -25 up to 85 degrees Celsius.
The card also comes with a 5 year limited warranty if anything should go wrong with it despite all its durability ratings. And for the first time in my life I've started to think that this is something to look for, since these cards are not cheap (at least not as of today).
Price
Speaking of pricing. The Exceria Plus MicroSDXC 1TB costs 2 740 SEK in Sweden (around $270) which is ofcourse a hefty price. But considering you can record more than two hours of 4K it might be worth it for some.
Performance
To measure whether Kioxia keeps what they promise regarding reading and writing speeds, I have used the same tool that I use for SSD tests – Crystal Disk Mark. And I'm using my Windows 10 laptop with built in microSD reader. No matter how many times I ran the test, I never really made it passed 95 MB/s read speeds or 80 MB/s writ speeds. But I guess you could argue it's within the ol' margin of error.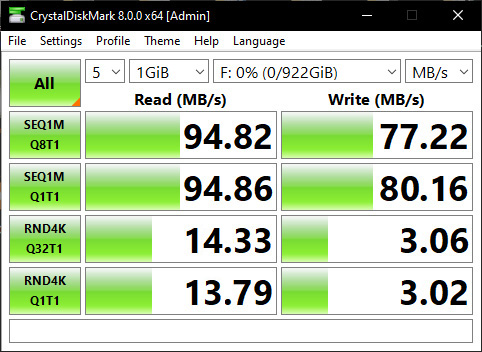 Final thoughts
The performance of the 1TB Exceria Plus seems to be is in-line with Kioxia promises and besides the actual tests I did while writing this review, I have been using it more or less everyday for pretty demanding transfering on my Steam Deck handheld, and I have yet to encountered any problems or data losses. As a matter of fact, if you own a 64 GB Steam Deck you pretty much must get this card as it makes your gaming life so much easier.
So in other words, if you are looking for a durable MicroSDXC card with massive capacity and 5 years of warranty, I'd certainly consider the Exceria Plus MicroSDXC UHS-I 1TB from Kioxia.
If you don't need 1TB of storage or if you think it's a bit to pricey, it's good to know that Exceria Plus cards are available in different sizes starting at 32 GB all the way up to the 1TB version I've tested here.