Jabra Evolve2 75 Review: New Standard for Hybrid Work?
I've said it before and I'll say it again. Jabra definitely gets way too little attention when it comes to both wired and wireless headphones. Their wireless earbud series is absolutely top class and now they are back with a brand new headset intended for "hybrid work" and I am actually floored by the quality here.
Design and features
Honestly now. One of the pandemic's biggest job-related problems is how incredibly goofy you look in the common headsets found in the workplaces around our country. With the Jabra Evolve2 75, things are about to change. In addition to the fact that they look very nice during your Teams meetings, you can easily fold in the mic and use them as your everyday headphones when you commute home and no one will raise their eyebrows at you.
Available in both matte black and gold / beige, they should satisfy members from both the light and the dark side.
They are considerably lighter to carry than, for example the Evolve2 85's and the ear cushions use a new dual-foam technology (which also impacts the noise isolation and ANC performance) that make them comfortable to wear for many hours straight. The band above the head is almost completely covered with a soft material over the foam for a comfortable ride on the head.
On the bottom of the left earcup we find the USB-C charging port, a charging indicator LED and a power/BT toggle switch. On the back side of the left earcup we have a switch button for the different sound modes; ANC, HearThrough, and off.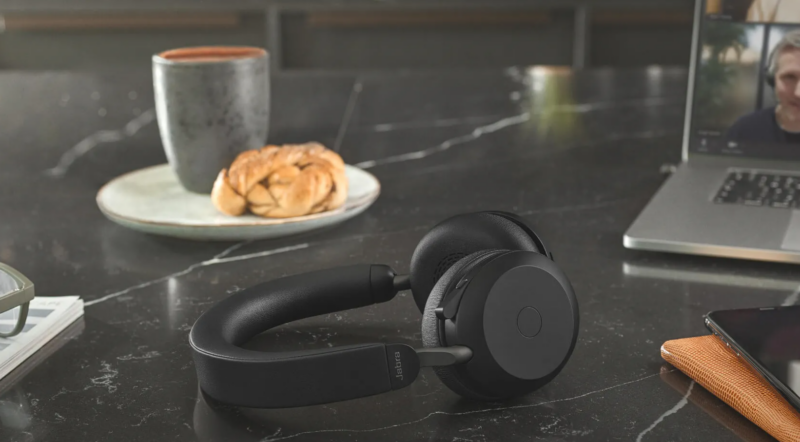 On the lower part of the outside left ear cup are two gold connection pins. These support the optional charging stand, which you can add for 500 SEK ($50) when you purchase the headphones.
A neat little feature is that you can raise the microphone boom arm up to automatically mute the microphone, and lower it when to unmute it again. This can also be used to answer an incoming call. Works great every time.
Connectivity
The Evolve2 75 comes with a Jabra Link 380 Bluetooth adapter for USB connectivity, but you can also connect to any Bluetooth enabled device possible, since it has the latest Bluetooth 5.2 standard built-in.
Though you have the option of connecting the Evolve2 75 to a computer that's Bluetooth enabled, it's always a better option to connect to it via the USB adapter, since that will get you a more steady, reliable connection. You'll also get longer wireless range and a better audio quality overall.
The Evolve2 75 can pair up to eight devices, and up to two simultaneously. This is nice as it remembers the devices on your list, and when paired to two of them (eg. computer and mobile), it switches seamlessly between them.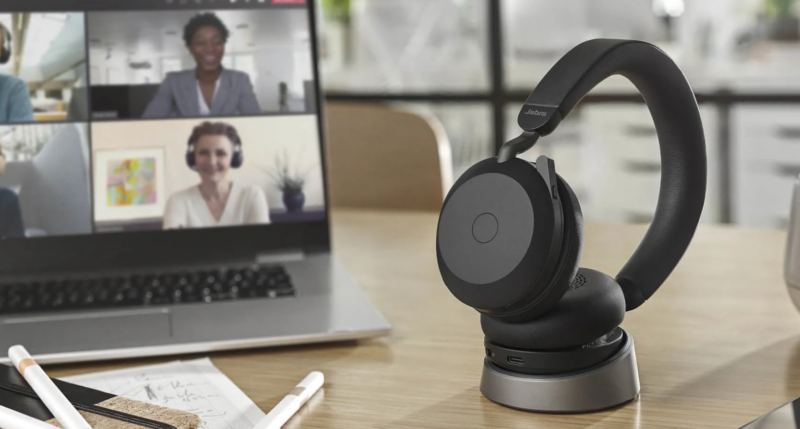 Audio quality and performance
Using the headset for calls is amazing. The Jabra Evolve2 75 uses 8 strategically placed microphones. Unlike in the past where headsets came with a single microphone, many of todays headsets are incorporating multiple microphones that are designed to provide better audio quality by sorting out which sounds to take in and what to leave out.
Speaking of the boom arm, Jabra has redesigned it to be 33% shorter than the boom used on the Evolve 75, which definitely helps for looking less goofy in those business meetings.
I have tried to use the headset for calls both when I have driven a car myself and when I have traveled in public and not once has anyone complained about the sound quality.
One thing that I noticed and that I'm not sure if you can change via the software, is that the active noise cancellation works much better when the mic is lowered. I guess the headphones belives I'm having a phone call and therefore switch on some performance mode for the ANC or something. When I raise the mic, the ANC is not quite as good, but does an overall good job of picking out disturbing ambient noise.
In any case, I would like this to be a choice I had to choose entirely myself and not be controlled by whether I have the mic up or down.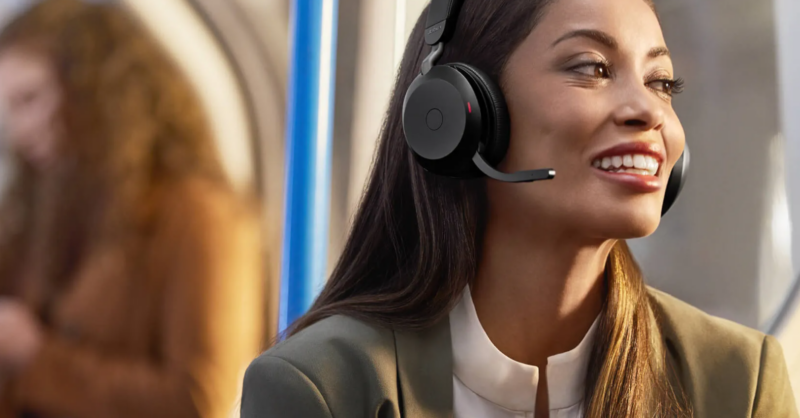 Battery life
The Jabra Evolve2 75's built-in battery provides up to 24 hours of talk time, and up to 36 hours of listening time (ANC off). Getting a full charge on this battery takes 2 hours and 40 minutes and you'll get 4 hours of battery life on just 15 minutes on the charger, 30% after 35 minutes, and 60% after 70 minutes.
Verdict
Hats off! Jabra are the uncrowned kings of office headsets. With the Evolve2 75, they enable hybrid workers who switch between distance and office work to be constantly present, regardless of whether they are sitting on the train, at home or in the office.
If you recognize yourself in that description above, this is the headset you should have. This truly is the new standard for future hybrid work.
PROS
Exceptional audio quality
Very comfortable
Great design
Good connectivity options
CONS
---
The Jabra Evolve2 75 was sent to me for free for review, but I did not get paid to write this. The thoughts on this product are my own. You can grab the product from any of these swedish sites and from Roccat.com