Google Finally Releases Long-Awaited Products – This Time In Sweden As Well
After years of inexplicable waiting, Google has finally launched some of its most sought after products and this time in more countries including Techcraver's home country – Sweden.
I'm talking, of course, about the phones Pixel 6a, Pixel 7, Pixel 7 Pro and the true wireless earbuds Pixel Buds Pro and Pixel Buds A series.
All products are available for preorders today. Of course I'm reaching out to Google representatives as we speak, to get review samples sent. Full specifications table (as well as the full streamed event) down below.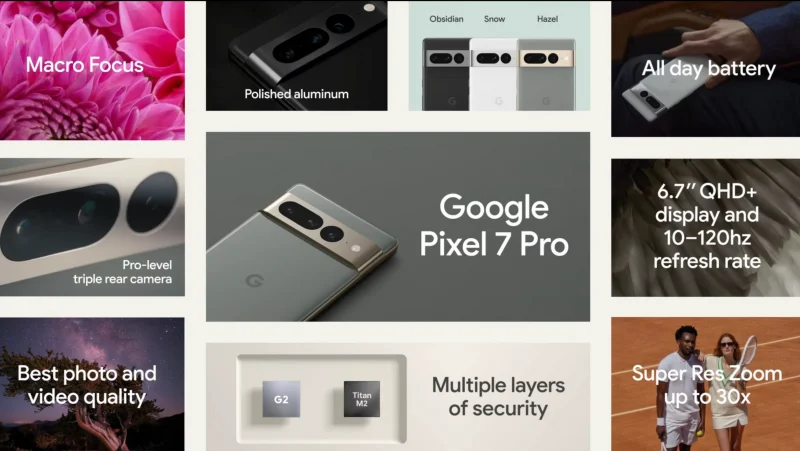 Specifications
Pixel 7
Pixel 7 Pro
Display
6.32 inch
2400 x 1080 pixels
1400 nits
90 Hz
OLED
6.7 inch
3120 x 1440 pixels 1500 nits
120 Hz
pOLED
Processor
Tensor G2
Tensor G2
RAM
8GB
12GB
Storage
128/256GB
128/256GB
Power
4,355 mAh Li-Ion
Wireless charging
up to 72 hours of runtime with Extreme Battery Saver
5,000 mAh Li-Ion
wireless charging
up to 72 hours runtime with Extreme Battery Saver
Cameras
Rear:
50 MP main sensor
f/1.85, 1/1.3″
82 FoV
OIS
autofocus
12 MP, ultra wide angle
f/2.2, 106°, 1/2.9″
8x digital zoomFront:
10.8 MP
f/2.2, 97°, 1/3.1″
Rear:
– 50 MP main senosr
f/1.85, 1/1.3″
OIS
auto focus
82 FoV
– 12 MP ultra wide angle
f/2.2, 1/2.9″
auto focus
125 FOV
– 48 MP telephoto lens f/3.5, 1/2.55″
OIS
autofocus
30x Super Resolution Zoom
4.8x optical zoomFront:
10.8 MP
f/2.2, 93°, 1/3.1″
Connectivity
2G, 3G, 4G, 5G
Bluetooth 5.2
NFC
Wi-Fi 802.11ax
2G, 3G, 4G, 5G
Bluetooth 5.2
NFC
Wi-Fi 802.11ax
Dimensions
155.64 x 73.16 x 8.7mm
162.9 x 76.55 x 8.9mm
Weight
197g
212g
Software
Android 13
Android 13
Durability
IP68
IP68