Belkin Soundform Elite Review: Unique feature allows the speaker to stand out!
Think of a smart speaker brand. Did you think of Sonos? The Apple Homepod? Or maybe Google Home or Amazon Echo? Well I bet you didn't think of Belkin. Yes, the Belkin who has made themselves a name as a manufacturer of consumer electronics that specializes in connectivity devices. Now they have partnered with the French audiophile company Devialet and ventured into the smart speaker market. And I'm actually quite impressed.
Design and functions
The Belkin Soundform Elite looks great. It's available in black or white, and the device has a distinct shape not entirely unlike Google's own Google Home speaker or the Apple Homepod. The difference is that the speaker appears to be katana slized diagonal in the middle, where space has been made to put away your mobile phone. With a mesh fabric cover, and five touch-sensitive buttons on its front cutaway, it makes good use of its small size (162mm x 162mm x 168mm).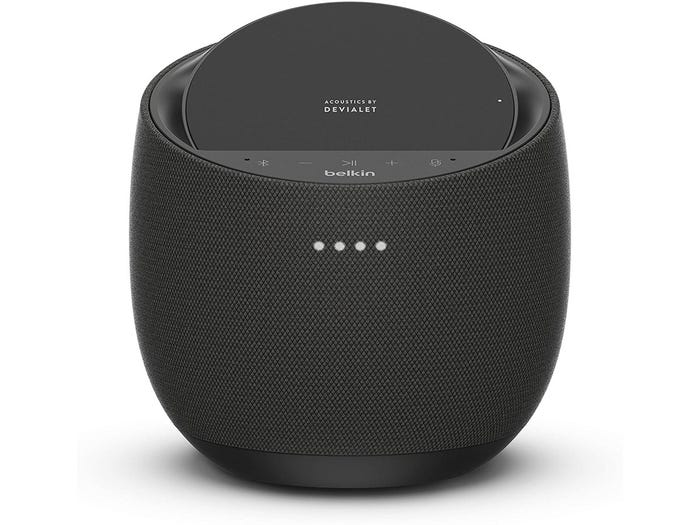 A single port can be found for the included power cable in the back, so if you were hoping to hook up an audio device over a 3.5mm jack, you're out of luck. This is a strictly a wireless affair, making use of Bluetooth 5.0 and Wifi 802.11b/g/n/ac (2.4GHz/5GHz), with set-up carried out with the Google Home app for Android and iOS. Installation went super smooth and I was hooked up and listening to my favourite music in under a minute.
Once everything is set up in the Google Home app, the Google Assistant takes over the heavy lifting. You probably already know the drill. Waking the SoundForm Elite with the 'OK Google' wake word, you can then have it play tracks from your favored streaming service of choice, have it control smart home gadgets like smart lights, set reminders, check calendars, give you a weather forecast, double check facts on the internet and much more.
Audio quality
The Belkin SoundForm Elite sounds good (maybe not Sonos good, but still good). And with its 35mm full range driver and 2x 70mm woofer configuration, the little Egg makes quite a startling first impression. For a speaker of this small appeareance it goes really loud and it'll make you wonder where all that deep bass is coming from. However the mids feels a bit flat and distant, especially while looking at the price tag of 3 000 SEK ($299).
Charging
The SoundForm Elite does top its competitors in one area. You guessed it, the diagonal cradle on top with an embedded wireless charger that can provide up to 10 watts of juice to Qi-compatible devices. This feature workes great with my iPhone 11 Pro, my wife's iPhone 8, and even my AirPods Pro case (however, I had to use put a lego under the case to reach the coil). Belkin (or Devialet) have integrated a push push woofer architecture that ensures that the speaker's enclosure doesn't vibrate and interrupt the contact between the back of the phone and the speaker's charging surface and it works flawless.
Verdict
There's lots of smart design in the Belkin SoundForm Elite, and the combination of a powerful smart speaker and a wireless charging system in such a small package is a great space-saving idea. At our home, it has been given an obvious central place in the hall where we always put down our phones when we get home. The speaker now works like a parking lot for the phone, which can also remind us of the rain jacket before we go out, or when it's time to go with the children to preschool.
And even if the price tag is quite too high, the unique charging feature allows the Belkin Soundform Elite to stand out in a crowded market.
PROS
Stylish design
Charges your phone
Deep bass
CONS
Pricey

Hollowed-out midrange