X Plane 12 (PC) Review: Giving Microsoft A Run For Its Money
The launch of Microsoft Flight Simulator was a major milestone in flight simulation, featuring new technologies and realistic planet recreation. It set a high standard for competitors to match. Despite this, Laminar Research released X-Plane 12 two years later, showing their willingness to take on the challenge.
Getting started
The X-Plane 12 review code I received was installed via the X-Plane Updater, which can be obtained from Laminar's website and is also available on Steam. The Updater can be used for updating the game, fixing any issues, and selecting the desired global scenery to install. The game itself takes up around 25GB of storage space while the global scenery takes up over 80GB.
A comprehensive manual, which includes a quick-start guide, setup instructions, and details on aircraft operation from takeoff to landing as well as radio and GPS navigation, can be found on x-plane.com/manuals/desktop. This manual is particularly beneficial for those who are new to the game.
I had previously only used Microsoft Flight Simulator and found it difficult to set up. In contrast, X-Plane 12 immediately recognized my flight joystick and required minimal setup. Within minutes, I was able to take off and fly like a real pilot (you can see some of it in my First Impressions video).
Graphics and audio
The graphics in X-Plane 12 are incredibly realistic, from the aircraft models to the cockpit and pre-flight checks. The lighting and environments you can fly in are breathtaking. The realism is so good that it makes you not want to look out the window and see the real world. The instruments, especially at night, are stunning and I have a newfound appreciation for pilots who fly at night. The cities and landscapes depicted in the game are highly detailed and look great. While there is room for improvement in the realism of some cities, such as most smaller cities in Sweden, most major cities are beautifully rendered (note that Microsoft has made many improvements to the graphics in their flight simulator in recent years through updates.)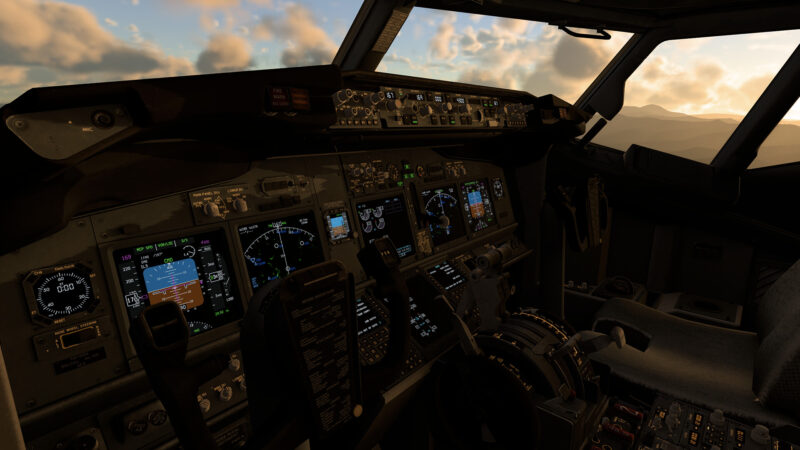 Flight simulation games require high-quality audio to enhance the realism and immersion of the experience. The developers of X-Plane 12 has done an excellent job in this regard, from the sounds of the aircraft, to the ambient noise inside the cabin, to the interactions with Air Traffic Control.
An eye for details
X-Plane 12 offers an extensive and detailed airport environment, with over 17,000 3D airports globally, featuring new ground textures and various pavement materials, including effects such as cracks, oil spills, and puddles. The airports are also equipped with new terminal buildings and control towers, as well as more realistic animated jetways and ground service vehicles, including baggage handlers, fuel trucks, and catering trucks. Additionally, players can request ground services in real-time. The airports are also populated with static aircraft that feature real-world liveries and are placed at their actual parking locations.
One of the new real cool features of X-Plane 12 is the weather system, which utilizes the National Oceanic and Atmospheric Administration (NOAA) GRIdded Binary (GRIB) model to generate real-time weather forecasts. What it does, is that is basically divides the earth into a grid, providing data such as wind speed, pressure, and temperature, which is then used to create accurate weather predictions that are integrated into the simulation. In addition, X-Plane 12 combines NOAA forecasts with local Meteorological Terminal Air Report (METARs) to deliver the most accurate and smooth weather transitions, particularly during long flights and at airports – a new dimension for simulation!
Verdict
It would be possible to write an in-depth review of each feature of X-Plane 12, but I, personally, don't have the time or the knowledge to do so. My focus is on flying. However, I can say that X-Plane 12 is a force to be reckoned with in the flight simulation market and it's here to stay. It is giving Microsoft a real challenge in this field.