Razer Kiyo Pro Ultra Review: This Is The Greatest Webcam Yet
The Razer Kiyo Pro Ultra is an impressively sized webcam, with a distinct circular body and textured outer ring that resembles its predecessors, the Kiyo and Kiyo Pro. However, its dimensions are significantly larger, measuring 91 x 76 x 96 millimeters. This makes it one of the largest webcams available from major brands, although it still remains much more compact than a complete DSLR or mirrorless streaming setup. Additionally, the Kiyo Pro Ultra features a built-in privacy shutter that can be controlled using the knurled outer ring.
What is the Razer Kiyo Pro Ultra?
While the Razer Kiyo Pro Ultra may have a long and cumbersome name (I'm sticking to Kiyo Pro Ultra from now on), it certainly lives up to its title with high-end hardware. It features a large Sony Starvis 2 sensor, which is capable of capturing RAW 4K resolution at 30fps. This means that uncompressed footage will convert at 24fps for 4K, 30fps for 1440p, or 60fps for 1080p, depending on your preferences for motion blur.
Compared to most webcams, which typically max out at 1080p resolution, the Razer Kiyo Pro Ultra is a significant improvement in picture quality. Using it is like seeing a 4K TV in person for the first time and being able to spot every detail, including dirt and sweat droplets on sports athletes. However, this also means that it captures every detail of your face, for better or for worse.
The Kiyo Pro Ultra boasts a larger sensor than any other webcam on the market. The sensor size measures 1/1.2 inches, which is comparable to the 1/1.3-inch sensor found in the Samsung Galaxy S23 Ultra. This larger sensor size is combined with a fast f/1.7 aperture to allow more light into the camera, resulting in better performance in low-light conditions.
The camera also features a clear protective shield on the front, and a matte black plastic ring that houses two microphones and a status LED. The USB-C port, which is used with the included 5-foot, fabric-wrapped USB-A-to-USB-C cable, is located on the back.
Privacy
While the it resembles the all-seeing eye of Sauron, there are privacy features in place to prevent any invasion of privacy. The webcam includes a textured ring that can be turned to mechanically block the camera, which is a satisfying feature. However, it would have been even better if Razer had included an electronic privacy shutter that also turned off the webcam and muted the microphone.
Nevertheless, the included mechanical privacy shutter is still an improvement over having no privacy feature at all. Additionally, there is an LED light to indicate when the camera is on and recording audio. For added protection when traveling, the webcam also comes with an extra lens cover to prevent scratches.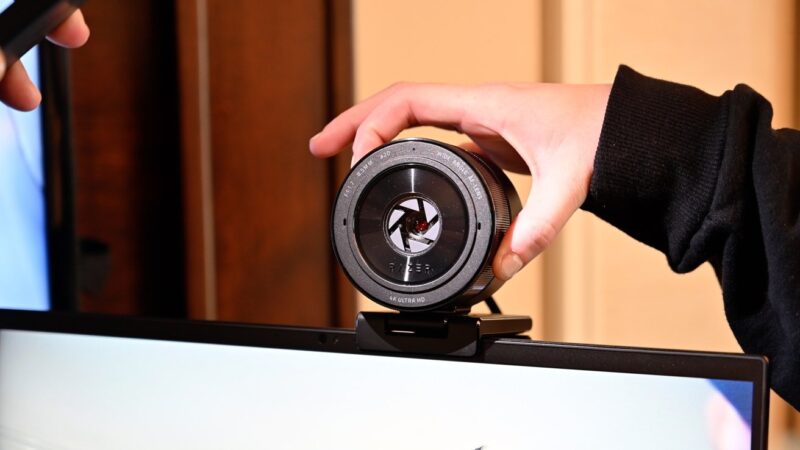 Pricing
The Razer Kiyo Pro Ultra may be more than what the average user needs. If your primary use for a webcam is for meetings or Zoom calls with family, there are more affordable options available that can get the job done reliably. However, if you are starting a YouTube channel or Twitch stream and require the best possible quality, the Razer Kiyo Pro Ultra is an excellent option. It will undoubtedly make you appear like a professional content creator, even if you're streaming from your home.
Verdict
The Razer Kiyo Pro Ultra offers the best picture quality out of all the webcams I've tested so far. Although it's expensive at $299.99, it still earns to be praised due to its outstanding 4K video and excellent low-light performance, which surpasses its brilliant predecessor.
For content creators who prioritize video quality, the Kiyo Pro Ultra is a top pick. However, if you're looking for a more affordable option that works well for professional video calls and has clearer microphones, there are more affordable options available.